The Intranet and Digital Workplace Awards are global awards that recognise outstanding contributions to the fields of intranets and digital workplaces. The awards uncover remarkable solutions that deliver business value, and then share them with the wider community. We also shine a light on the talented teams behind this work, and the agencies that have supported them.
Now in their 16th year, we have handed out over 178 trophies and medals over this time to winners from 20 countries. Winners range from small non-profits and government agencies, to global firms and household names.
These Awards give teams the global recognition they deserve — as well as a lovely glass trophy or medallion to sit beside their desk.
The 2022 Award winners have been announced!
Step Two is thrilled to announce the winners of the global Intranet and Digital Workplace Awards, and this year winners come from the Netherlands, Germany, Canada, UK, Switzerland, USA and Australia.
Use the Awards explorer below to sample this year's delights (hint: choose the filter "2022" to see just this year's winners).
Read the announcement post, then obtain the 2022 Intranet and Digital Workplace Showcase for full details on all 13 winners.
Six highlights from this year's Awards
global intranets that are better, not just bigger
multi-level governance for modern intranet
smart strategies that ignite Yammer adoption
using SharePoint to unlock knowledge
continuous improvement fuelled by user data
user-centric approaches to frontline DEX.
Three ways to get what you need
1 ≫ Obtain every screenshot and case study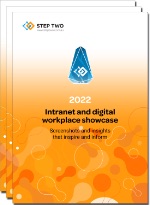 Awards bundle
A package containing the last 10 years of entries (2013-2022), providing a remarkable resource for intranet teams. Solutions come from across the globe, and cover a huge range of ideas and approaches. Read more
2 ≫ Get the most recent winners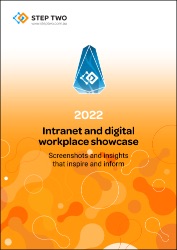 2022 Annual showcase report
The must-have annual report for all intranet and digital workplace teams. Sharing details on this year's winners of the Awards, it will inspire and inform. Use the report to build support with senior management, and to guide planning for the team's next steps. Read more
3 ≫ Target your specific questions or needs
Use the Awards Explorer above to filter down to case studies that address your immediate issues and needs. Then purchase the relevant report to get the unique set of screenshots and insights.
Scroll back up, and filter away!
More about the Awards
The Intranet and Digital Workplace Awards are run yearly, and are backed up by a panel of global judges, as well as a solid scoring methodology.
Don't hesitate to contact us if you have any questions, or would like more information.
Find out more:
Keep in the loop and enter the next Awards!
Add yourself to our Awards notification list, and we'll notify you when the Awards open for entries, and before they close. That way you won't miss your chance to shine!
Just fill in your details: