Our services
At Step Two, we help organisations establish and sustain modern digital workplaces.
Driven by deep domain knowledge and productive field research, we enable digital workplace teams and senior leaders to proceed with clarity and confidence.
We help our client partners to achieve an engaged and efficient workforce who are supported by a great digital employee experience.
We are one of the only vendor-neutral technology experts within Australia, and we have helped almost a hundred organisations select appropriate solutions for their websites and intranets.

Tackle the bigger picture and develop strategies that encompass the intranet, collaboration, Office 365 and beyond.

Produce a modern intranet that delivers tangible business value, guided by staff research and insights from the world's intranet experts.

Chart a path to successful collaboration, empowering staff to work together more effectively and fostering a stronger culture.

Obtain pragmatic advice on knowledge and information management, benefiting from real-world experience in today's complex environments.

Use our market knowledge and unbiased advice to find the right intranet or website platform.

Working in partnership with you, we have well-tested methodologies that will get you the outcomes you need.

Get our knowledge and insight on tap, to use whenever you need it throughout your journey.

Build knowledge and expertise quickly within your organisation, and learn practical skills.
What sets us apart
We know digital workplaces, more than any other firm, having spent 20 years building (and sharing!) our knowledge. We put workforce needs at the heart of all our work, and our strategies are informed by robust staff research.
Unlike many firms, we don't sell products, implement systems or write code. We're highly knowledgeable about technology (and the market), but entirely vendor-neutral.
As a specialist consultancy, we treat every project as an opportunity to further innovate, and aren't satisfied by 'cookie cutter' deliverables. For us, theory must always meet reality, generating an outcome that works for your staff and your business.
Spotlight on services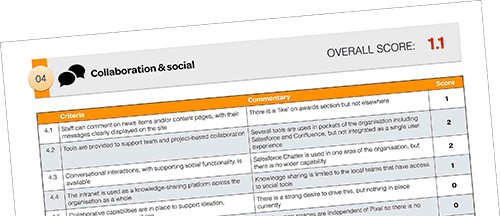 The Intranet Expert Review assesses your intranet against 80 best-practice criteria, along with expert advice drawn from our 20 years of experience. Read more
Who we've worked with (to name just a few)
Over the last 20+ years, we've worked with hundreds of organisations both large and small, across Australia and internationally. This includes:
All
Corporate
Education & Training
Financial
Global
Government
Healthcare
Infrastructure
Legal
Local councils
Not for profit