DEX is the only conference in Australia that puts the practitioner at the front and centre.
Whether you're managing a large complex intranet with zero budget, designing an innovative integrated digital workplace experience, or transforming your internal communications strategy, DEX will give you access to practitioners who've had a positive impact on their organisation's digital employee experience.
From leading-edge trailblazers who are implementing AI, social comms strategies that are transforming culture, to home-made digital literacy training videos. Our speakers have been through the journey, shed the blood sweat and tears, and can share their successes (and failures!).
Learn from your colleagues. Grow your network. Be inspired.
Aerial UTS Function Centre, Sydney
19 October 2023 in person!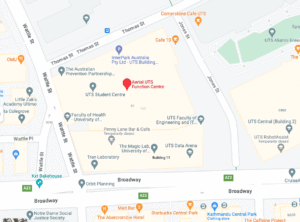 UTS Building 10, Level 7/235 Jones St, Ultimo NSW 2007
Directions and Parking
The venue can be quite tricky to find. We recommend you:
Aim for the corner of Broadway and Jones Street.
Walk down Jones Street past building 11.
Make sure you enter Building 10 (entrance is opposite the greenery/park as shown in the map extract above).
Take the lift up to Level 7.
Other access & transport information:
Car park entrance is accessed from Thomas St (travelling west), with lift access to level 7.
Aerial is a 5-minute walk from Central Railway Station.
The airport is a 30-minute drive (allow for traffic).
Public buses run regularly to the City from Broadway.

In person conference
We're desperate to have a proper face-to-face gathering, and we're sure you are too!

10 outstanding sessions
Inspirational sessions sharing actionable insights, with a unique mix of experts and practitioners

International speakers
We'll be bringing several international speakers to Australia, giving you the best insights the world has to offer

Sydney
October 19
One day, one stream so you don't miss anything
8:45AM-5:00PM
Informal drinks afterwards!

JOIN THE FORUM AND SAVE!
Get a year's worth of learning and connections for NEW Step Two Forum sign-ups (or those who have lapsed for over 18 months):
Get a 20% discount on standard Forum pricing, plus a 20% discount on DEX 2023.
That's a $670 saving — or more!
Join the Forum and use the code CONF20
Highlights from DEX 2019
(our last in-person conference before the pandemic!)
Join our conference list to keep in the loop:
Put DEX 2023 in your diary: 19 October 2023