The Intranet and Digital Workplace Awards are global awards that recognise outstanding contributions to the fields of intranets and digital workplaces. The awards uncover remarkable solutions that deliver business value, and then share them with the wider community. We also shine a light on the talented teams behind this work, and the agencies that have supported them.
These Awards give teams the global recognition they deserve — as well as a lovely glass trophy or medallion to sit beside their desk.

Held annually for 17 years

187 trophies and medals awarded

Winners from 21 countries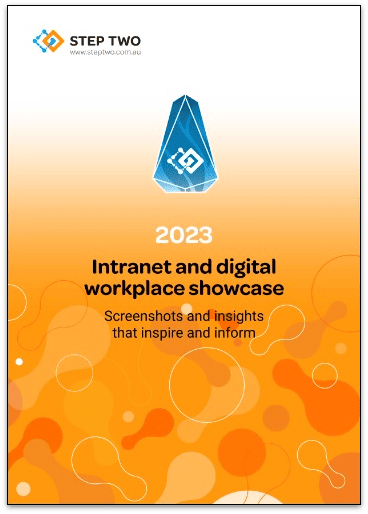 Dive in, be inspired!
Obtain a copy of the Awards Showcase report to explore the latest winners. Packed with screenshots, this well-crafted report will give you the insights you need to design and deliver great outcomes for your firm.
Or obtain the Awards Bundle report, containing the last 10 years of winners, offering an instant library of leading-edge intranet approaches and solutions.
The 2023 Award winners have been announced!
Step Two is thrilled to announce the winners of the global Intranet and Digital Workplace Awards, and this year winners come from the Netherlands, Sweden, UK, Italy, Brazil, USA and Australia.
Use the Awards explorer below to sample this year's delights (hint: choose the filter "2023" to see just this year's winners).
Read the announcement post, then obtain the 2023 Intranet and Digital Workplace Showcase for full details on all 12 winners.
The Awards next open for entries on 21 February 2024.
Join the early entry program, and we'll help you get prepared to enter next year's Awards. We'd be delighted to chat about what you have to enter, and can guide you through the process.
Streamline your efforts, make the biggest splash, be confident your time is well spent.