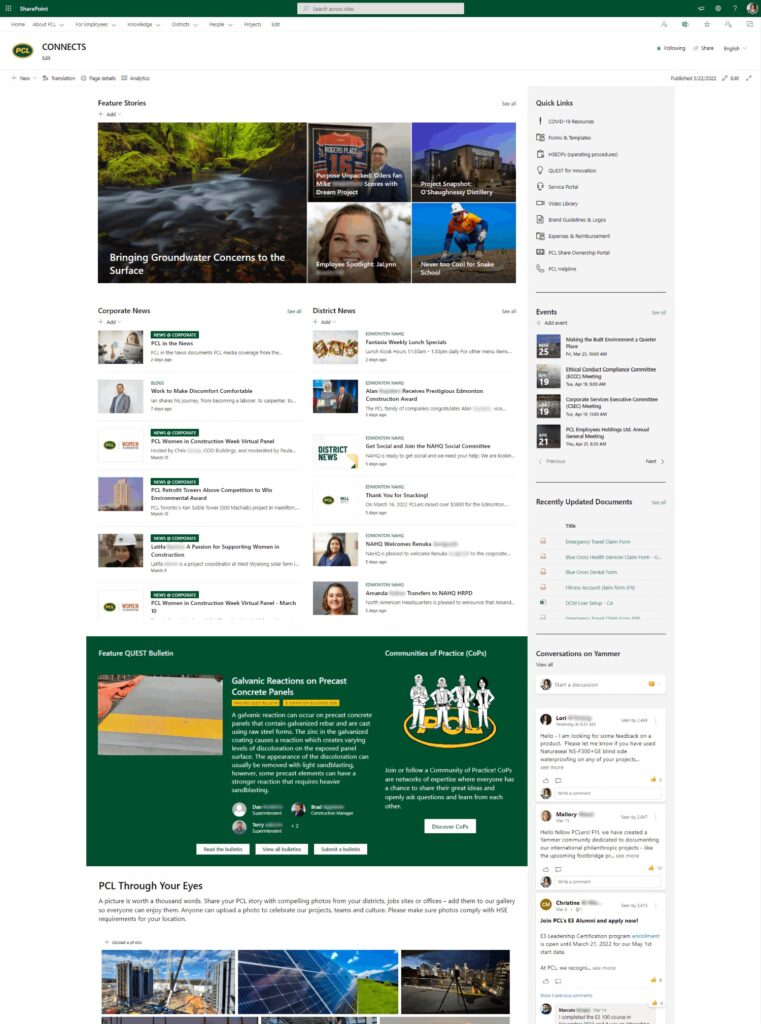 * Screenshot remains the copyright of the entrant, and may not be reproduced without written permission.
PCL Construction: Sharing and accessing knowledge via the intranet
PCL Construction has refreshed its PCL Connects intranet in SharePoint Online, using both out-of-the-box web parts and customised areas. The intranet is personalised to make content relevant for a diverse, international workforce.
Highlights include a knowledge area containing controlled documents with extensive metadata to enhance findability and a project area with dedicated pages for over 30,000 projects with salient details for each. There are also areas for each of PCL's locations.
Engagement-led features include an area to celebrate employee milestones where employees can also send congratulations to their peers. The intranet also supports PCL's innovation program with an ideation tool, a video library of knowledge-sharing sessions inspired by TED talks, and an area for Communities of Practice.
Why this won a Gold award
This is an intranet with well thought-through areas that have real business value, which also focuses on communication and engagement.
The project area is excellent, with well structured pages and a wide scope of over 30,000 projects, as well as being aligned with associated business processes.
There's some strong work behind the scenes with an extensive use of tagging and metadata, making documents more findable.
The PCL Talks area is a great way to encourage knowledge sharing, and is complemented by a well-designed communities area.
We love the touches relating to employee milestones, where users get messages from peers and see confetti on their homepage.
The personalisation is effective, for example with a dedicated web part to show the right HR contact name for each location.
We applaud ongoing data-driven approaches to improving search.
Full case study
Get a copy of the full case study as part of the 2022 Intranet & Digital Workplace Showcase report. This is packed with real-world screenshots and insights that will inspire your leadership team, and help you deliver a successful project.