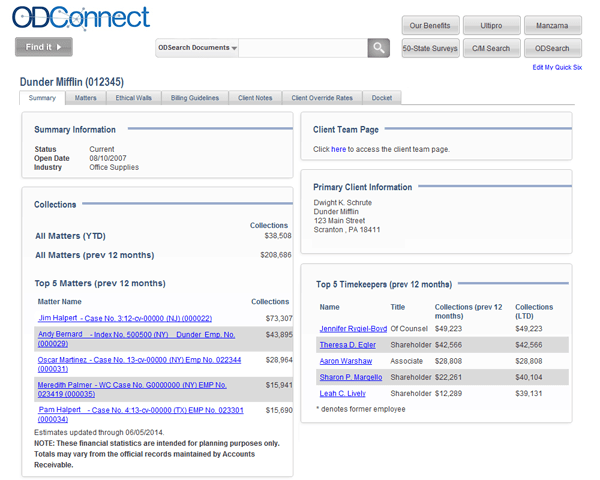 * Screenshot remains the copyright of the entrant, and may not be reproduced without written permission.
Ogletree Deakins: Improving findability and access to content
US law firm Ogletree Deakins has created a new iteration of its firmwide intranet with vastly improved findability and usability. A number of new features have been introduced to support lawyers in their work.
These include a new ability for users to define the scope of a search, a detailed intranet navigation option and the creation of personalised links in the main menu. New client and matter pages present detailed client, project and billing information previously spread across a number of systems.
In addition, a curated collection of research and information resources has been improved.
Why this won
This intranet rework is firmly focused on improving the daily work of the lawyers and the delivery of services to clients
It has also helped to increase productivity by saving time on common activities.
There is detailed integration work in the Client-Matter sites, allowing users to access content from the firm's practice management systems and the document management system.
New features have been designed to be intuitive for very busy attorneys.
This is a KM-driven approach, with proper thought given to organising and managing content.
Obtain the 14-page case study, packed with real-world screenshots and insights that will inspire your leadership team, and help you deliver a successful project.