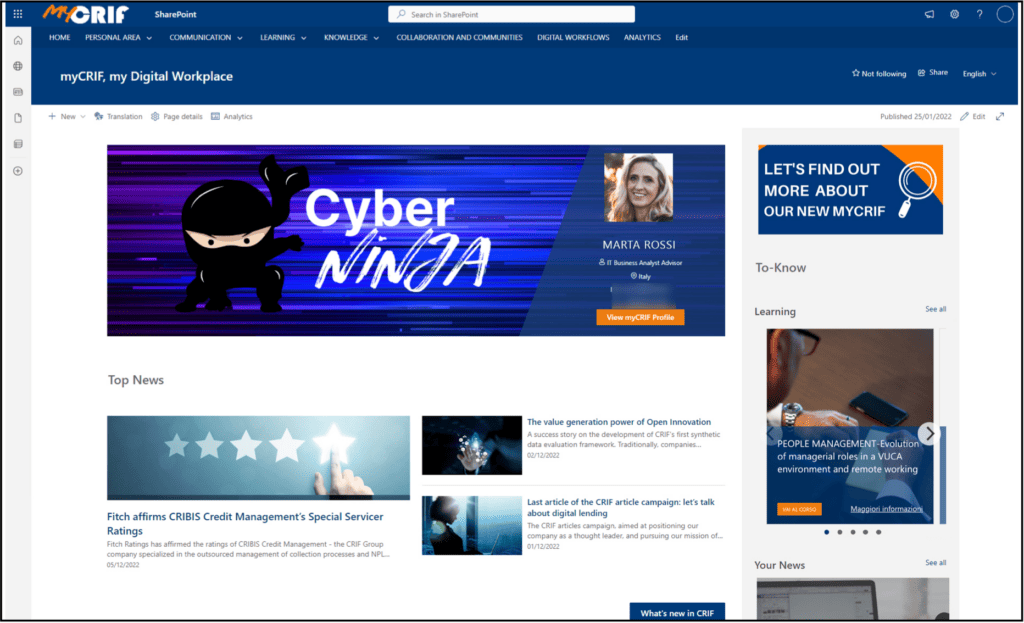 * Screenshot remains the copyright of the entrant, and may not be reproduced without written permission.
CRIF: Improving processes via a digital workplace program
CRIF, a technology and business services provider, has implemented a digital workplace program centered around a SharePoint-based intranet called MyCRIF, a custom employee directory involving integrations with HR SAP and SuccessFactors Learning, and a series of HR process improvements that leverage Nintex-based workflows and automation.
Notable elements of the program include a commitment to user research, a well-implemented set of employee profiles, and the ability to carry out HR processes via self-service through the intranet. The program has been implemented in a series of waves with a set methodology for each stage. Further waves, including a set of analytics dashboards, are still to be implemented.
So far there have been tangible improvements to efficiency, particularly around streamlining HR processes, including employee onboarding.
Why this won a Silver award
This is a spirited implementation of an ambitious project with wider aims for the digital workplace.
There's some strong HR process improvement work involving Nintex workflows, particularly in automating a complex onboarding process.
The employee profile is particularly extensive with integrations with SAP / SuccessFactors.
We applaud the commitment to digitising workflows and opening them up to employees via an area of the intranet.
We like the integration with CRIF's learning management system to enable users to view learning tasks and content.
There is a strong implementation methodology with the rollout spread over a number of waves, which has limited disruption to users and made the program easier to manage.
There's a strong commitment to user research and discovery to ensure the solution is user-centric.
Full case study
Get a copy of the full case study as part of the 2023 Intranet & Digital Workplace Showcase report. This is packed with real-world screenshots and insights that will inspire your leadership team, and help you deliver a successful project.