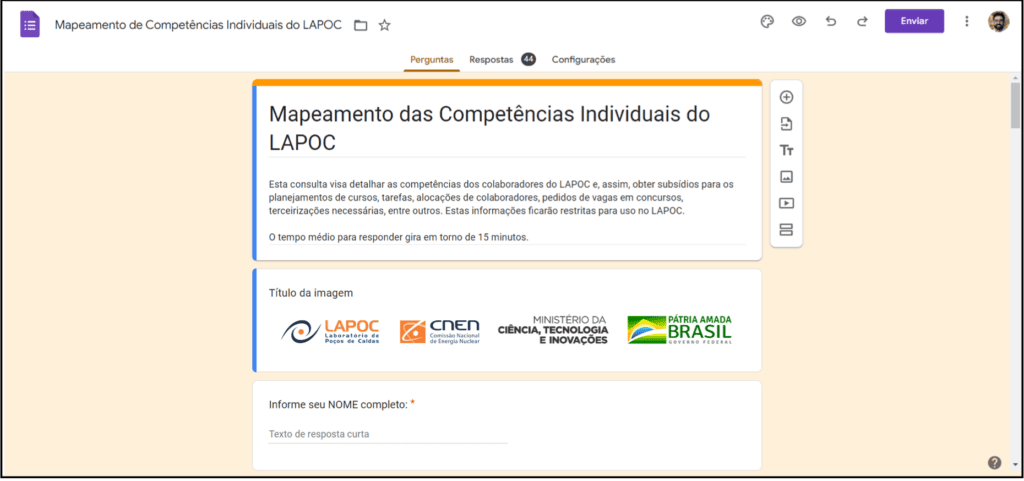 * Screenshot remains the copyright of the entrant, and may not be reproduced without written permission.
LAPOC: Sustaining a KM program with no budget
LAPOC is a small nuclear laboratory based in Brazil, operating within the Brazilian Nuclear Energy Commission (CNEN). To address a critical loss of knowledge caused by scientists retiring, as well as the need to capture tacit knowledge, LAPOC has implemented a knowledge management (KM) program.
Operating on no budget, it has relied on a variety of pre-existing systems and the creative use of free resources over the past five years. Outputs include multiple videos and written resources,. A series of QR codes have also been implemented within the laboratory, linking to procedural information.
The KM program has inspired similar approaches across CNEN and been celebrated across the wider nuclear industry. It has resulted in a series of benefits, including reducing critical knowledge loss.
Why this won a Silver award
This is a fantastic example of a sustained KM program which is relatively unusual in a small organisation.
There's a real creative use and can-do mindset in using free tools to sustain a KM program with zero budget.
The videos shown to the judges are well-produced, given the limitations of the tools used.
The use of QR codes within the lab itself is a useful and convenient way to access relevant procedural information.
We love that the program has helped to stem the loss of critical knowledge, which has a major impact in a facility like LAPOC.
The program has received recognition and is regarded as a best-in-class example within the nuclear industry in Brazil.
The program has inspired other units in CNEN and beyond, with some knowledge shared externally.
We love how capturing knowledge has helped retiring staff feel valued.
Full case study
Get a copy of the full case study as part of the 2023 Intranet & Digital Workplace Showcase report. This is packed with real-world screenshots and insights that will inspire your leadership team, and help you deliver a successful project.