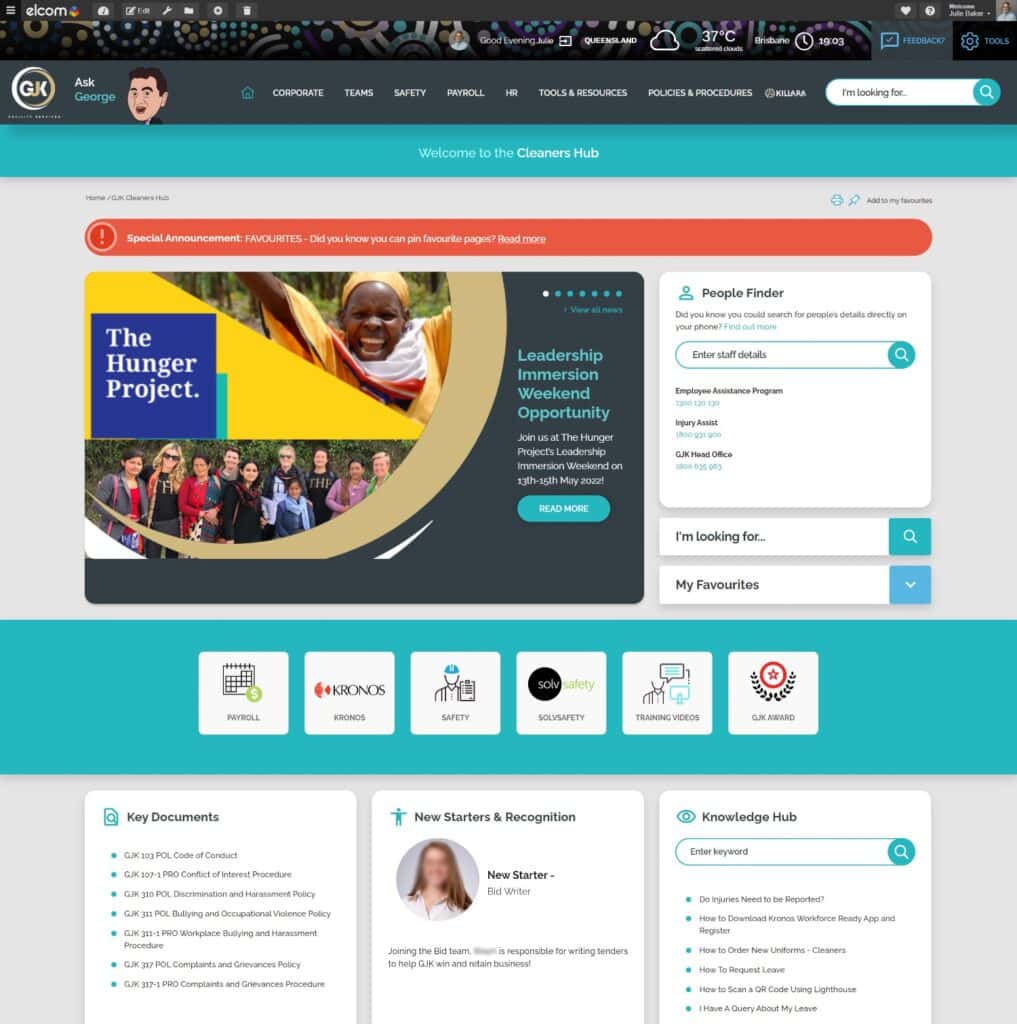 * Screenshot remains the copyright of the entrant, and may not be reproduced without written permission.
GJK Facility Services: Building an intranet with users at the centre
GJK has created an intranet that is focused on the needs of a diverse workforce, including its frontline cleaning staff. The new intranet, called 'Ask George', has several innovative features including an auto-translation capability that supports staff who don't have English as a first language, as well as a targeted homepage for cleaning staff which can be consulted on a mobile device.
Other notable areas include a Knowledge Hub featuring 'how to' information, a policy and procedural library, a peer-to-peer 'kudos' feature, accessibility features, and the introduction of several online forms.
The intranet comes with a clean design and distinctive branding, based on the Ask George character. The intranet has also been launched with an innovative campaign.
Why this won a Silver award
We love the emphasis on supporting a diverse, predominantly frontline workforce.
The automatic translation feature is successfully opening up intranet content to all staff, and supports inclusivity.
We applaud the accessibility features, including the large text option and high colour contrast mode.
Overall, the design of the intranet is clean and pleasing.
The homepage focusing on the needs of cleaners is well thought-through.
The 'Where's Wally' style launch campaign is well executed and makes good use of the Ask George intranet character.
Online forms are clearly improving some processes and getting good levels of adoption.
This is a strong effort for what is the company's first enterprise-wide intranet.
Full case study
Get a copy of the full case study as part of the 2022 Intranet & Digital Workplace Showcase report. This is packed with real-world screenshots and insights that will inspire your leadership team, and help you deliver a successful project.