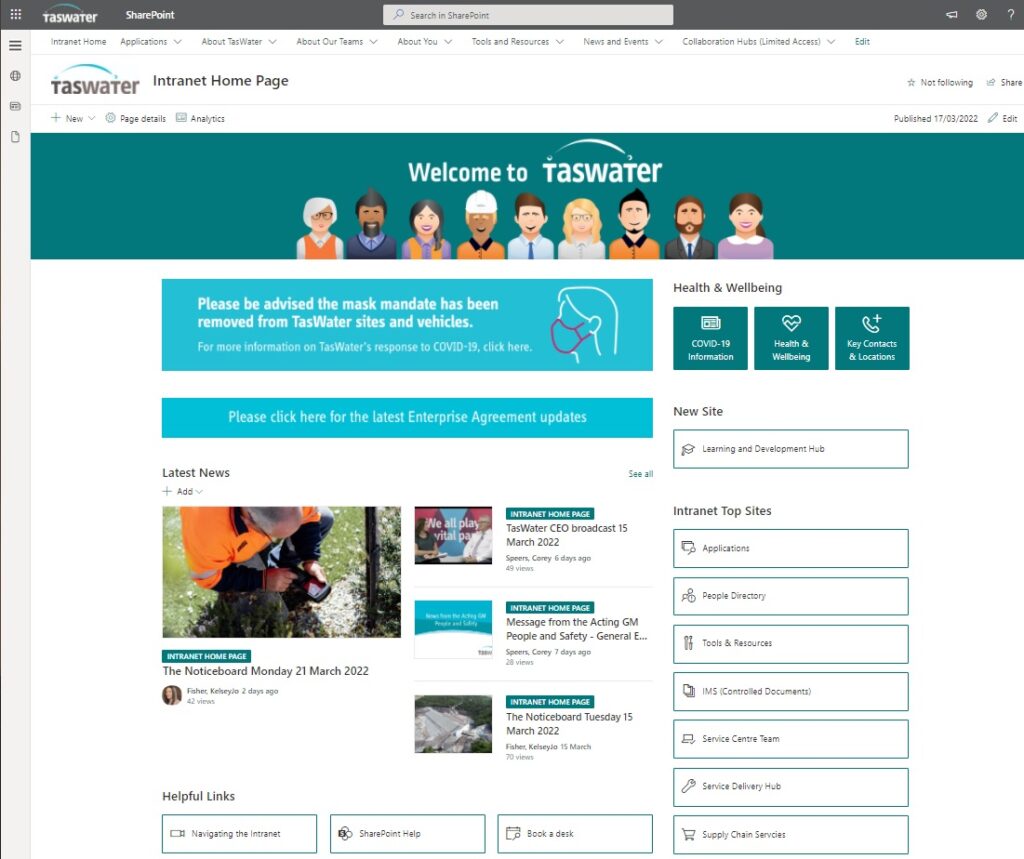 * Screenshot remains the copyright of the entrant, and may not be reproduced without written permission.
TasWater : Using Microsoft 365 for business transformation
TasWater has implemented a Virtual Workplace Program (VWP) consisting of three interlocking projects covering a new SharePoint intranet, knowledge and collaboration, and document & records management. The VWP is based on Microsoft 365 technologies and has been delivered with a user-centric approach.
Notable features include a refreshed intranet, an employee onboarding site for pre-hires, and a Knowledge Hub for technical information. TasWater has also improved and automated various business processes using PowerApps, Power Automate and SharePoint lists.
Apps include a weights calculator to support health & safety, employee onboarding workflow, project space creation and enabling field workers to submit data from mobile devices while working out in the field.
Why this won a Silver award
This is an ambitious digital workplace program with multiple moving parts, backed by solid strategic thinking and strong execution.
There is a healthy emphasis on employees and their experience as well as a cross-functional approach applied throughout.
The work combining PowerApps, Power Automate and SharePoint lists is very strong and helping to improve a range of processes.
We like the emphasis on making the VWP sustainable with a high level of training to empower business teams to use the tools at their disposal.
The cast fittings weight calculator is excellent and a great example of how a simple app can support employee safety.
We love the onboarding site for pre-hires and the accompanying automation behind the scenes.
There's a good focus on frontline employees and the ability to access the apps from mobile devices in the field is driving real-world efficiencies.
Full case study
Get a copy of the full case study as part of the 2022 Intranet & Digital Workplace Showcase report. This is packed with real-world screenshots and insights that will inspire your leadership team, and help you deliver a successful project.