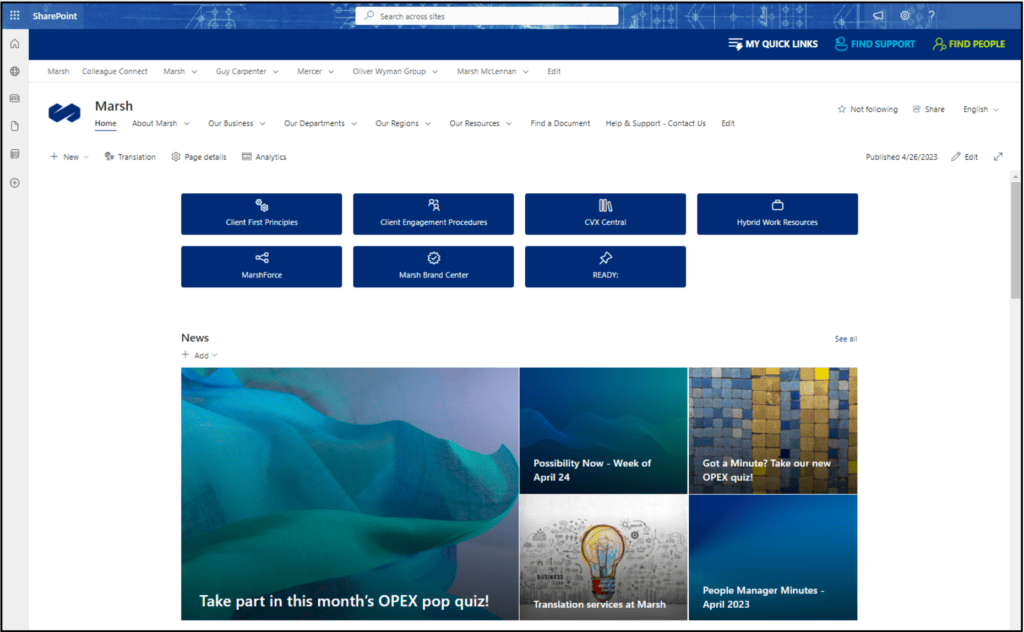 * Screenshot remains the copyright of the entrant, and may not be reproduced without written permission.
Marsh McLennan: Delivering a personalised global employee portal
Global professional services firm Marsh McLennan has created a global intranet called Colleague Connect for 85,000 staff. The intranet features global content but also makes extensive use of personalisation, and each of the company's four major business units has its own site within the overall intranet structure.
Notable features include a customised people search, a 'Find Support' feature, the ability to translate news through an integration with a translation vendor's API, an integrated chatbot, and more. There is also an extensive commitment to accessibility through a number of intranet features, as well as dedicated accessibility training for site owners and developers.
The intranet team has used automation to drive efficiency in managing requests from site owners. Overall the intranet has had a significant impact, improving adoption, content quality and efficiency compared to the previous portal.
Why this won a Gold award
This is a very well-executed and ambitious intranet project, delivered at a global level across an organisation with a very complex structure.
There is extensive use of personalisation to ensure content is relevant.
There is an outstanding emphasis on usability and accessibility, with a commitment to the latter reflected both in intranet features and in targeted training.
There are some well considered customisations that have real value, for example the Find Support feature and workflow to support the translation of news by an external vendor.
There are robust approaches to both intranet governance and findability that support overall intranet value.
We like the automation that has been introduced to help improve processes for site administrators.
There is a significant uptick in intranet usage, with more emphasis on useful content.
There are thoughtful approaches to balancing global and local content.
Full case study
Get a copy of the full case study as part of the 2023 Intranet & Digital Workplace Showcase report. This is packed with real-world screenshots and insights that will inspire your leadership team, and help you deliver a successful project.