The Intranet and Digital Workplace Awards are global awards that recognise outstanding contributions to the fields of intranets and digital workplaces. The awards uncover remarkable solutions that deliver business value, and then share them with the wider community. We also shine a light on the talented teams behind this work, and the agencies that have supported them.
Now in their 11th year, the awards have been renamed from the Intranet Innovation Awards, in recognition of the broader scope and impact of enterprise projects.
The 2017 Awards are now open for entries!
We're excited to start accepting entries for the 2017 Intranet and Digital Workplace Awards, and we look forward to seeing leading-edge solutions and ideas flow in from around the globe.
Visit the how to enter page for full details, and note that the closing date is 19 May 2017. Good luck!
Awards explorer
Browse the best that intranets and digital workplaces have to offer, and use the filters below to find answers and insights that match your needs. (Hint: choose "2016" to see just the winners of this year's Awards.)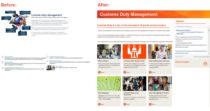 GSK: Driving brand compliance on the intranet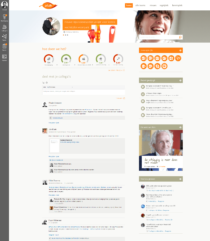 Accolade: Improving customer service with the intranet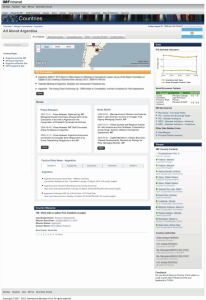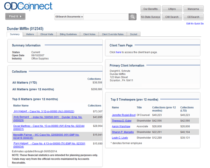 Ogletree Deakins: Improving findability and access to content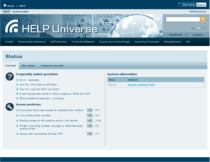 Danske Bank: Making an IT helpdesk portal user-centric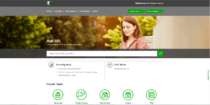 Telstra: Transforming the experience of HR systems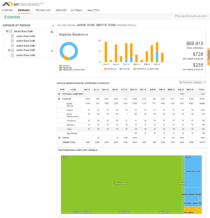 BNY Mellon: Changing user behaviour with big data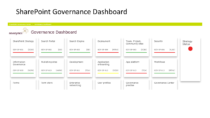 Novozymes: Driving governance in the digital workplace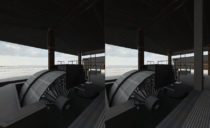 MWH Global: Improving client service with virtual reality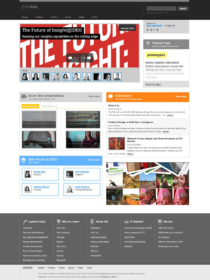 IDEO: The Tube - People and project pages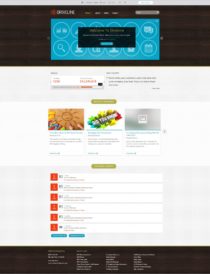 Prestige Financial: Improving findability to transform a process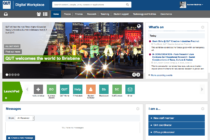 QUT: Making an intranet relevant to all staff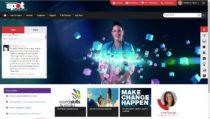 TAFE Queensland: Forging a new organisational identity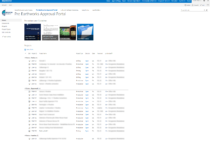 Beach Energy: Streamlining a complex approval process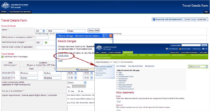 CRS Australia: Just-in-time-content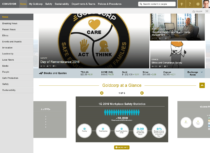 Goldcorp: Delivering a true enterprise-wide intranet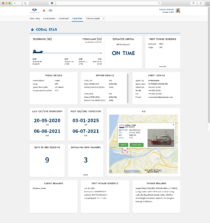 Anthony Veder Group: Creating a dashboard-driven digital workplace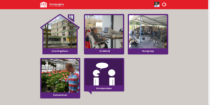 Vanboeijen: Supporting those in care using social tools
Latest updates from the Awards
Three ways to get what you need
1 ≫ Obtain every screenshot and case study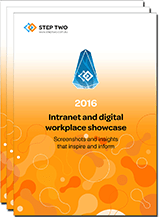 Awards bundle
A package containing all ten annual reports (2007-2016), providing a remarkable resource for intranet teams. The package comprises over 1,500 pages, including 92 winners and 54 commended entries. Winners come from across the globe, and cover a huge range of ideas and approaches. Read more
2 ≫ Get the most recent winners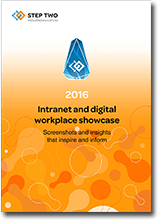 Annual showcase report
The must-have annual report for all intranet and digital workplace teams. Sharing details on this year's winners of the Awards, it will inspire and inform. Use the report to build support with senior management, and to guide planning for the team's next steps. Read more
3 ≫ Target your specific questions or needs
Use the Awards Explorer above to filter down to case studies that address your immediate issues and needs. Then purchase the matching case studies to get the unique set of screenshots and insights.
Scroll back up, and filter away!
More about the Awards
The Intranet and Digital Workplace Awards are run yearly, and are backed up by a panel of global judges, as well as a solid scoring methodology.
Don't hesitate to contact us if you have any questions, or would like more information.
Find out more: