The Intranet Innovation Awards are global awards that celebrate new ideas and innovative approaches to the enhancement and delivery of intranets. The goal is to find these remarkable solutions, and to share them with the wider community.
The 2015 Award winners have been announced!
Step Two is thrilled to announce the winners of the 2015 Intranet Innovation Awards, and this year winners come from the USA, UK, Denmark, the Netherlands and Singapore.
Obtain the Intranet Innovations annual report for full details on all the winners and commended entries.
You can also see the Awards live, with roadshow events around the globe, including in London, Washington DC, Sydney, Brisbane, Canberra, Melbourne, Auckland and Wellington.
Key themes for 2015
Smaller organisations deliver great intranets too
Digital workplaces aren't constrained by an intranet mindset
Organisations are reimagining the way they resource teams
Enterprise mobility has hit a speed bump
Intranets and external digital channels are converging
Central teams empower site managers by innovating
2015 Gold Award winners
Congratulations to this year's winning entries:
Barclays Bank (UK): A modern and engaging global learning curriculum with bite-sized content that empowers employees to manage their own learning.
BNY Mellon (USA): An ambitious personalised dashboard that exposes different types of data to change user behaviour.
Bureau Nationale Ombudsman (Netherlands): A beautifully designed digital workplace with innovative design features, drawing on content from different systems.
Danske Bank (Denmark): An IT Helpdesk portal that is truly centred on the user, encouraging a self-service approach and driving efficiencies.
GSK (UK): A superbly executed initiative to make hundreds of SharePoint sites on a global intranet brand compliant through the use of a new template.
HEINEKEN (Netherlands): A highly innovative story-telling platform for employees which uses video and can also be accessed externally by the general public.
Prestige Financial (USA): An excellent integration of customer and contact data into the intranet and search, transforming processes for frontline staff.
Robin Partington & Partners (UK): A fantastic custom-built digital workplace built from the ground up, packed with fascinating and engaging design features. .
Singapore Management University (Singapore): A truly excellent and ambitious modern intranet launch with some creative approaches to design and development.
SPIE-ICS (Netherlands): An intranet with a great twist on knowledge management where expertise is categorised through endorsements from employees.
2015 Commended entries
BGC Engineering (Canada), Centrica (UK), City of West Torrens (Australia), Deutsche Telekom (Germany), Fish & Richardson (USA), MITRE (USA), Repsol (Spain) and TAFE Queensland (Australia).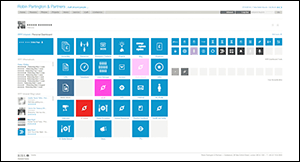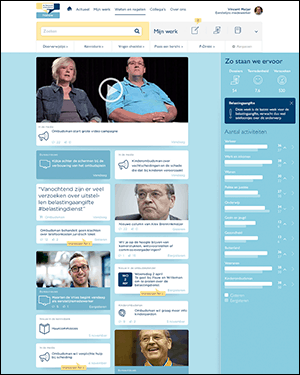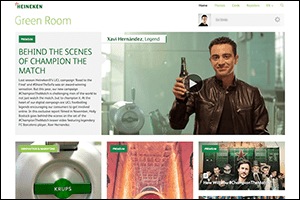 Latest updates from the Awards
Yet again, Step Two took to the stage at KMWorld, held in Washington DC in November 2015. I gave two presentations, as well as handing over trophies to the US winners of the Intranet Innovation Awards, in front of the full conference audience. I had many requests for the slides (including the screenshots!), so here they...

Most intranets are struggling to work out their purpose, and how they're going to deliver benefits. What if the intranet was established as a business tool soon after the birth of the organisation itself, with it evolving as the business grows? This is the journey that Shaula Zanchi from Robin Partington & Partners will share during...

Step Two is thrilled to announce the winners of the 2015 Intranet Innovation Awards, the global competition celebrating leading edge intranets and digital workplaces. All around the world, intranet, collaboration and digital workplace teams are building solutions and channels that are helping staff improve the way they work. Key themes to emerge this year are: Smaller organisations deliver...

When Johnson & Johnson's Asia-Pacific region wanted to help drive employee engagement and encourage connections between offices, they decided to focus on Corporate Social Responsibility (CSR) efforts. The homepage of Johnson & Johnson Asia-Pacific's microsite for Making Smiles, Changing Lives. A counter shows the number of operations which can be carried out...

Reviewing all the entries for the Intranet Innovation Awards (closing date for this year's awards is June 5th!) gives us fascinating insights into where intranets are and where they are heading. This learning helps inform our writing and also the work we do with our clients. It also gives many inspiring examples which we do our...
Annual reports
The Intranet Innovations reports provide an annual showcase of the present and future of intranets. Packed with screenshots and insights, they are a must-have for all intranet teams. With dozens of ideas both large and small, every team will find something that will excite management or guide immediate design decisions.
Intranet Innovations 2015 annual report
The must-have annual report for all intranet teams. Sharing details on this year's winners of the global Intranet Innovation Awards, it gives insight into the leading edge of intranets. Use the report to build support with senior management, and to guide planning for the intranet team's next steps. Read more
Intranet Innovations bundle
A package containing all nine Intranet Innovations reports (2007-2015), providing a remarkable resource for intranet teams. The package comprises over 1,200 pages, including 73 winners and 54 commended entries. Winners come from across the globe, and cover a huge range of ideas and approaches. Read more
More about the Awards
The Intranet Innovation Awards are run yearly, and are backed up by a panel of global judges, as well as a solid scoring methodology.
Don't hesitate to contact us if you have any questions, or would like more information.
Find out more:
"It was great to win the award, especially bearing in mind calibre of the other competitors and previous winners. We're lucky to have a really supportive environment here at the University of Liverpool, but there's something extra special about external validation.
"Since winning the award we've been invited to talk about our experiences both in the UK and overseas, so it's given us a great opportunity to fly the flag for the innovative work being carried out by our Mobile Development team."
Paul Hagan, UI & Mobile Development Team Leader, University of Liverpool (UK)