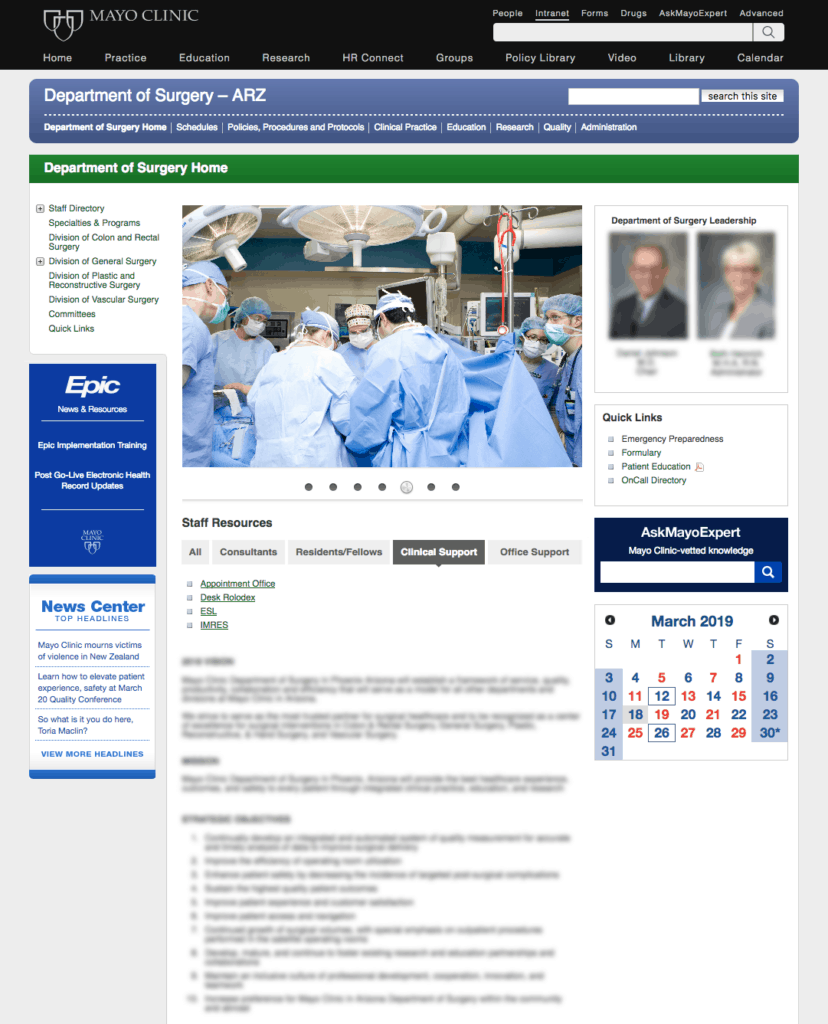 * Screenshot remains the copyright of the entrant, and may not be reproduced without written permission.
Mayo Clinic: Applying governance across local intranets
The central intranet team at the Mayo Clinic has produced a set of standard intranet guidelines and templates to improve the user experience and establish governance across over 200 highly specialist, disparate local clinical intranets largely managed by clinical staff.
Elements include a new improved navigation, a set of custom widgets, content guidelines and resources to support ongoing maintenance. There is also a new process for site redesign.
The result is a better and more consistent user experience across sites and significant efficiencies for site owners and the central intranet team.
Why this won a Silver award
The scale of this project is impressive – working on redesigning over 200 sites and establishing governance takes considerable effort.
There's a strong emphasis on making the standards sustainable through self-service resources.
The efficiencies gained for the central team are particularly strong, and we liked how it has also changed perceptions of their role.
Focusing on the process for redesign as much as the standards is also key, leading to a 'real world' approach that works.
We love the focused but flexible mindset of the team – helping very busy and highly pressurised site owners as well as users.
Full case study
Get a copy of the full case study as part of the 2019 Intranet & Digital Workplace Showcase report. This is packed with real-world screenshots and insights that will inspire your leadership team, and help you deliver a successful project.