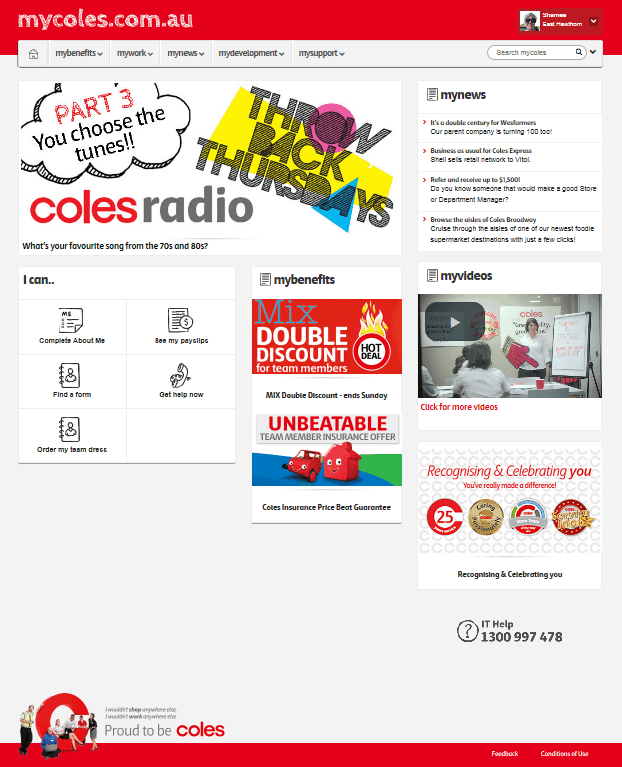 * Screenshot remains the copyright of the entrant, and may not be reproduced without written permission.
Coles: An intranet for frontline retail staff
Australian retailer Coles has launched a new intranet called 'mycoles' to meet the needs of 100,000 mainly frontline staff. The intranet is helping the company reach its objective to be Australia's favourite retailer.
The site is available on mobile and desktop devices and features communications content, HR information and the ability to conduct basic HR transactions. An extensive launch campaign and features which focus on user needs have driven impressive levels of adoption, as well as cost savings.
Why this won
?This intranet is fully aligned with the company's wider objectives, both driving engagement and improving processes.
The scale of the roll-out is very impressive, going to 100,000 mainly frontline staff, most of whom previously did not even have login credentials.
Great user feedback, high adoption levels and good projected cost savings are all demonstrating impact.
There's been real energy put into the extensive launch campaign, driven by the passion of the project team behind mycoles.
The design and identity of the intranet are very distinct to the Coles brand and organisational culture.
Full case study
Obtain the 13-page case study, packed with real-world screenshots and insights that will inspire your leadership team, and help you deliver a successful project.