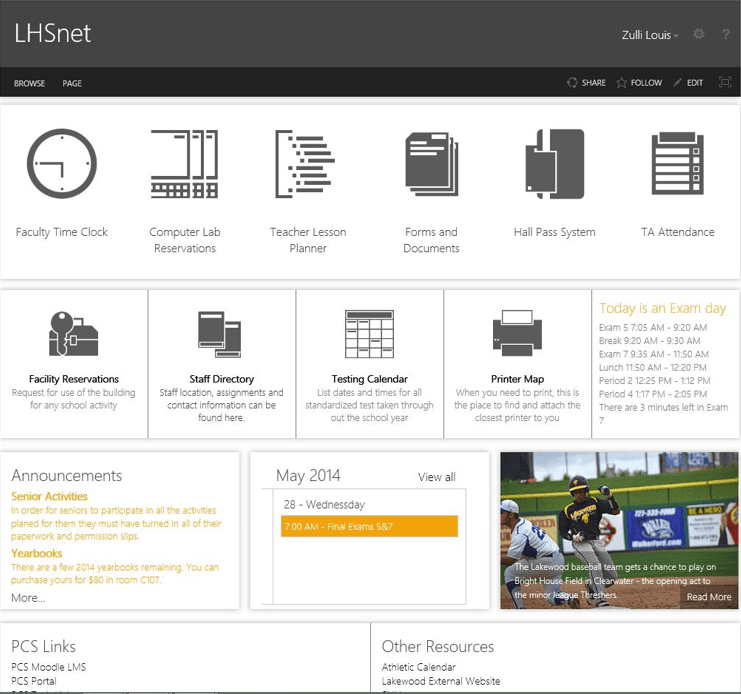 * Screenshot remains the copyright of the entrant, and may not be reproduced without written permission.
Lakewood High School: Creating the intranet experts of the future
Florida-based Lakewood High School's Center for Advanced Technology (CAT) Program has been running for many years. Part of the program allows students to design, manage and administer a SharePoint environment which supports a staff and student intranet, learning resources, apps and more.
A redesign and upgrade to SharePoint 2013 of the main staff intranet, LHSnet, has resulted in a number of improvements to content, forms and apps. This has not only increased productivity in the school through improved processes, but given students a unique experience in working with an enterprise-level platform.
Why this won
?The whole premise of the CAT program is highly innovative, giving students real world experience of SharePoint and intranet design and management.
This is one of the most extensive uses in the world of SharePoint or a similar platform in a high school setting.
The design work is very well executed, with an emphasis on delivering a good user experience through intuitive and simple interfaces.
There is a strong use of mobile devices, appealing to a student audience, and also allowing parents access to resources.
There is a very healthy ethos of improving processes and saving time for both staff and students, using forms, workflow, the auto-population of fields and more.
All the work is carried out by students, encouraging and nurturing some exceptional talent.
Full case study
Obtain the 14-page case study, packed with real-world screenshots and insights that will inspire your leadership team, and help you deliver a successful project.