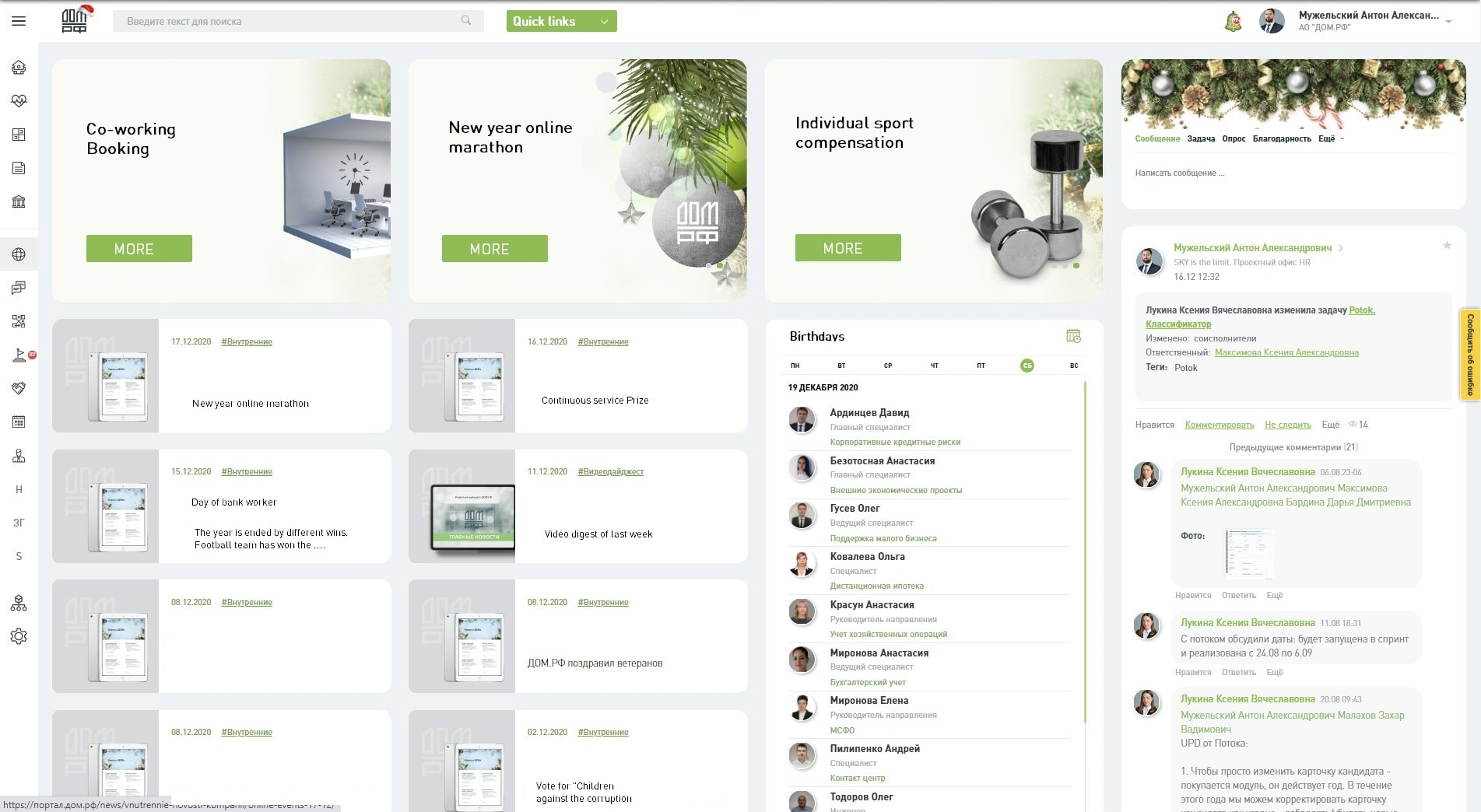 * Screenshot remains the copyright of the entrant, and may not be reproduced without written permission.
DOM.RF: Building a digital ecosystem of services
DOM.RF has created an extensive digital ecosystem of services for end users and management, all delivered through the intranet. Unifying two legacy intranets, the new platform is helping to standardise and digitise key business processes and workflow, as well as providing standard intranet capabilities.
There are extensive integrations and use of AI. Stand-out features include workspaces, integrated office maps, desk booking, COVID-19 monitoring, an employee 360 review process, a quarterly "OKR" employee feedback system and automated employee photo processing.
A system of advanced interactive dashboards and reports delivers insights to managers and HR. These include a highly innovative AI-powered dashboard to monitor employees at risk of burnout. The intranet is driving significant efficiencies and increases in adoption.
Why this won a Gold award
The sheer depth of integrations and services that are run through the intranet is highly impressive, creating a single environment for employees to access digital services.
The interactive dashboards featuring business intelligence for senior management are very comprehensive.
The employee burnout monitoring is extremely innovative, with potential high value.
We liked the quarterly feedback process based on the OKR methodology, which is unusual to see delivered through an intranet.
We applaud bringing AI and automation to everyday processes such as the processing of employee photos.
The practice of further developing features already created has opened up new capabilities such as desk booking.
The new capabilities are being used to navigate the challenges of COVID-19.
It is impressive to establish the underlying governance required to deliver an integrated ecosystem.Full case study
Full case study
Get a copy of the full case study as part of the 2021 Intranet & Digital Workplace Showcase report. This is packed with real-world screenshots and insights that will inspire your leadership team, and help you deliver a successful project.