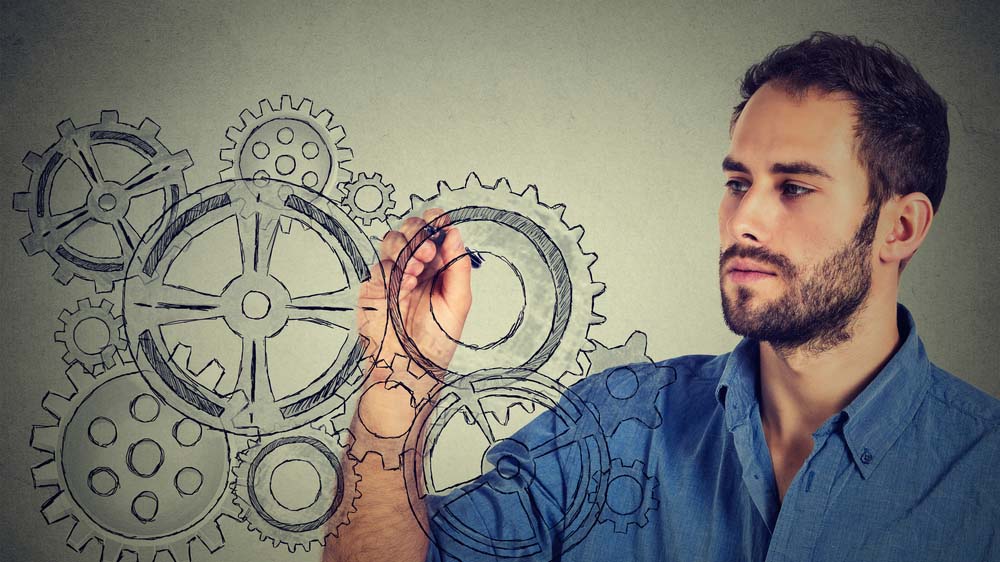 Use the digital workplace to make work better

BEST PRACTICE ARTICLE
Filed under: Digital workplace, Latest Features
The digital workplace is a broad concept, and it encompasses many aspects of how staff work, and how organisations operate. Much is made of the opportunity for a great digital digital workplace to transform a business, and rightly so.
Too often, however, these discussions just focus on the collaboration and social side of the digital workplace. What is missed is a recognition that the digital workplace can fundamentally impact how work is done, on an hour-to-hour and minute-to-minute basis.
This is about activities, tasks, processes and business systems. It's here that the digital workplace can make work better.
This article outlines a simple model that shows how digital workplaces can streamline and improve the business processes of an organisation.
Renovating the digital workplace
While people are the crucial part of any organisation, they must be supported by infrastructure and systems that allow them to get work done.
Sadly, the infrastructure of many organisations is old and creaky. Dated business systems are hard to use, and not integrated. Many activities are still done on paper forms (albeit then scanned and emailed), or completed via ad-hoc processes. Not only is time wasted, but the quality of products and services is reduced.
These problems are well recognised, and every organisation has a program of IT projects underway to address them. While this typically results in the deployment of new systems, there's the danger that platforms are merely different, not better. Many gaps remain, particularly in the areas of usability and user experience.
This is where the digital workplace can play a valuable role, in supplementing what is already being done.
There are five steps in using the digital workplace to make work better:
establish the foundations
simplify the user experience
look for the gaps
address fundamental needs
exploit mobile opportunities
Each of the steps is explored in the coming sections.
The #digitalworkplace can help to fix the old and creaky infrastructure of organisations
1. Establish the foundations
The starting point is to understand the business, via robust needs analysis. This involves spending time in operational and frontline environments, observing how staff work, and digging into points of pain. This is not about 'asking users what they want'. Instead, it's about building a depth of knowledge about how the organisation works, to enable the digital workplace to target key opportunities.
In parallel with this research, key digital workplace foundations can be put in place, including:
A modern intranet platform that can be used to go beyond just publishing content (consider both out-of-the-box intranets and the new class of SharePoint-based intranet solutions).
Clean up Active Directory, to ensure that accurate user data can be used to underpin business solutions.
Put in place simple online forms functionality, to enable gaps to be rapidly addressed (see below).
Ensure all staff have mobile access (potentially via BYOD), as the starting point for mobile solutions (see below).
Put in place development resources (either in-house or external), who can create bespoke solutions as required.
The good news is that these foundations can generally be achieved with ease, when a modern technology platform is put in place. (Although ensuring sufficient development capability is available is a separate challenge.)
Put in place #digitalworkplace foundations before tackling business process improvement
2. Simplify the user experience
At the most basic level, the digital workplace should provide a single enterprise front door to business systems and processes. Combined with single sign-on, this cuts through the need to know which system to use, and where to find it.
The digital workplace can, of course, go far beyond this simple ambition. More than just providing links to existing systems, it can offer greatly simplified user experiences for common business tasks and processes.
The Telstra 'me page' stands out as one of the clearest examples of how the digital workplace can deliver a transformational user experience. While staff already had online access to HR information via SAP, they found it quicker and easier to ring the HR helpdesk. By creating a new user interface for key information, call volumes were slashed.
In the age of rapid development and well-documented APIs, it's becoming easier and easier to improve the user experience for staff, while retaining and building on the strengths of behind-the-scenes enterprise systems.
Use the #digitalworkplace to improve the #ux of business systems
3. Look for the gaps
In most organisations, major business systems are already in place to address widespread needs. These include HR, finance, timesheet and frontline systems. These can be very large (and costly!) solutions that are generally seen as being outside the domain of the digital workplace (although their user interfaces can be greatly improved, as shown in the previous section).
Between these big systems, however, are many small gaps. These may currently be met by paper forms (which are then scanned, emailed and then retyped). There may also be ad-hoc handing of tasks, local systems, legacy products, or 'shadow IT' approaches.
While these needs sit below the radar of the IT department, they can play critical roles in delivering products or customer service. Collectively, they are also the source of substantial inefficiency and wasted time.
The digital workplace can address these gaps in one of three ways:
Use built-in platform capabilities to address the needs (see Automating three types of forms for an exploration of this).
Develop small bespoke solutions to target local needs, using agile methodologies to work within tight time and budget constraints.
Empower local business areas to meet their own needs, such as by establishing a 'centre of excellence' that can offer training and support.
While small, these individual solutions can be stitched into a cohesive digital workplace that adds up to a big business benefit.
Key #digitalworkplace opportunities are often local, not enterprise-wide
4. Address fundamental needs
The digital workplace doesn't just have to be relegated to covering the gaps, and providing the glue between systems. It can also directly address the fundamental needs and core business processes of an organisation.
This is the most ambitious approach to the digital workplace, as it wades directly into the complexities that sit at the heart of how organisations operate. It's also the way to deliver the greatest business benefits, and to achieve true digital transformation.
There are many inspirational examples from the Intranet and Digital Workplace Awards where core business needs have been tackled, including:
In all of these examples, three aspects are considered: user experience, business needs and technology. When combined, this enables better processes to be delivered, which are easier for staff, and more productive (or even profitable) for the organisation.
5. Exploit mobile opportunities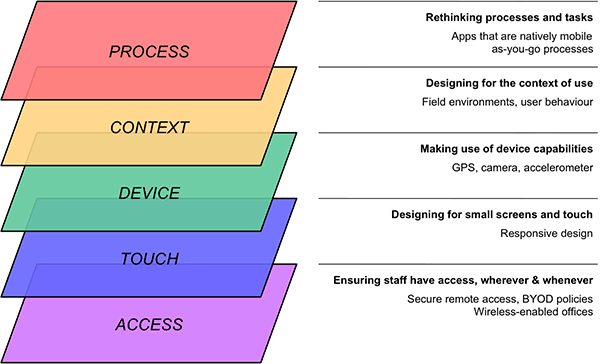 Enterprise mobility provides unique opportunities, and is worth singling out. As outlined in the Five layers of enterprise mobile design, mobile solutions can range from simple responsive designs for an existing intranet, through to true mobile business solutions.
In the context of making work better, it's the higher layers that are of interest:
Context: designing for the environment that staff will be in, and what else they'll be doing.
Process: rethinking systems and tasks to take full advantage of mobile opportunities.
This is where an entirely fresh approach can be taken to helping staff work. For example: instead of printing out documentation before going out to conduct a site inspection, an engineer can have the information at their fingertips, on site, using a tablet. More than just offering convenience, photos taken on the tablet are instantly added to the records, and the GPS is used to mark their location.
Taking that scenario a step further, augmented reality could be used to overlay the real-time view of the site with the plans, allowing any deviations to become instantly obvious.
From a digital workplace view of enterprise mobility, these types of solutions become apparent through the use of design thinking, which allows user experiences to drive business solutions.
Enterprise #mobility provides new opportunities for delivering a great #digitalworkplace
Fixing the way we work, pragmatically
The world of business systems and processes is complex, and tightly tied to the technology landscape consisting of both new and legacy solutions. For this reason, many digital workplace strategies shy away from delivering business solutions, targeting the people and collaboration side instead.
Many  pragmatic opportunities exist, however, to have a real impact on the daily work of staff. From eliminating small frustrations to transforming core business activities, the digital workplace can make its mark.