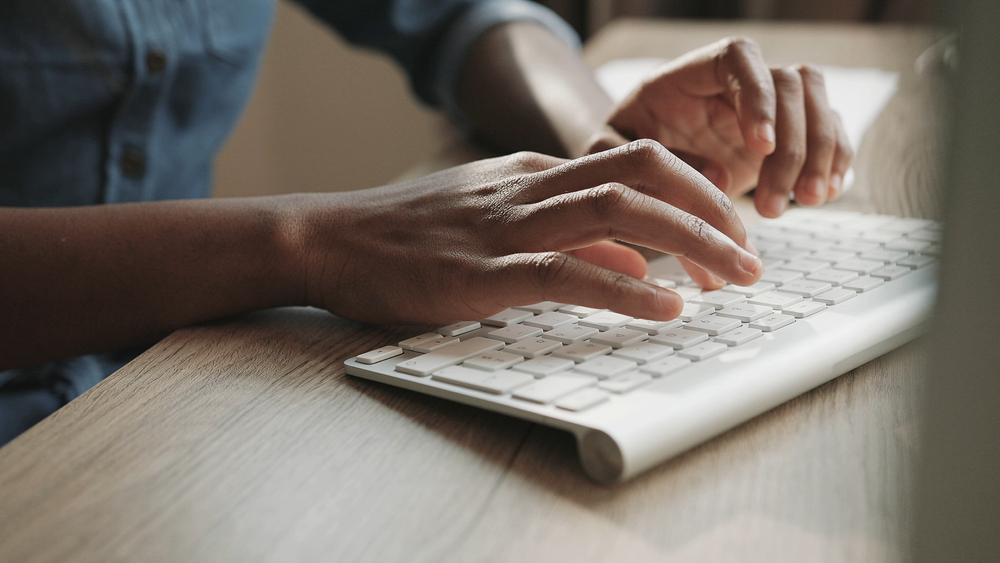 Four ways to support intranet content owners and publishing communities

BEST PRACTICE ARTICLE
Filed under: Intranet and digital workplace awards, Intranets
A successful intranet has content that is accurate, up to date, easy to read and serves a purpose. That content also needs to be findable, engaging, on-brand and compliant. But how do you ensure an intranet has content that meets all these attributes, and is sustainable so content continues to add value?
Leading intranets have governance in place to ensure that content is managed effectively throughout its lifecycle; governance can be defined as the roles, rules, standards, processes and other approaches that ensure content continues to deliver value. Central intranet teams are tasked with ensuring that governance is in place and is properly managed.
The vast majority of intranets operate on a decentralised publishing model with content owners and publishers creating and maintaining their own content relating to their function, division, region or location. One of the key challenges for central intranet teams is ensuring that this intranet publishing community keeps their content up to the required standards on an ongoing basis. Intranet publishers will all have a day job that takes precedent; inevitably they will be busy and even disengaged, and the person who is given the task of looking after the content is consistently changing.
Empowering local publishers through content governance
The governance that central intranet teams put in place is essential for empowering local publishers to manage their content, including:
clearly defined patterns of content ownership based on standard roles with set responsibilities so everyone is clear what is expected of them and what they need to do
clear publishing standards that might also be reflected in site templates
training and support activities for publishers so they have the know-how to manage their content
self-serve resources including how-to-guides, videos and guidelines to access on an ongoing basis
an online discussion forum to ask questions and interact with other publishers for tips and tricks
engagement and recognition for publishers
processes for authors and central intranet teams to review content throughout its lifecycle
automation and intranet features to support publishers including content dashboards, publishing wizards and more.
Let's look at some of the advanced features and processes that leading intranets have in place to support content governance and empower publishing communities.
1. The content analytics dashboard at MAN Energy Solutions
MAN Energy Solutions manufactures large-bore diesel and gas engines and turbo machinery. They've delivered an Award-winning global intranet called #CULive that puts employees at its heart.
To ensure the quality and sustainability of content on the intranet, there is a well-defined intranet governance model that incorporates a number of established content roles including content owners, content producers and champions.
The governance model also includes:
clear content and resource ownership
defined lifecycles for certain content types, with related automatic review and clean-up processes for old content
a continuous program for improvement that includes training the content community
monitoring progress, trends, statistics and new features and updates.
To support administrators, content owners and content producers, an intranet content dashboard (shown above) enables people to monitor engagement with content and its status. This reports:
number of visits or unique users per day to any web page (and trend chart)
reach of news articles compared to target
most liked or most commented web pages
content status for web pages and controlled documents (draft, pending approval, published, archived)
content past its review date
underused content compared to targets.
Armed with these insights, publishers can focus on improving engagement with content while also ensuring content is regularly reviewed.
2. Content lifecycle management at Alliander
Alliander is an energy network company consisting of a group of companies with approximately 7,300 employees. Their Award-winning intranet has steadily evolved over time, and has sustained very high adoption and  levels of participation among employees for a number of years, many of whom are in frontline roles. One of the reasons for the intranet's success is the robust governance in place relating to the intranet and its content.
Some of the governance in place helps content owners and publishers to keep their content up to date through its lifecycle. For example, a plug-in powers an author review process. When a page has not been updated for six months, the content owner receives a notification requesting them to review it. Seven days later they will receive another reminder and if they still do nothing, an automatic banner will appear on the page warning that the content may be out of date (shown above).
The combination of notifications and visible watermark on an out of date page both remind content owners that action is needed and also encourage accountability for the content.
3. The "Add Content" toolbar and wizard at TC Energy
TC Energy is a Canadian energy infrastructure company with an intranet that supports a heavily frontline workforce of 7,500. The intranet runs on a decentralised publishing model and to support the publishing community the intranet team have established:
a training site with videos, guidelines, FAQs, tips and more
a publishers community of practice site on Microsoft Teams where authors and admins can ask questions and share tips
a "lookbook" offering a guide to templates and designs with model examples to inspire and inform content authors
a brand portal.
Additionally, a persistent toolbar on the left includes an "Add Content" wizard (shown above) to assist content authors in adding the content they need. This means content authors don't need to know all the site rules, as publishing standards are baked into the wizard.
When selected, the Add content wizard guides authors through the process of creating and publishing a page of all the different content types,. This begins with choosing a content type and template. Icons make it easy to scan and choose the right content type, while short text provides more detail and indicates where it will be published. The wizard is particularly useful for publishers who add content infrequently.
4. The intake tracker at BCD Travel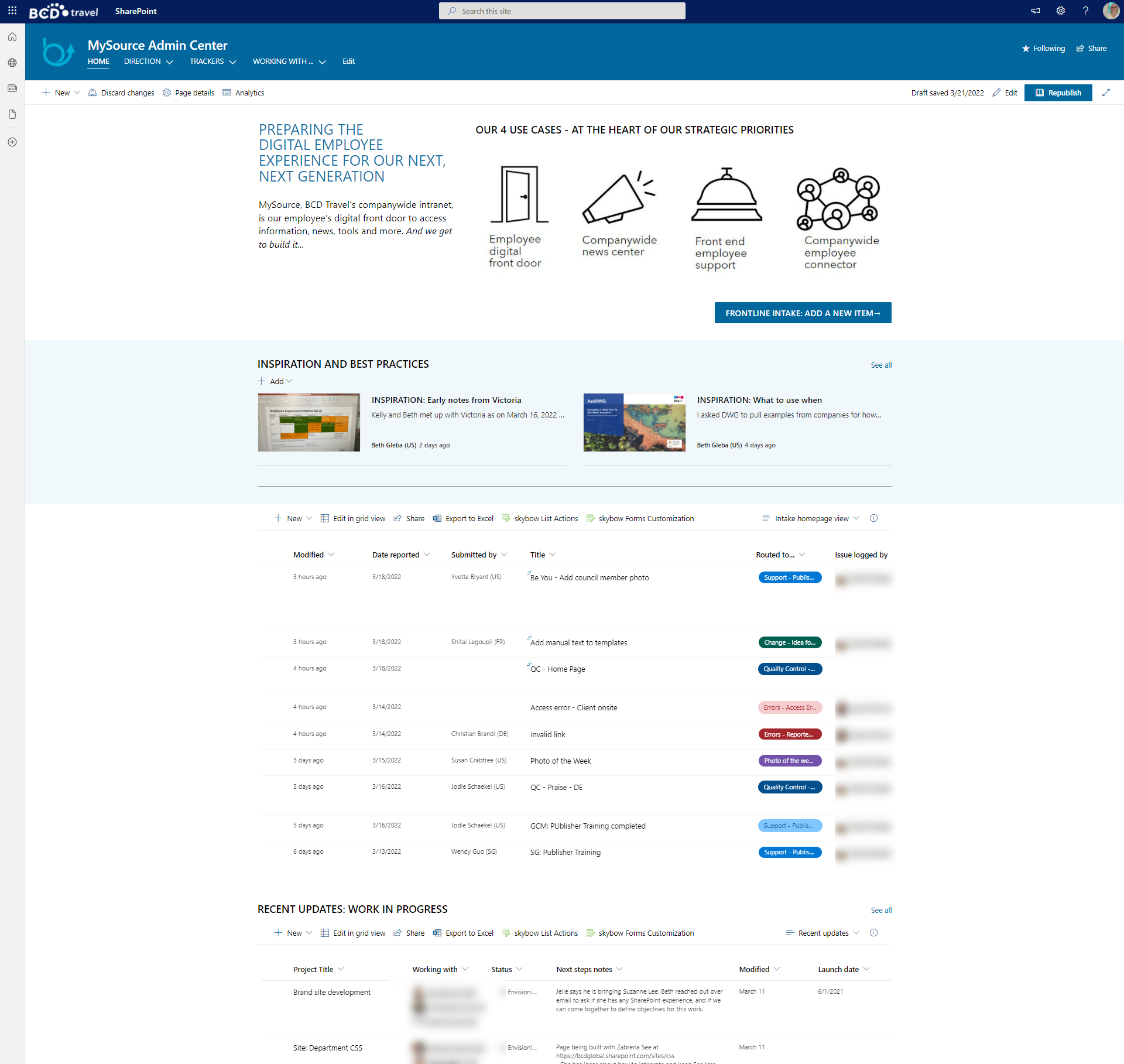 The Intake Tracker on the BCD Travel intranet logs and tracks publisher requests and other feedback that require action. Screenshot appears courtesy of BCD Travel.
BCD Travel is a travel management and technology company with with 10,000+ employees working in over 30 countries. The company's Award-winning SharePoint Online intranet MySource supports a diverse and multilingual audience. To ensure continued effectiveness, the intranet team has set up strong content governance which include:
a clear model of who owns content and also accountable and responsible, based on a RACI matrix
a toolkit of publisher training materials
a "Publisher Playground" sandbox environment where users can experiment with content and learn how to use different web parts
an active publishers community on Microsoft Teams where users can swap tips and ask questions
quarterly publisher meetings with Q&A and updates on what's new
detailed site templates
a site audit and review process.
Additionally, the team have created a SharePoint site called the "MySource Admin Center" (shown above). This includes resources to help manage the intranet as well as a detailed "intake tracker" that captures all incoming MySource requests, ideas, feedback, issues reported and more. This includes publishers requests.
Each item in the intake tracker is  logged in a SharePoint list and tagged with one of 14 related processes including "Ideas for change team" and "Support – publishers".  It includes all the details of the request, who made it, what action has been taken and more. The intranet team use it as a reference point during weekly meetings when the list is reviewed. It also provides transparency for those making the request or feedback as they can see what actions have been taken and the status. Of these, the team receive nearly 300 requests covering support for publishers, all of which are logged on the tracker.
Learn more
All these case studies and many others with multiple screenshots are available in the 2022 Intranet and Digital Workplace showcase report. Get information and inspiration from what the winners have done, how they've gone about it, and their lessons learned.