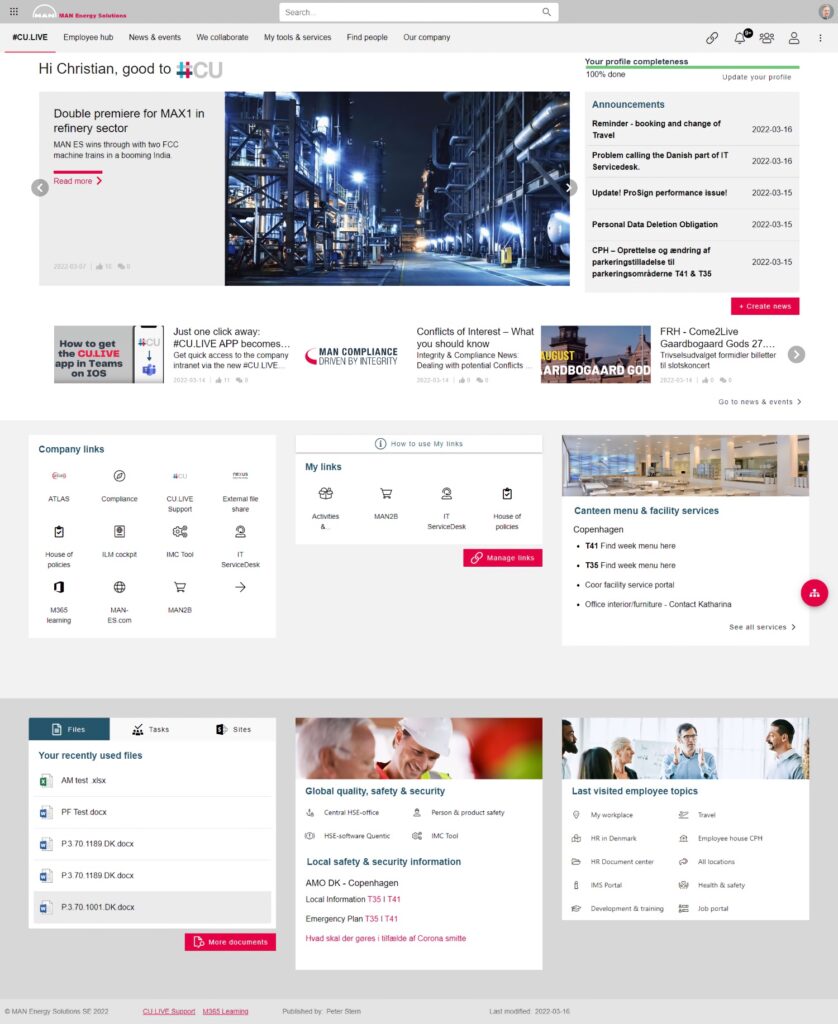 * Screenshot remains the copyright of the entrant, and may not be reproduced without written permission.
MAN Energy Solutions: Creating a global intranet with users at the centre
MAN Energy Solutions has launched a new intranet based on SharePoint and the Omnia 'in-a-box' solution. It is part of a wider digital workplace based on Microsoft 365, with tools embedded into the new intranet.
Highlights of #CULive include an 'Employee hub' that contains global and local HR information delivered by content targeting, a 'We collaborate' section that supports productivity and allows users to request different types of collaboration space, and a range of different content areas.
The intranet has been designed with a strong commitment to users, based on thorough user research and five personas. Content owners are also supported with training and an innovative content dashboard.
Content governance measures, and an extensive reduction in content, support content quality. So far the intranet is getting high levels of adoption.
Why this won a Gold award
The implementation methodology is strong, with commitments to user research, journey mapping, extensive content reduction and using champions for launch.
The mix of global and local content within the HR section of the intranet is helping to make the intranet more relevant.
The We collaborate section has high value; we love the embedded guidance to help employees choose the right collaboration solutions for their needs.
There is some nice work carried out on search and using metadata, for example in providing extensive filtering options for finding people.
There are strong approaches to supporting users and content publishers, through learning resources and support communities.
The content owner dashboard is well executed and will help to engage and sustain devolved publishers.
We applaud the commitment to content governance.
The intranet is achieving significant levels of adoption.
Full case study
Get a copy of the full case study as part of the 2022 Intranet & Digital Workplace Showcase report. This is packed with real-world screenshots and insights that will inspire your leadership team, and help you deliver a successful project.