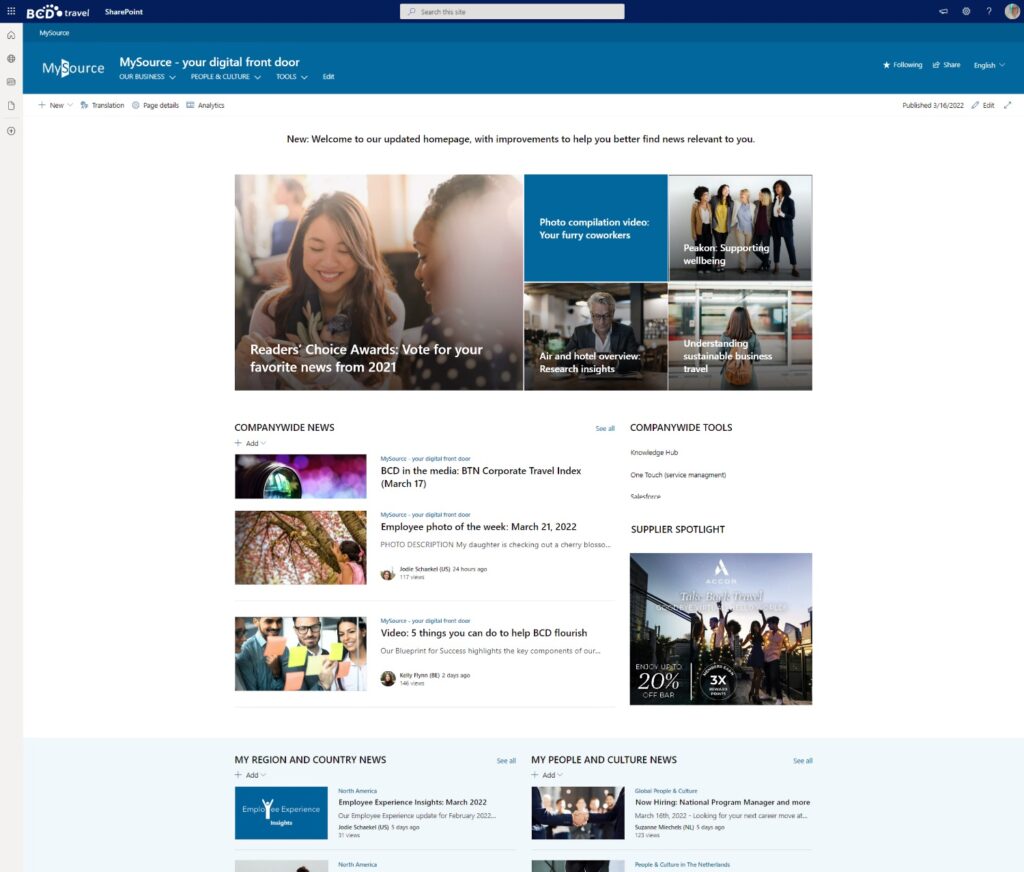 * Screenshot remains the copyright of the entrant, and may not be reproduced without written permission.
BCD Travel: Managing an intranet so it delivers long-term success
BCD Travel has implemented an intranet based on SharePoint Online and Viva Connections, using almost all functionality out of the box. The intranet features extensive personalisation to support BCD Travel's global and diverse multilingual workforce. A series of newly created Yammer groups are also embedded, as well as a Viva Connections feed.
The intranet has been implemented with a comprehensive governance framework that supports the content lifecycle and publishing standards, as well as involving stakeholders from across the business, including the technology function. There is also extensive support for publishers.
A number of intranet management practices have also been carried out including a formalised approach to gathering and acting on user feedback, and establishing site templates.
Why this won a Gold award
This is a great example of how to use out-of-the-box SharePoint Online web parts to deliver a strong global intranet managed by a small central team.
The approach to personalisation is well-thought-through and strongly executed.
The governance is comprehensive but also pragmatic to make it work.
We love the extensive support for publishers and some of the innovative approaches, including the publisher sandbox environment and the development of the MySource Admin Centre.
The process for receiving and acting upon feedback is excellent and a blue print for how intranet teams can manage smaller requests.
We love the DEX network and the WorkSmart site to extend the influence of the team across the wider digital workplace.
We admire the commitment to testing with a volunteer user group.
We love the positive can-do attitude of the intranet team.
Full case study
Get a copy of the full case study as part of the 2022 Intranet & Digital Workplace Showcase report. This is packed with real-world screenshots and insights that will inspire your leadership team, and help you deliver a successful project.