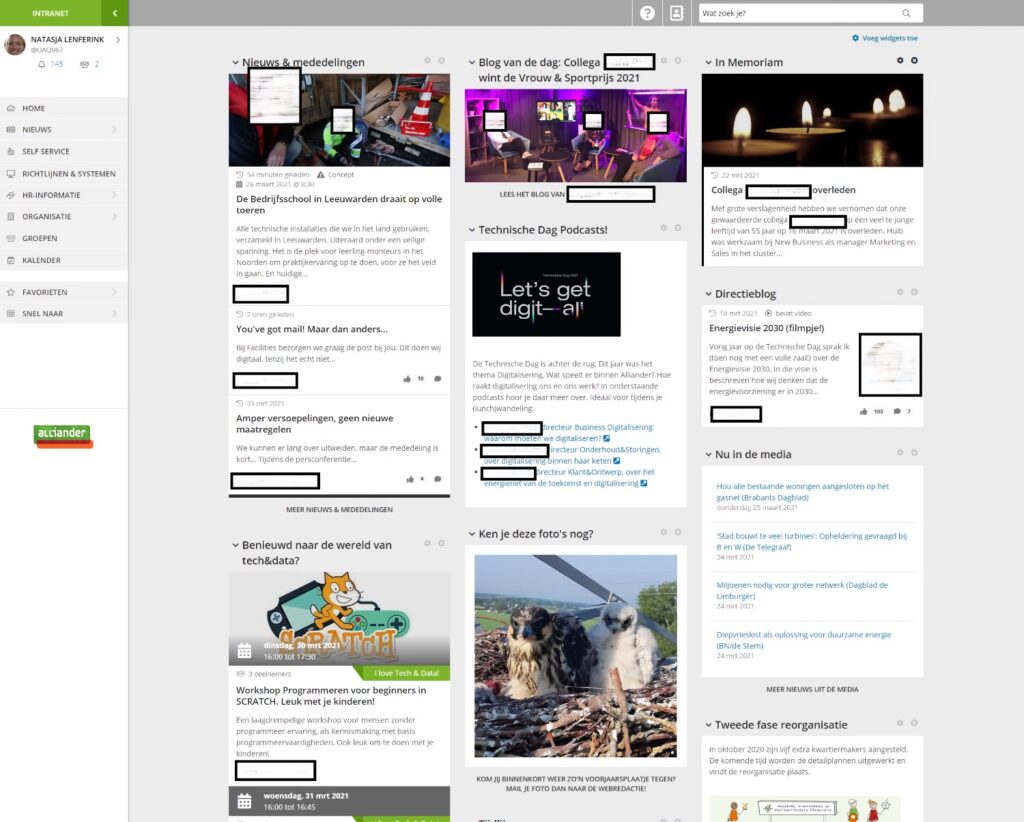 * Screenshot remains the copyright of the entrant, and may not be reproduced without written permission.
Alliander: Evolving the intranet via continuous improvement
Alliander has created an intranet that has evolved through continuous improvement and agile delivery over more than six years. High involvement of users in design and testing, plus a regular cadence of minor and major releases, has helped ensure there is consistently high adoption with a predominantly frontline workforce.
Notable features include highly integrated social capabilities, a database of self-service tasks, communities and integrations. The intranet also includes advanced content lifecycle management and governance.
A full-time 'webcare' person helps to drive adoption. Recently the team has made multiple improvements to search, successfully creating a more Google-like experience and improving findability.
Why this won a Gold award
This is an excellent example of the way a well-executed program of continuous improvement can sustain high adoption and value over a number of years, prolonging the life of the intranet.
Robust processes ensure the intranet is user-centric, including working with a regular group of users, running proof of concepts and usability testing.
The search improvement work is strong and tightly aligned to feedback received from users, and has increased search satisfaction.
The database of self-service tasks is well thought through and helps employees get things done.
We like the approaches to drive adoption including the dedicated 'webcare' role and the onboarding wizard.
Achieving consistently high adoption is hard enough, but doing so with a high proportion of frontline staff is a major achievement.
Full case study
Get a copy of the full case study as part of the 2022 Intranet & Digital Workplace Showcase report. This is packed with real-world screenshots and insights that will inspire your leadership team, and help you deliver a successful project.