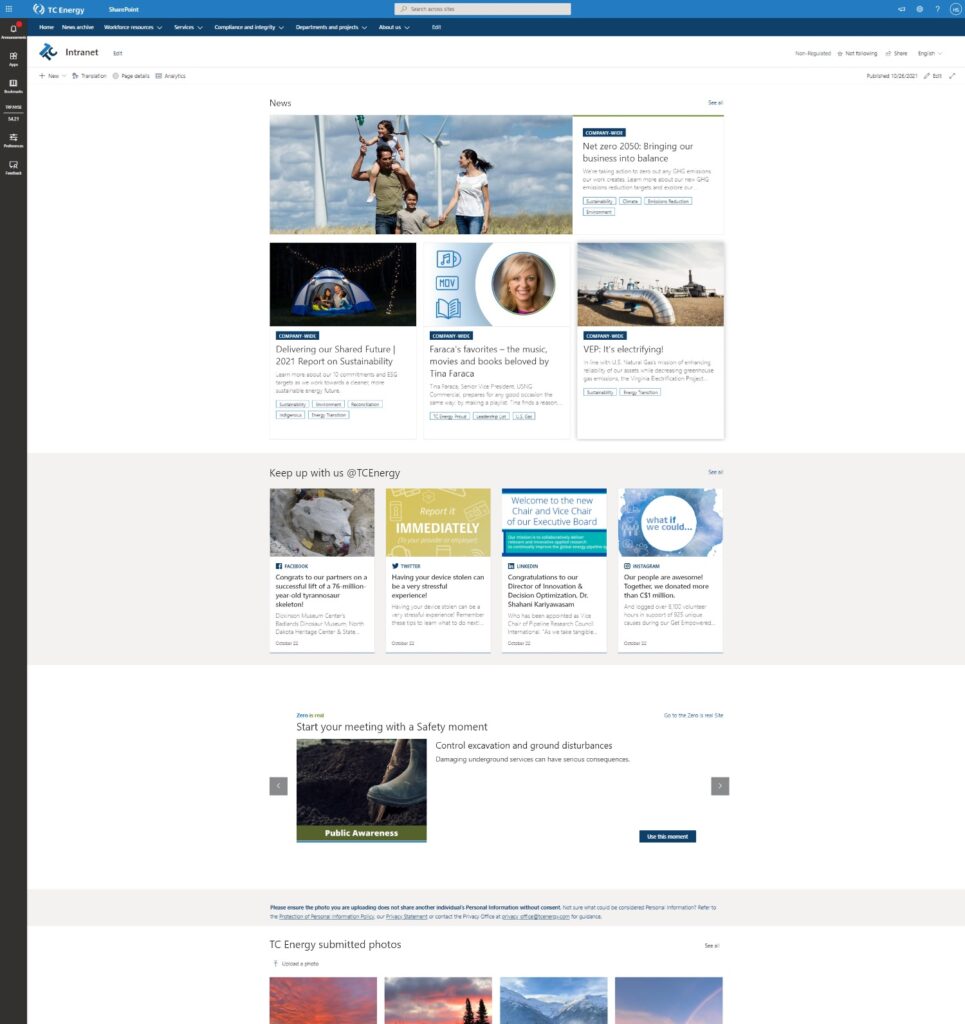 * Screenshot remains the copyright of the entrant, and may not be reproduced without written permission.
TC Energy: Aligning a modern intranet with workforce needs
TC Energy has launched an intranet for its global workforce. With a multilingual approach and access for frontline employees via the Microsoft Teams app, the intranet aims to be inclusive for all employees. The intranet is feature-rich, using the Go intranet in-a-box product as a base.
Standout areas include an embedded brand portal with a PowerPoint extension, a popular homepage gallery with user-generated contributions, a classified section for employees, and a toolbar with a variety of different options to customise the intranet and change preferences.
Content owners are also well supported through a resource site, a Teams-based community, a series of templates and a content publishing wizard. The intranet is receiving good levels of adoption and engagement with content.
Why this won a Gold award
There is a very solid implementation methodology from user research through content migration to launch.
We applaud the ethos behind the intranet, which is to make the intranet inclusive and accessible to all employees.
The embedded brand portal and PowerPoint integration is innovative and enables a self-service approach.
We love the photo gallery and the high levels of engagement it receives and there is good use of imagery throughout the intranet.
It's good to see content owners have strong support and the detailed templates and Add content toolbar option are nice touches that offer real-world publishing support.
The safety moments feature helps establish focus on a key value.
We like the commitment to using analytics to drive improvement.
There are strong levels of adoption, which is a great achievement with a high proportion of frontline staff.
Full case study
Get a copy of the full case study as part of the 2022 Intranet & Digital Workplace Showcase report. This is packed with real-world screenshots and insights that will inspire your leadership team, and help you deliver a successful project.