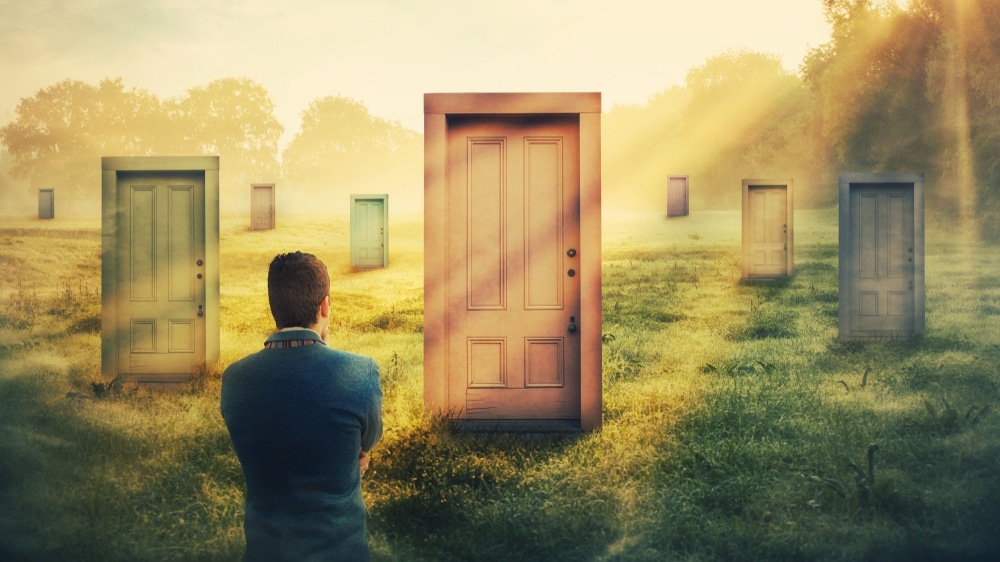 Four ways to guide users to which Microsoft 365 or digital workplace tool to use when

BEST PRACTICE ARTICLE
Filed under: Digital workplace, Microsoft 365
Every Microsoft 365 and digital workplace team wants to drive better adoption and usage of tools across the digital workplace, encouraging users to get the very best out of the applications they have access to. But providing guidance on which tool to use when and for what scenario has it challenges, particularly in the areas of communication and collaboration. This is particularly true when tools have overlapping features, where you can achieve similar results using Yammer, Microsoft Teams or a SharePoint team site.
In this post we're going to cover some of the ways that leading intranet and digital workplace teams are providing guidance on "which tool to use when".
1. Include extra information in your app catalogue
Modern intranets play a role as the front door to the wider digital workplace, and usually have some kind of app directory that lists all the enterprise apps that are used across a company. This app directory will provide links to the different applications, but can also provide supporting information such as user guides and who to contact about gaining access. Some app directories also allow users to bookmark favourite apps that can then be viewed on a personalised homepage, toolbar or navigation.
Providing supplementary information helps encourage the use of particular tools for different uses cases. At travel technology company BCD Travel, the intranet has a central tools page that is available as a global navigation item. This not only lists all the apps in alphabetical order, but also includes them in different categories, for example listing the tools that are used by customer-facing agents. Each app listed includes a description of what it does and the regions it is being used in. This extra information is also useful for new starters who are still be becoming acclimatised to the digital workplace toolset.
The different tool categories also have a 'Recommended for you' section which has audience targeting applied, so users can see the particular tools that are relevant to to them. Having both the full list and the personalised recommendation has proved to be highly valued by employees trying to find the tools they need across the digital ecosystem.
2. Create a digital workplace resource centre
Some digital workplace teams choose to develop a more detailed resource site that provides guidance for employees on how to use particular tools across the digital workplace, including details of which tools to use for which scenario. These sites include self-serve resources such as user guides and videos. Australian utility company TasWater set up a site specifically focused on Microsoft 365 that can be accessed via the intranet. This aims to "democratise capability" in using digital workplace tools and has been accompanied by an extensive learning program that has seen nearly a third of the company receive dedicated SharePoint training.
At BCD Travel, the intranet team created a "WorkSmart" site in partnership with the a network of business stakeholders who are dedicated to Digital Employee Experience (DEX). On the site, employees can find news about BCD technology progress and upcoming changes, as well as technology tips and tricks. Within the site, a separate collaboration section provides an overview of BCD Travel's main employee technologies and how they are organised:
personal productivity
service management
for agents
company-wide reach
team
For each technology, employees can find an "About" landing page which includes a brief introduction, tips, links to training and instructions on how to activate the tool.
3. Bake tool guidance into a site request process
Another way to provide guidance on which tool to use when is to include it within the process when a user or site administrator requests a specific tool or site. This gives advice at the point of need and makes the requestor more likely to take notice and request the optimal site for their aim. At  TasWater all the forms to request either an intranet page, SharePoint Team site, Planner, app or enhancement are reached from the same page, with a guide to what each tool or site does.
MAN Energy Solutions manufactures engines and turbo machinery. On the intranet there is an area dedicated to collaboration. Here, users can create new collaboration sites based on three defined templates, including both SharePoint and Microsoft Teams resources. Each template has a clear description to help the user choose what form of collaboration space will best suit their needs. This triggers a form / wizard that also includes an includes introductory video explaining and providing examples of what the user is about to create, all to avoid misunderstandings and help employees choose the right type of site.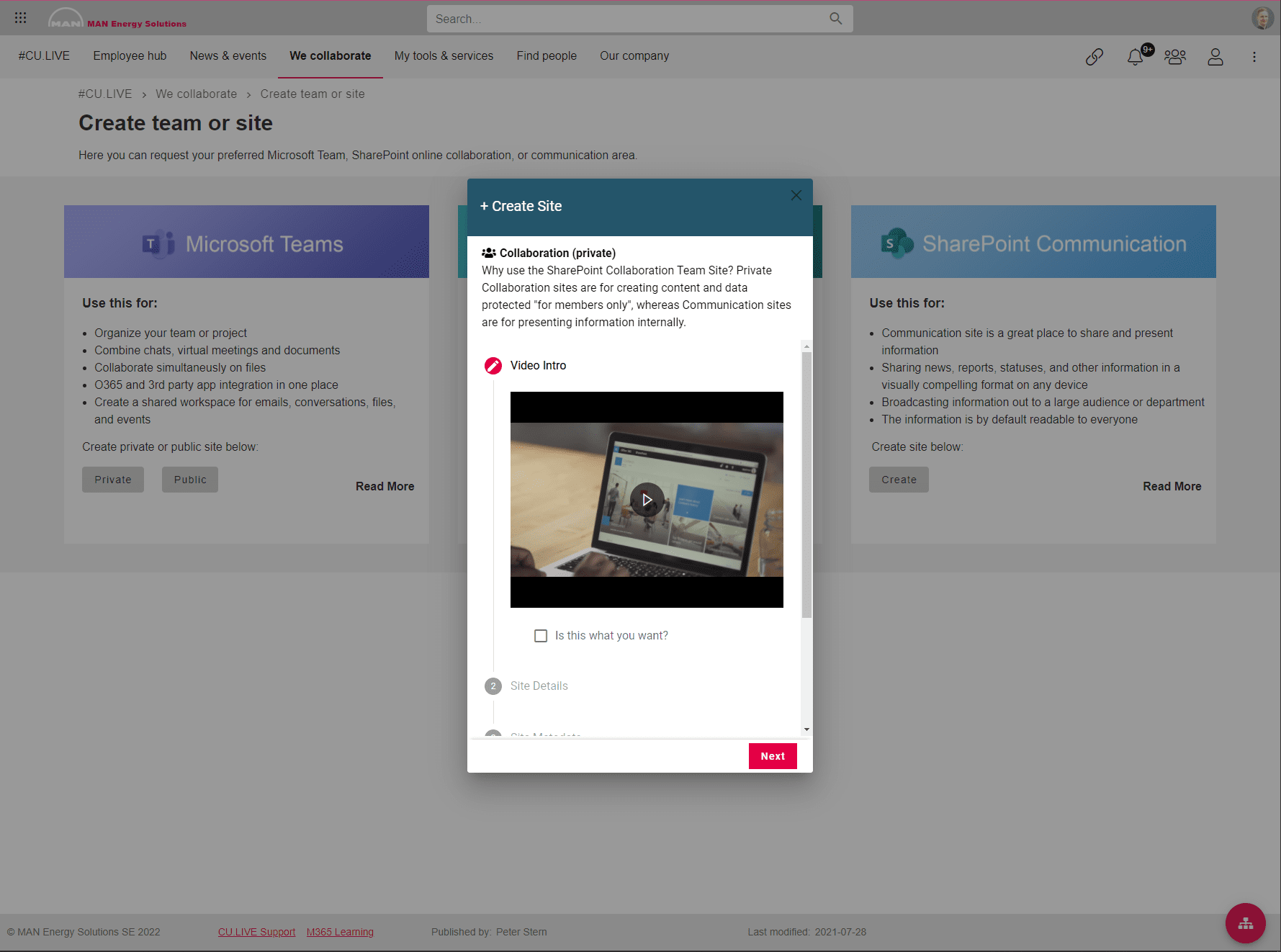 MAN Energy Solutions collaboration site request process embeds guidance and introductory videos into the request process to guide users to the right choice. Screenshot appears courtesy of MAN Energy Solutions.
4. Create assets targeted to different groups and roles
One way to guide users to which tool to use in which scenario is to develop targeted assets for specific audience groups, using language and referring to use cases which will resonate. This means the guidance provided will be more relevant and meaningful.
For example, the intranet team at financial services company Suncorp Group, developed a "which tool when" framework which detailed the best tools to use for different scenarios, as well as considerations such as speed and confidentiality.  To make it more relevant they created specific targeted assets including a guide for leaders comparing the use of Teams, Yammer and Outlook (shown above).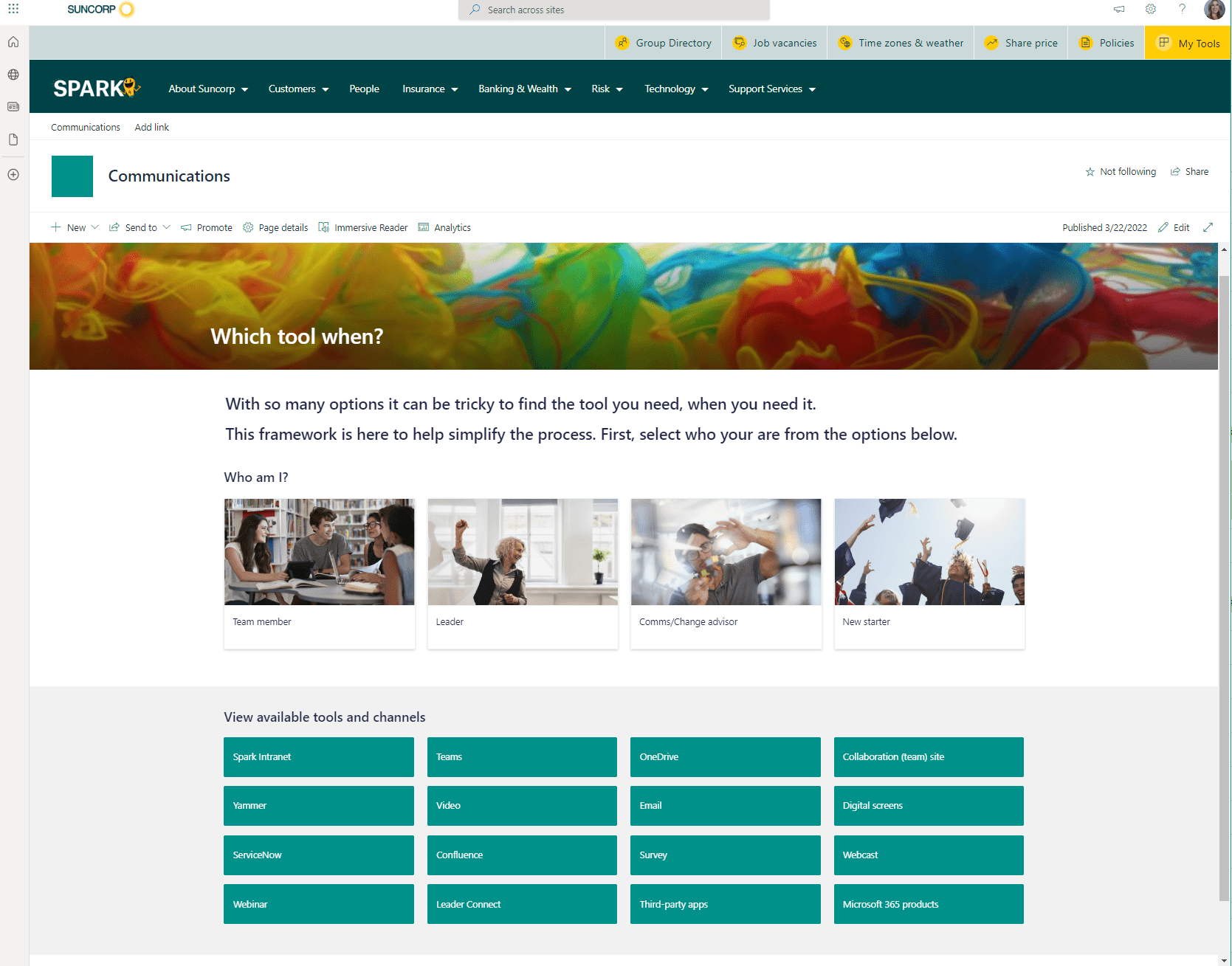 The team from Suncorp Group then went further, creating a "which tool when" site that compares the use of available tools and channels for four different groups:
team members
leaders
comms or change advisors
new starters
Five tips for success
Providing guidance on which tool to use is a core part of supporting users in the digital workplace. Here are a few tips for success:
Work out which tool should be used when and for which scenario, and make this a core part of your governance across Microsoft 365 or the wider digital workplace, gaining any consensus required. Key questions are likely to be when to use Microsoft Teams or Yammer and when to use Microsoft Teams or SharePoint.
Be definitive and consistent in the guidance you give, while also keeping it simple.  This can mean reducing and even eliminating choice, as users don't necessarily want to be presented all of that options that can be used to achieve the same thing.
Target guidance to different groups so it is relevant and reflects the use cases that employees use in their everyday work. This is a tactic that the team at Suncorp Group followed with great success.
Where you can, embed guidance at the point of need. This includes referencing use cases in the way tools and apps are categories in an apps directory, and including guidance in the site or tool provisioning or request process, for example at MAN Energy Solutions.
 Cover "which tool to use when" in wider change management efforts, including engaging digital champions, carrying out formal training (particularly to power users and site managers), creating an online community for Q&A and tips, and also in providing self-serve resources.
Learn more
All these case studies and many others with multiple screenshots are available in the 2022 Intranet and Digital Workplace showcase report. Get information and inspiration from what the winners have done, how they've gone about it, and their lessons learned.