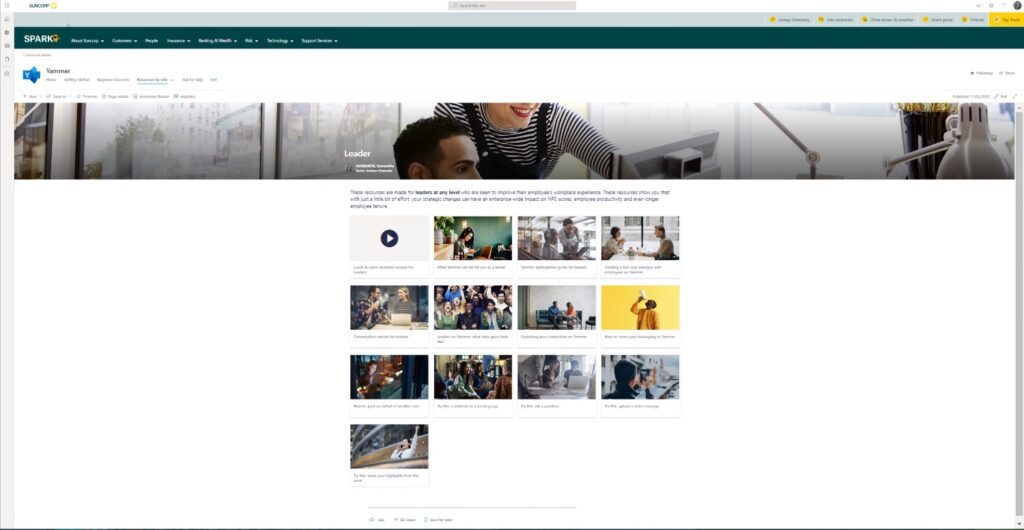 * Screenshot remains the copyright of the entrant, and may not be reproduced without written permission.
Suncorp Group: Transforming the adoption and value of Yammer
The Yammer team at Suncorp Group has launched a new Yammer strategy in order to raise adoption and increase the value of the platform. The team has taken a data-driven approach by designing a change program based on user research.
The strategy centres on creating highly targeted resources and training aimed at key personas who use Yammer including change and comms specialists, and leaders. A site has been designed on the intranet containing articles about using Yammer, as well as a series of online training sessions, and assets including a 'Which tool when' chart and a pack for community managers.
Gamification has also helped to engage leaders. The result has been a huge rise in adoption over 14 months and far greater involvement on Yammer from senior leaders who are now following best practices.
Why this won a Gold award
This is an extremely well-designed change program with great thought put into the detail of the content and the training.
Resources are well targeted to the needs of key influential groups, including senior leaders and those who support them.
The use of leader boards for senior leaders has been highly effective.
We applaud that the strategy has been based on thorough user research.
The leap in active users from 44% to 80% in 14 months is exceptional.
We love that leaders are exhibiting model behaviours, and being more visible on the platform.
The valuable role of Yammer during the 2022 floods crisis shows that the new Yammer strategy has paid dividends.
The training program, Yammer integration with the new intranet, and support community is focused on delivering adoption that is sustainable.
The strategy has been delivered by a small team with a modest budget.
Full case study
Get a copy of the full case study as part of the 2022 Intranet & Digital Workplace Showcase report. This is packed with real-world screenshots and insights that will inspire your leadership team, and help you deliver a successful project.