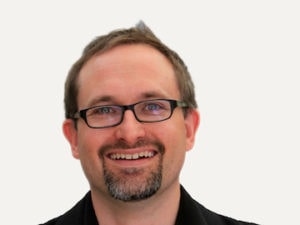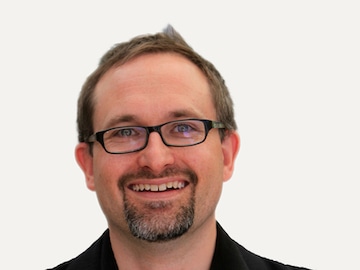 Steve Collis
Amicus
Context creates the moment
Presentation from DEX 2019
Topic
Have you ever felt awkward in an elevator, been creative in café, or lazily taken the escalator to the gym?
There's more than meets the eye in the cause/effect loops that shape our lives from moment to moment. At the heart of our experience sits an uncomfortable truth: a person doesn't stop at the perimeter of their body but is perpetually constructed and reconstructed by 'context'.
If situational factors can hold such sway, can they, in some sense, be 'hacked'? Maybe so, but first thing's first: we can't change what we haven't noticed.
This session will focus on a wide range of examples where people experiences of 'routine contexts' – home, school, work, etc, have been genuinely and structurally transformed from the outside in, and we'll get hands on with a practical tool for "context hacking" in our own lives.
the importance of looking to unfamiliar contexts to get fresh insight into the forces that govern your own
composing 'micro-stories' to get clarity on the moments in our lives that we want to see more (or less) of
the use of 'search prompts' to identify factors that are so familiar to us we don't even notice they are there
use of a visual model called 'Touchline' to identify effective personal development strategies
Profile
Steve's obsession with outside-in transformation was sparked as a child by the world-building of JRR Tolkien and the amazing discovery that by clicking "CTRL-BREAK" on his 1980s ZX Spectrum computer he could reprogram the behaviour of computer game environments in BASIC. So then, presumably, the real world can also be reprogrammed?
As a High School teacher he set about reimagining physical and virtual classrooms to re-connect students with a love of learning. In 2005 he won both the Microsoft Innovative Teacher of the Year and National Quality Schools Awards in succession, and took a directorship role at 'Sydney Centre for Innovation in Learning' (SCIL) – an innovation incubator and consultancy embedded within a K-12 school on Sydney's Northern Beaches.
SCIL was described by David Price of the UK Innovation Unit as "What would have happened if Edison had been an educator rather than inventor", and featured in AITSL's publication "50 worldwide examples of innovative approaches to professional growth."
In 2016, Steve left education to take on a dream role at a construction company, Amicus, providing human-centred research and visioning to underpin the creation of new work environments.
As ever, his obsession remained: how to achieve transformation not by willpower or effort, but by working with a single astonishing truth: what surrounds us in our environment exerts a powerful, and perhaps 'harness-able', force!
Ask Steve about his latest adventure with his wife Rachel: their first child, 3 month old Amy, who has just discovered she has arms!
Photographs from DEX 2019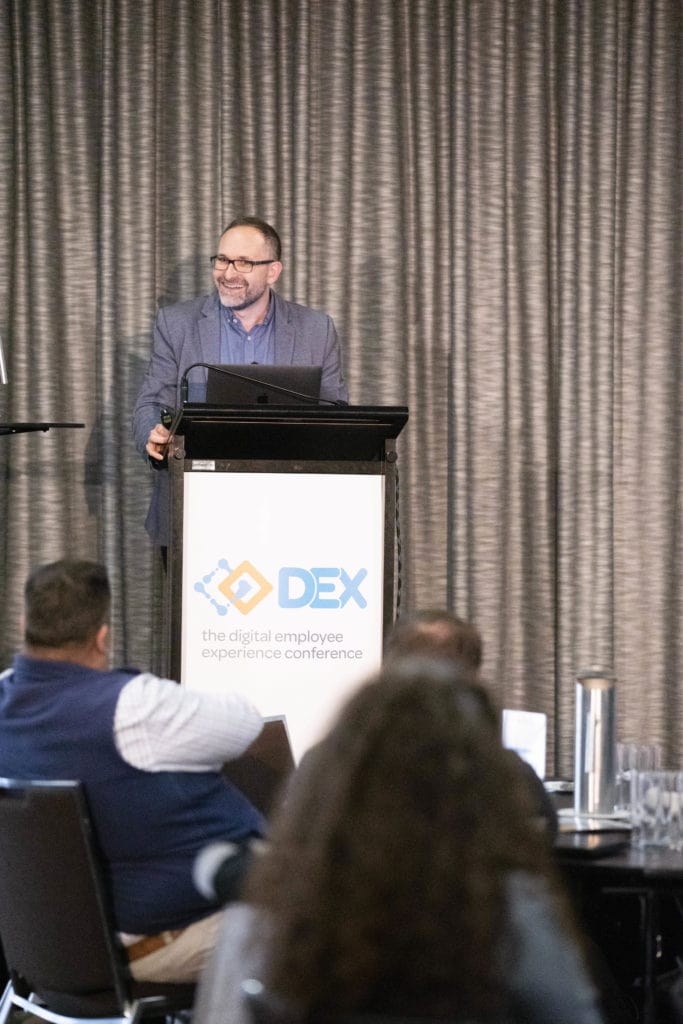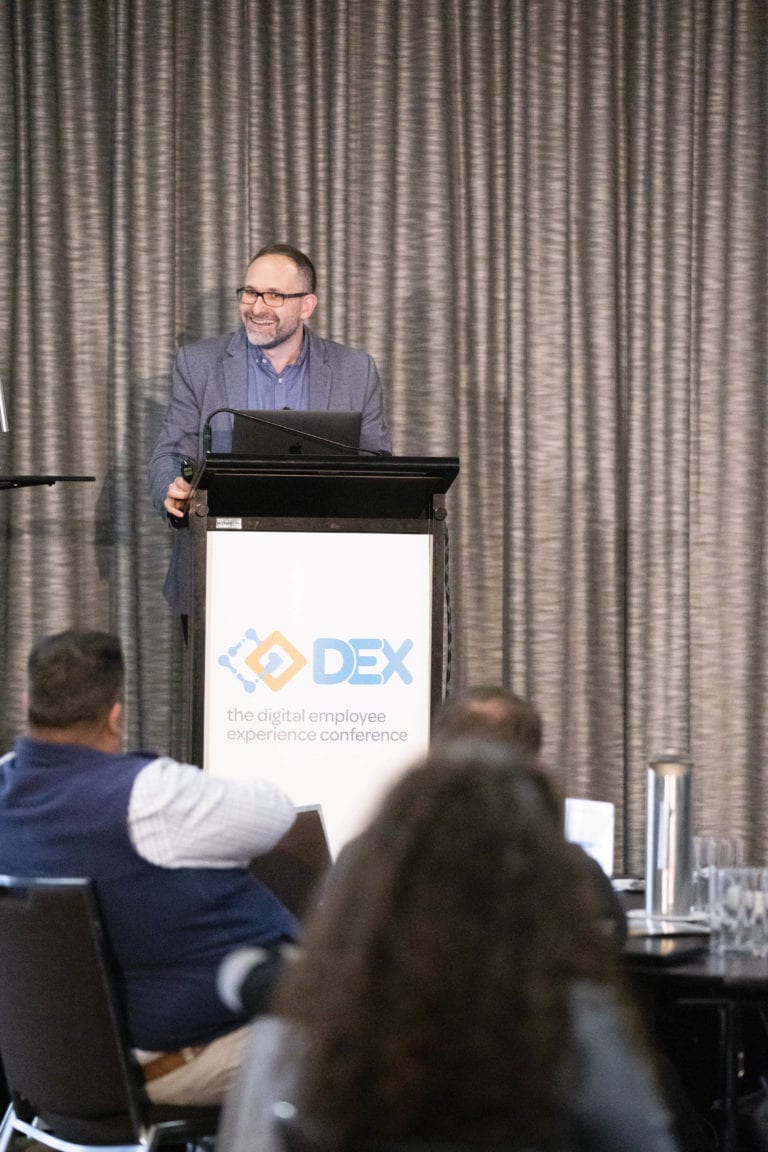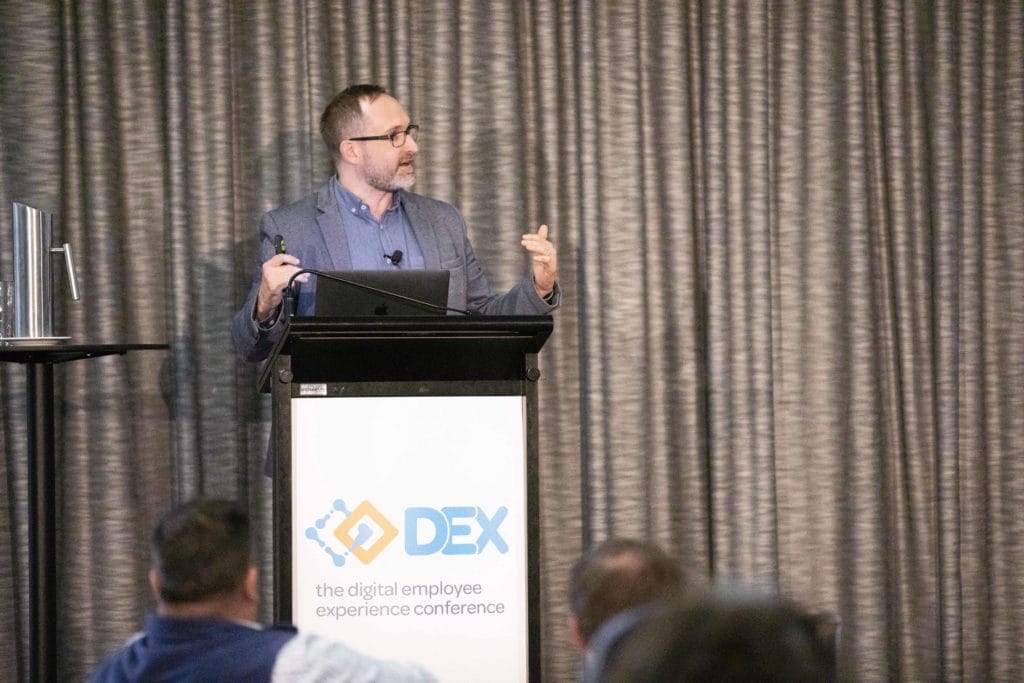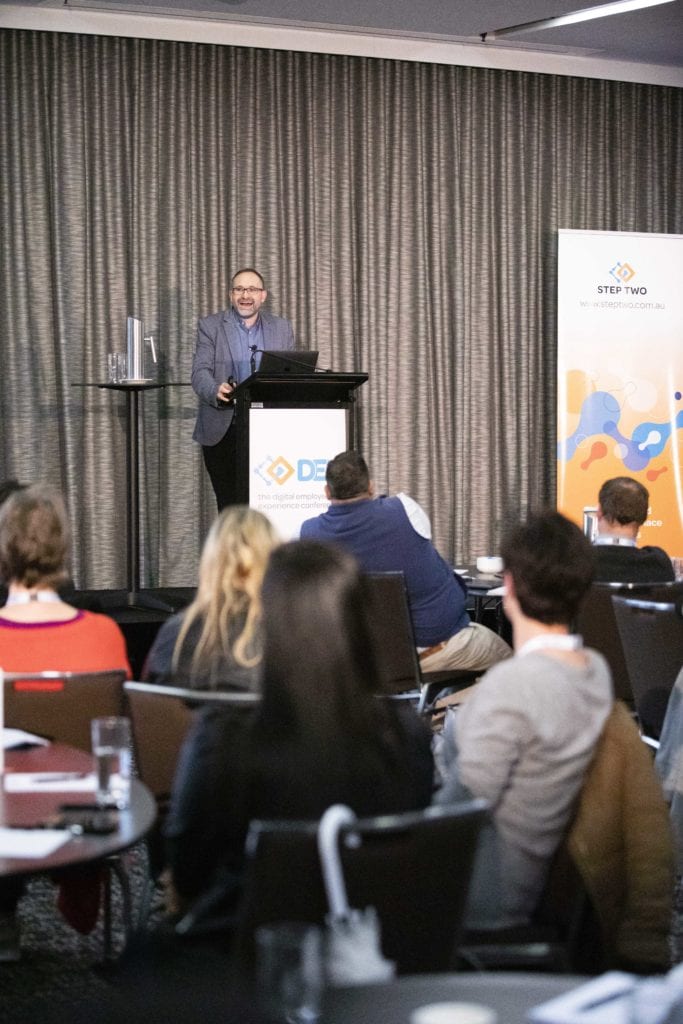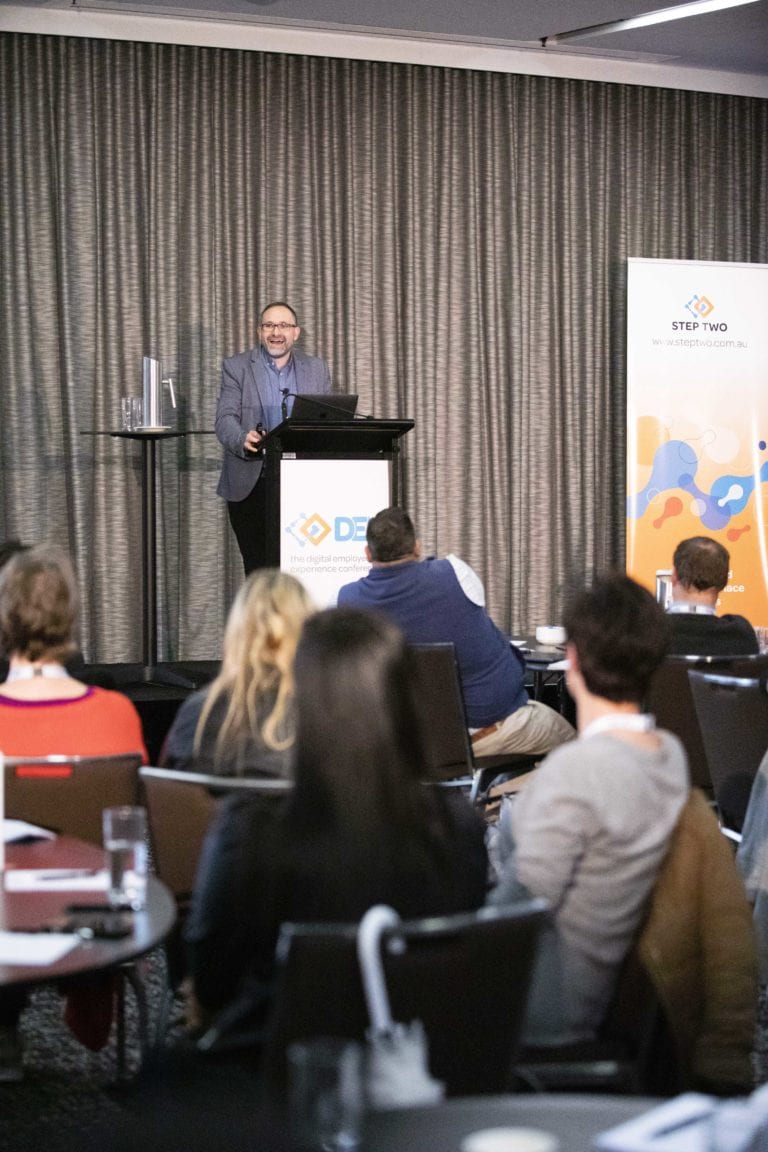 Extras
#Sketchnotes from @steve_collis's workshop at #DEX2019. Context creates the moment. https://t.co/sW25TIsiI7 #digitalworkplace #UX #employeeexperience #physicalexperience #design #context pic.twitter.com/hRuDLXlfqr

— Rebecca Jackson 🤓 レベッカ (@_rebeccajackson) September 18, 2019
Alright, who is going to shout out "bananas" over @Steve_Collis??? 🍌 #DEX2019

— Christy Season Punch (@ChristySeason) September 18, 2019
Defining moments and creating context. #DEX2019 @Steve_Collis pic.twitter.com/2MbsrszJGE

— Rebecca Jackson 🤓 レベッカ (@_rebeccajackson) September 18, 2019
The delightful @Steve_Collis helping us to think of our contexts before we try to build solutions to fix the problems at #dex2019 pic.twitter.com/v8za31C7nF

— Pip Cleaves (@pipcleaves) September 18, 2019
Context Creates the Moment – by Steve Collis #dex2019 https://t.co/rOVOR7cdmf pic.twitter.com/gcOKn8IRXV

— Michael Sampson (@collabguy) September 18, 2019

Produced by Step Two, DEX 2023 is all about shaping the future of digital employee experience, while taking action today. Dive into our wonderful collection of speakers, from across Australia and around the globe.
Learn more
Our 2023 speakers: