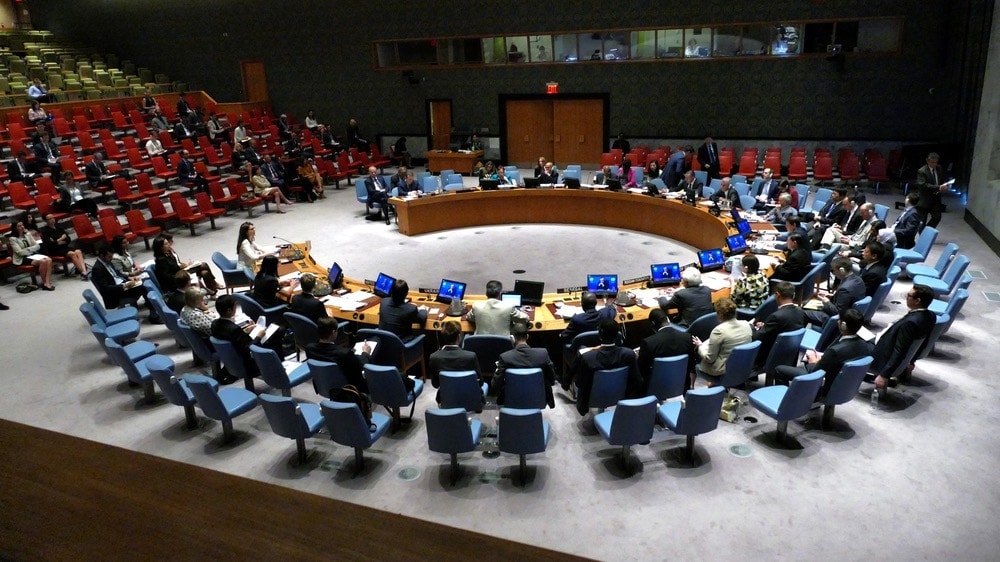 Should your governance be sponsored or democratic?

BEST PRACTICE ARTICLE
Filed under: Articles, Digital employee experience, Digital workplace
As platforms grow in importance and value, the question of governance becomes critical. Having strong governance ensures that decisions are made the right way, and that what's delivered will be managed sustainably into the future.
Governance can, however, be shrouded in mystery. It's often not clear what needs to be put in place, or what's the best practice approach for your particular circumstances. This includes the basic questions of how governance is structured, and who makes the final decisions.
As organisations progress from intranets through to digital workplaces (and beyond to digital employee experience), governance approaches also need to evolve.
This includes going from a "sponsored" model (with one person holding the final decision-making power) to a more "democratic" approach (where multiple stakeholders play an equal role).
We explored this in the article Digital workplace governance must be a meeting of equals, and this article will put these principles into action.
Get the foundations in place first
The Intranet Operating Model provides a best-practice framework for establishing governance of either intranets or digital workplaces.
It highlights that two groups of elements need to be put in place:
Guiding: what policies and structures need to be put in place, to set standards and to guide decision-making?
Doing: what processes and groups should be established, to create and sustain the intranet or digital workplace?
Across both these categories, many of the fundamentals remain the same regardless of whether it's an intranet or digital workplace.
There will need to be a central team that drives changes, supported by a decentralised group of content owners and other stakeholders. Standards will need to be established to guide what's appropriate, and to define quality. Support processes will be required, to keep the platform and products running well and improving over time.
Key questions remain, however, about the overall nature of the governance required. And as organisations move from intranets to digital workplaces, they need to establish a more inclusive and flatter structure.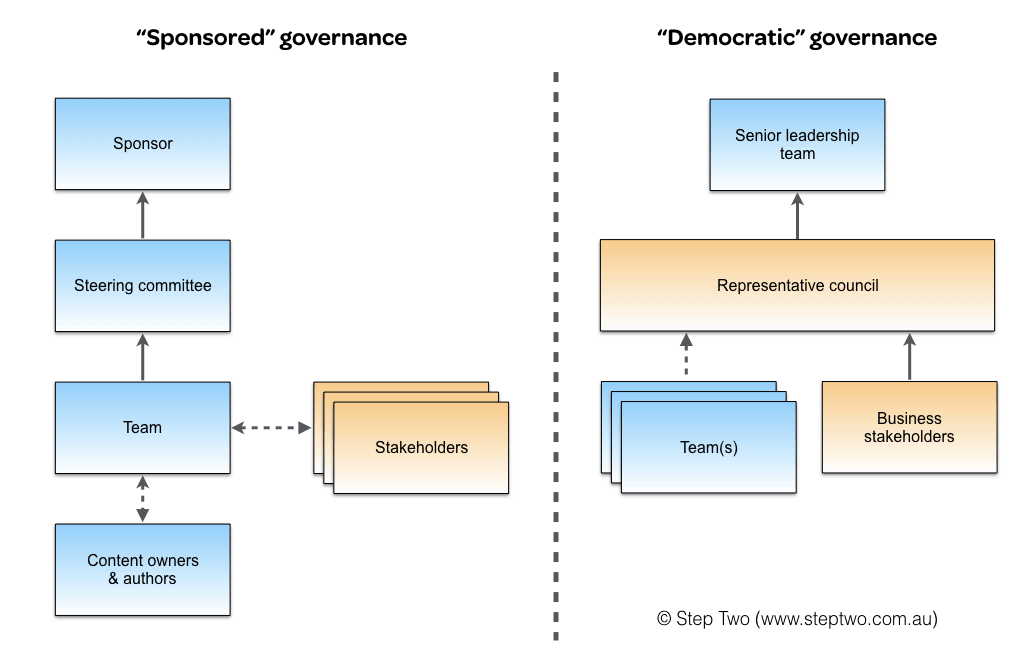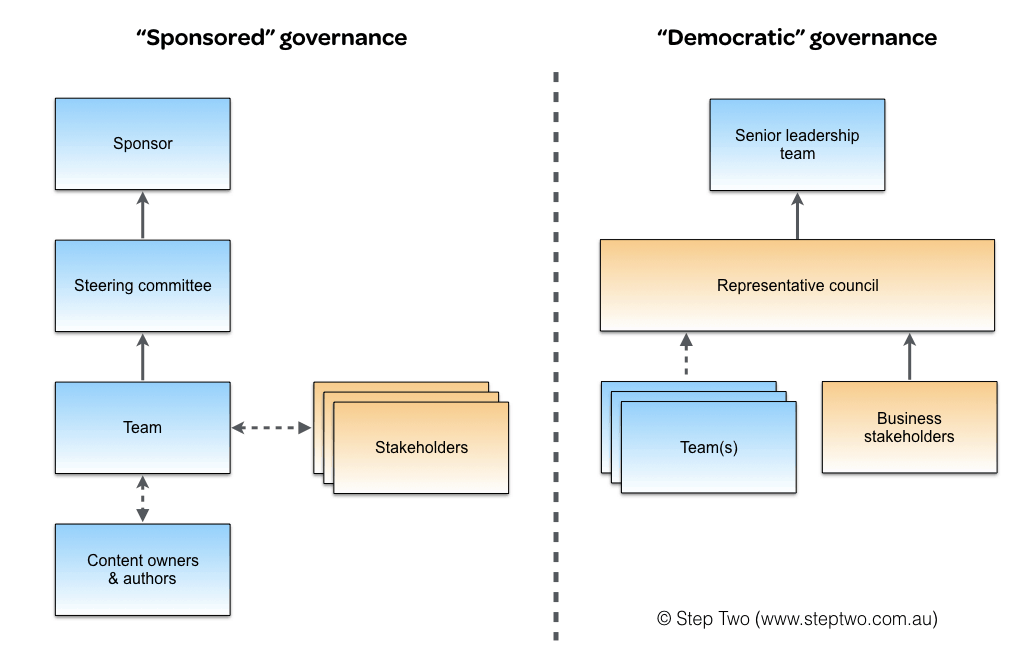 Two models: sponsored and democratic
The diagram above shows two approaches to governance: one that's relatively well understood (the "sponsored" approach), and one that's new (the "democratic" model).
These broad models represent different ways of making decisions, but also reflect the levels of maturity and business value relating to intranets and digital workplaces.
(Note that many of the finer details have been omitted from these diagrams, for the sake of clarity when comparing the two approaches.)
Let's explore the two models.
1. Sponsored governance
This is "traditional" governance that's seen in many organisations in some form or another.
At the heart of the approach is a single team which is responsible for delivering (and sustaining) a successful intranet or digital workplace. They report to a steering committee that includes key corporate services groups (eg IT, comms, HR, etc), plus ideally major business units (eg research, customer service, etc). At the top of the structure is a single main sponsor, who is responsible for funding the work, as well as championing the intranet or digital workplace to other senior leaders.
Advantages:
Well understood governance model that is widely adopted.
Fits well with existing steering committee structures and governance approaches for other business aspects.
Gives a clear mandate for the sponsor and team to take charge and make progress.
Clear reporting structure for the team, with a relatively simple process for making and endorsing decisions.
Disadvantages:
Doesn't scale well, and the model struggles to meaningfully encompass the full digital workplace.
Can be hard to identify a single sponsor who is willing to take on the full scope of a modern intranet (let alone beyond).
Multiple, parallel and overlapping initiatives are not well addressed or coordinated.
Danger that governance will fail if the sponsor leaves or changes roles (this is a single point of dependency).
2. Democratic governance
The "democratic" approach to governance is designed to tackle the complexity of modern organisations head on.
The core is a "Representative Council" that includes stakeholders from across the org chart, and across the organisation. Members are voted in by stakeholders, and the Council is given the power to make and enforce decisions regarding the digital workplace. Reflecting this, the Council reports directly to the senior leadership team (rather than to a single sponsor).
Multiple teams will then work on addressing different aspects of the digital workplace, reporting (via "dotted line") to the Council, but still sitting in their business areas.
What could this look like in practice?
Imagine a global pharmaceutical business. Their "Digital Workplace Council" would include global corporate services teams (IT, comms, etc) as well as a selection of corporate services groups from individual countries (USA HR, UK IT, Australian comms, etc). There would also be a selection of country representatives, speaking on behalf of those away from corporate headquarters, as well as business teams (R&D, manufacturing, sales).
As you'd expect in a large organisation, there may be comms globally as well as in each country, and they would collectively manage the different comms channels (including news on the intranet). The global intranet may be owned by a digital team, while IT leads the rollout of new digital workplace tools, including collaboration tools. Teams upgrading HR or finance systems would all be in the mix.
While this looks little different from the somewhat anarchic state of most big organisations today, the difference is that there would be an overarching digital workplace strategy that's owned and championed by the Digital Workplace Council. Instead of deploying standalone mobile apps for HR (for example), these would be delivered within a bigger mobile framework. Comms and IT projects would be similarly coordinated, and the Council would have a pool of money that would be allocated each year to progress enterprise solutions.
The result is a greater pace of improvements that are better coordinated, as well as meeting the real needs of the business, not just in the global headquarters.
Advantages:
Encompasses the full scope of the digital workplace, and enables the greatest progress to be made.
Engages the whole organisation, not just a few corporate services areas.
Recognises that there will be multiple business leaders, teams and projects that will be working in parallel.
Ensures there's alignment and coordination between different activities.
Reduces the dependency on the funding provided by a single sponsor or business unit.
Enables larger and more strategic decisions to be made and executed.
Directly addresses the challenges of large, complex or global organisations.
Provides greater resilience against changes in leaders or business structures.
Disadvantages:
More complex approach that requires greater maturity of business decision-making.
Will require greater effort to initially establish.
Decision-making may be slower than the sponsored approach.
Individual sponsors have to give up some of their power, in order for everyone to benefit more.
Unknown model, only implemented by a few early adopters.
Evolve your governance
Governance must change and adapt over time, to reflect changes in the fundamentals of the business, as well as the approach to aspects such as intranets and digital workplaces.
While still not easy, sponsored governance is a known approach that can be informed by a body of best-practice knowledge.
At the time of writing this article, democratic governance is only seen in a handful of early adopters around the globe, and the approach hasn't even had a name.
We're giving this new approach a name, and we're bringing it into the light. We're highlighting the value it brings for digital workplace governance, particularly in more complex organisations.
Reach out if you're ready to move from sponsored to democratic governance, and we'll explore this new approach together.