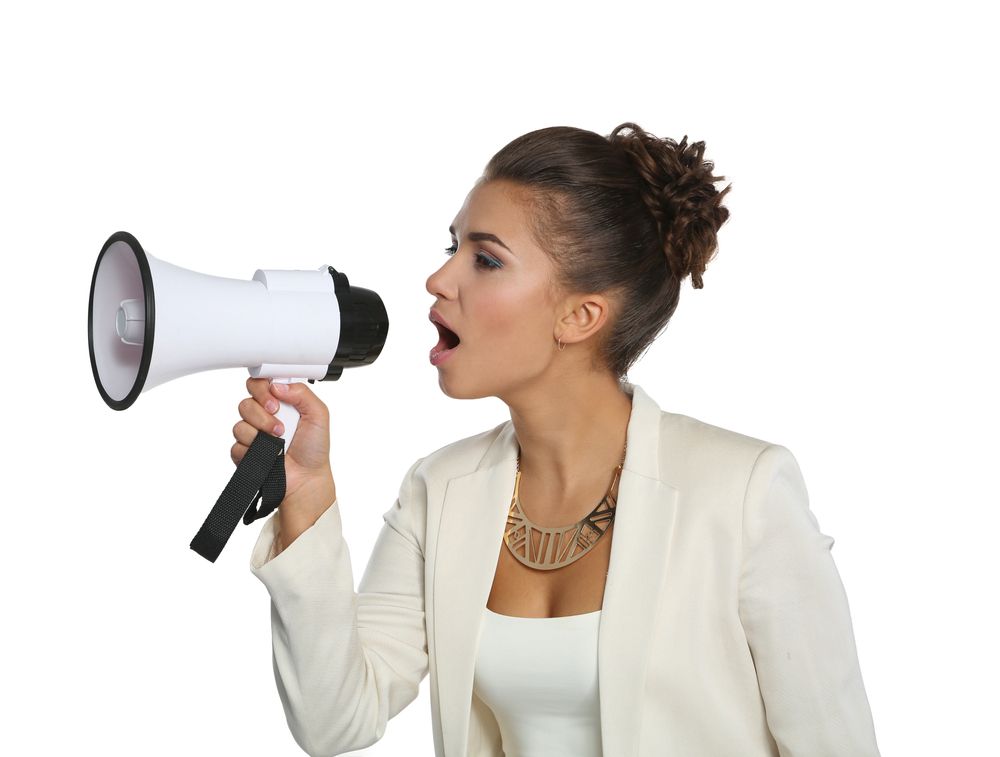 Enable commenting on intranet news

BEST PRACTICE ARTICLE
Filed under: Articles, Collaboration and social, Digital workplace, Intranets
Two major trends are affecting how intranets are used to communicate to, and connect with, staff.
The first is the move by internal communications teams away from just top-down corporate communications to two-way communication and dialogue.
The second is the rise of collaborative and social tools, which promise to transform how staff find each other, connect, and work together.
Both of these trends have driven the adoption of increasingly sophisticated collaboration tools, including team sites, blogs, wikis, microblogging and rich staff profiles.
While the benefits of these tools are already being seen among early adopters, their power and functionality makes adoption a non-trivial task.
Significant communication, education and change management is required to get staff up to speed with these often unfamiliar tools.
There is, however, a 'low-hanging fruit' that has been overlooked on many intranets: commenting on news.
Simple to implement and easy to use, commenting on news delivers many of the desired cultural benefits with less effort than more complex tools.
Commenting on news also lays the foundation for a more open culture, and the further adoption of social and collaborative tools.
This article explores the benefits of news commenting, provides a range of real-world examples, and gives advice on how to achieve success.
All intranets should enable commenting on news
Escaping one-way news
Almost every intranet features news prominently on the intranet homepage. While news is just one of the possible uses of the homepage (see the earlier article Seven roles of the intranet homepage), news can take upwards of 80 per cent of the page.
Despite this focus, intranet news has changed little in the last five years. Mostly consisting of corporate — top-down — news, the intranet provides a one-way communication channel from management to staff.
Few communications teams have access to statistics showing how many people read each item. It is harder still to discern what kind of news staff want the most, and what would help them in their jobs.
Perhaps most significantly, there is no way for staff to reply, comment, agree, expand, or disagree. Intranet news does little more than shout out into the void, and hope that someone is listening.
For this reason, a growing number of organisations are implementing collaborative and social tools. These are designed to engage and connect staff, delivering cultural and work-related benefits.
These solutions, while beneficial, overlook a simpler solution: adding commenting to news. Often just a small enhancement to the existing technology platform (or as simple as ticking a box on a configuration page), commenting can be enabled quickly and easily.
Despite being an obvious stepping-stone, it's surprising how few intranets currently provide commenting on news.
This article will outline the benefits of enabling commenting on news, allay concerns about potential risks, and provide detail on how to implement the functionality successfully.
Delivering cultural benefits
Many organisations are pursuing top-level cultural change objectives. These include 'one company' programmes, or activities designed to create better communication lines between senior management and staff.
Overcoming silos is also a common objective, with the goal of increasing bottom-up and horizontal communication.
Many communication teams want to establish two-way communication or dialogue with staff, thereby creating a richer environment for discussion and learning.
This has been the driver behind many collaboration and social projects, deploying team sites, wikis, blogs, Yammer, and the like. The same benefits can, however, be delivered more quickly by simply enabling commenting on news.
By providing an open space for staff to contribute their views, a more positive and collaborative workplace can be created. Such discussions can also help to bridge the gap between management and staff.
Commenting helps to create an open organisational culture
Delivering business benefits
Commenting on news can also provide concrete business benefits. By drawing on the 'wisdom of the crowds', news items can elicit input from staff across the organisation.
In this form, intranet news becomes a problem-solving tool, uncovering solutions to challenges, answers to questions, or sparking innovation.
Commenting on news also provides communications teams with valuable feedback that helps them to target further news stories, as well as where they focus their effort. (More on this later.)
These benefits can be further enhanced by moving intranet news away from being solely a channel for corporate updates, towards operational and frontline updates.
As the relevance of news increases, so does the business value of comments, which can help to clarify areas of confusion, increase uptake of new products or services, or improve awareness of new processes.
Implementing commenting
Two examples of commenting on news are shown in the following pages.
The first comes from American Electric Power (AEP), who have had commenting on news for many years. This was deployed as part of the intranet team's fundamental philosophy of 'respect for staff'. (More on AEP's experience later.)
The second example comes from COWI, a global engineering consultancy headquartered in Denmark.
They have progressively implemented collaborative features into their SharePoint-based intranet, including commenting on news, and a 'question and answer' section.
From examining recent usage, Nina Sonne Nikolaisen has identified four main types of questions and comments:
1. Complaints. For example, someone was complaining that in COWI Denmark we always receive red wine as Christmas gift from the company. Several employees agreed with this complaint. Then someone wrote that it was ungrateful to complain about something that was a gift. The director of COWI Denmark then joined the discussion and thanked everyone for their input.

2. Questions related to tools. For example, employees ask questions about functions in Excel, Word, the COWIportal and the company phones. Often other users answer their questions before the responsible IT person does. Other employees benefit from this too, since employees often encounter the same challenges with their tools.

3. Professional questions. Employees ask questions like "Hi, is there anyone with experience using Ecotect? Please get in touch with me". Usually such questions gets a very rapid and positive answer.

4. Lost and found. Small announcements about things that have been lost or (mostly) found at the main office. Probably rather annoying for all the other offices.
Comments address a variety of topics and purposes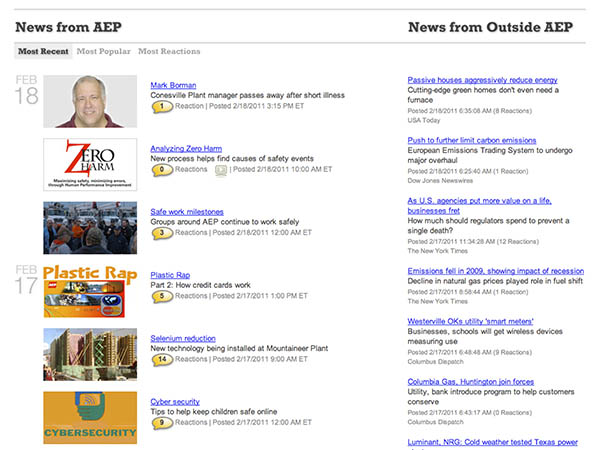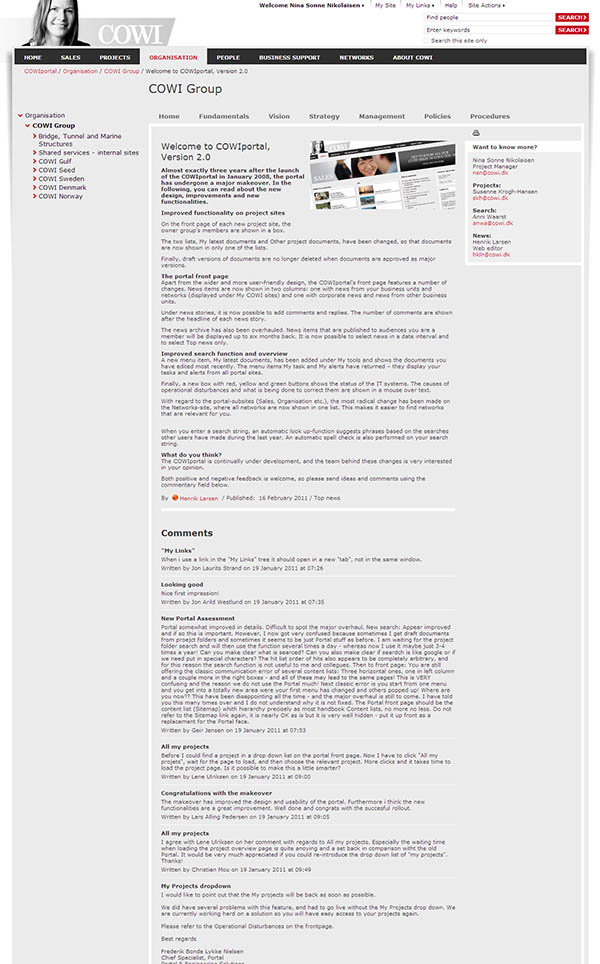 Ensuring success
There are a range of practical steps that can be taken to ensure widespread usage, while avoiding common concerns and risks.
Eliminate anonymity
The first and simplest step is to ensure that every comment is publicly associated with a staff member. This is easy to ensure, as most intranets automatically log staff on, based on their desktop login.
By eliminating anonymity, many of the risks relating to inappropriate comments are avoided.
It also sends a clear message that commenting on news is a social capability that is bound by the same behaviours and expectations as discussions in the real world.
Once this basic condition is in place, more nuanced approaches can be explored. For example, AEP allows three options when publishing:
Publish a comment with your name against it, and it goes live immediately without any review or approval.
Provide your name when making the comment but have it appear anonymously on the intranet, in which case it's checked by the intranet team first.
Provide a comment entirely anonymously, in which case it goes just to the intranet team and is never published.
Some organisations with a strong culture have allowed anonymous comments to encourage robust debate, but this option should be approached with caution.
Comments must not be anonymous
Keep it simple
Commenting on a news item should be as simple as pressing a button, typing in a paragraph or two, and then clicking submit.
Expectations have been set by Facebook, LinkedIn and Twitter, and the intranet must be no more complex than these tools.
(Commenting on public-facing blogs has fallen in recent times, perhaps due to the increasing complexity of anti-spam features that have been included.)
Give visibility
As shown in the examples throughout this article, comments are highlighted clearly on the intranet homepage.
Showing the number of comments against each news item, and not just that there are comments, generates further interest and activity.
Without this visibility, commenting will struggle to get widespread adoption and sustained use. (There is no point hiding these features on just the pages for individual news items.)
Be clear about governance
As discussed in the earlier article Moderating internal discussion forums, blogs and other social media, it is valuable to have a social media policy in place before deploying any collaborative or social tool.
There are now many examples to copy such a policy from, and they apply equally to commenting on intranet news.
To a large extent, however, such policies merely reinforce the HR policies that already exist. Most organisations have a published code of conduct that staff must follow in all their work and interactions.
This is applicable in all mediums, whether talking to a colleague, discussing in a meeting, or collaborating online.
Be clear on this governance and consistent in its application, but don't overwork it. Staff will quickly realise that being rude to the CEO when commenting on a news item is no better way to advance one's career than insulting him face-to-face!
Have clear policies and governance in place
Join the dots
Commenting on news should not be a free-standing island of functionality on the intranet.
Instead, it should be tied into all other relevant intranet functionality, including:
drawing on the same login details and staff directory information used for the rest of the intranet
having comments made by a staff member appear on their staff directory profile
incorporating news commenting into other collaborative and social tools, and making the user experience as consistent as possible
ensuring that commenting on news appears within 'activity streams' and other features used to give visibility to collaboration activity
Foster adoption
Intranet news commenting, due to its simplicity, doesn't require a 'big bang' launch. It still, however, needs to be communicated throughout the organisation. Staff should be encouraged to make use of the commenting features, and senior management should be drawn into the discussions.
This is where the intranet or communications teams can play a valuable bridging role, helping to connect comments with the managers who are best placed to respond to them.
By 'closing the loop', teams can foster greater use, and greater benefits from news commenting.
Use commenting to understand what staff think and feel
Harness the insight
Intranet and internal communication teams should pay close attention to the activity around news comments.
Not to manage or control news, or to uncover problems, but to gain insight. Communications teams in particular benefit greatly from knowing which stories are popular, which engage debate and dialogue, and what staff think about key topics.
Incorporate this insight into decision-making processes, alongside findings from staff satisfaction surveys and communications research.
Over time, this should provide rich insight into the culture of the organisation, and act as a valuable 'thermometer" of staff satisfaction.
Organisations have encountered few problems
But the risks!
There are a range of concerns and risks that hold back the deployment of commenting on news, including fears that:
inappropriate comments will be posted
'flamewars' and arguments will occur
excessively negative complaints or criticisms will overwhelm positive comments
existing disputes or grievances will be aired
comments might breach anti-discrimination laws or other guidelines
In practice, talking with intranet managers who have deployed a wide range of two-way collaboration tools, including commenting, it's amazing how rarely these issues arise.
Most organisations have had no problems, while some have had a handful of 'idiot posts' that were quickly self-regulated without formal steps needing to be taken.
In general, the culture must be in place to foster commenting on news (the degree of participation can be a health measure of the organisation's culture).
If the organisation is in the middle of a pay dispute with staff, it may not be the time to enable commenting. Or, it could be the perfect time to turn it on, to provide an online 'circuit breaker' where issues are aired in the open, helping to diffuse them.
For example this story comes from William Amurgis from AEP:
During our company's severance program last summer, as 15% of our workforce left either voluntarily or involuntarily, one important communication was drafted by our leaders and originally intended as a mass e-mail to all employees. However, the leaders decided on their own — without my encouragement! — to post it on the intranet because they preferred to read and react to the employee responses. This, to me, was a watershed moment.
In all cases, following the guidelines listed earlier mitigate the listed risks.
Beyond just comments
Once simple commenting features are added to news, the next natural step would be to open up news to even more participation.
Ideally, staff should be able to post news, not just comment on it. This starts to create an 'ecosystem' of news, which is facilitated and guided by communications teams, not controlled by them.
Once the level of participation grows, the simple news features provided on most intranets will need to be enhanced, lest staff be overwhelmed by too many stories each day.
This includes targeting news better, helping staff differentiate between types of news items, and enabling user-driven personalisation of news.
Now is the time to take intranet news from an 18th century model of printed newspapers, to a 21st century model of participatory journalism.
Conclusion
If your organisation strives to create a strong company culture, or wants to engage in two-way conversation with staff, then enabling commenting on news items is a simple first step.
An ideal stepping stone to more complex collaboration and social tools, news commenting should be incorporated into almost every intranet.
Follow a clear process for establishing it, and foster adoption and use throughout the organisation. Then use the insights gained to learn more about what staff are thinking, and what kinds of news they are most interested in.
Most of all, don't let perceived risks or dangers stand in the way of implementing commenting. Experience has shown that problems are rare, and can easily be mitigated through careful design and management.