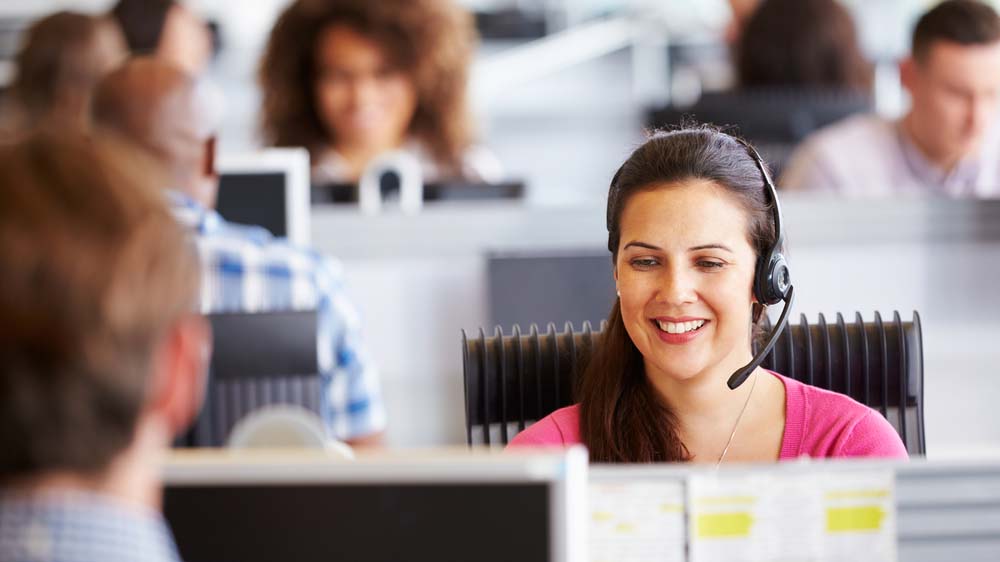 Knowledge management for call centres

BEST PRACTICE ARTICLE
Filed under: Articles, Call centres, Information management, Knowledge management
By any measure, call centres are a growing business, with many large organisations looking to them as the primary way of interacting with their customers.
Call centres provide many business advantages, including: improved efficiency, increased hours of operation, reduced costs and greater flexibility.
Perhaps the greatest challenge of running a call centre, however, is ensuring that customers are provided with the right information in a timely fashion.
Knowledge management (KM) has a number of practical tools and strategies for meeting this challenge, and call centre managers have much to gain by exploring KM principles.
Call centre challenges
A call centre is confronted with a number of considerable challenges:
Potentially wide range of customer enquiries.
Legal accountability for information provided to customers.
Customers expect 'instant' answers to questions.
High stress work environment for call centre operators.
High staff turnover.
Large and complex body of knowledge to be learned by new staff.
Constant pressure to reduce call handling times.
Continuous tracking and assessment of efficiency measures.
Inbound centres have an average annual turnover of 26% for full-time reps, and 33% for part-timers.

1999 Call Center Benchmark Report, Purdue University, Center for Customer Driven Quality.
Benefits of KM to call centres
In meeting these challenges, knowledge management has the potential to deliver some (or all) of these benefits:
Reduced training time and costs for new staff.
Improved call handing and response times.
Increased staff satisfaction and morale.
Greater consistency and accuracy of information provided to customers.
Greater flexibility in handling changing business processes, products, and information.
Fewer calls to second-level support or the help desk.
Applying KM to call centres
There are two aspects to knowledge management that must be covered in a call centre:
Efficient processes must be put in place to ensure that the right knowledge is captured, managed, and kept up-to-date.
Knowledge management systems must be established to support these processes. These IT systems are the core of a KM-based call centre.
Meeting both these areas will ensure that you have the resources in place to support frontline staff, and the processes to maximise their value.
Managing your knowledge
More important than any IT systems you may implement is the knowledge itself. Identify the information your frontline staff and customers require, and gather this together.
Once you have the raw information, shape this into a structured and usable knowledge repository. Only then will you be in a position to deliver a complete KM solution.
You are legally accountable for every piece of information provided to customers
Identify required information
Spend time to identify the actual information requirements of your customers and staff. This will ensure that you get the maximum benefit out of building your centre's knowledge resources.
There are a number of practical ways of identifying information needs:
Talk to both experienced and novice staff, to find out their requirements first-hand.
Conduct an information review of the resources currently available (both online and on paper).
Survey both call centre staff and customers.
Talk to business and product representatives, to identify the areas they would like highlighted to customers.
Examine the daily activities of frontline staff to identify key information needs.
Analyse call logs and other statistics to find out areas of customer interest or confusion.
Identify the typical questions and problems addressed by the help desk or second-level support.
Evaluate whether sufficient documentation exists for frontline IT systems.
The end product of these efforts should be a long list of desirable information. Prioritise this to produce a 'hit list' of the key information to be stored in your KM systems.
The lower priority items then become a 'wish list', to be tackled once the initial benefits of your KM activities have been realised.
Structure your knowledge
It is surprising how often businesses spend considerable time and money building online knowledgebases, only to discover that staff can't work out how to use them.
Effective structure and navigation is critical to the success of a knowledgebase. Without this, staff will not be able to find required information during the limited duration of a customer's call.
Take these practical steps:
Involve staff throughout the design process, to ensure that their needs are identified.
Develop prototypes for new KM systems, and test these with real users.
Apply information architecture principles and methods to all information repositories. This will determine appropriate groupings, menu items and navigation.
Use card sorting to determine structure, and to identify any missed categories. (This process is described in an earlier whitepaper.)
Up to a third of any KM project should be spend designing and testing. Without this, the risks of developing a solution that does not meet your centre's needs are much higher.
Operators may have as little as 30 seconds to find answers
Ensure information is accurate & up-to-date
Customer queries often relate to recent changes or product releases. The call centre must therefore be supported by up-to-date information on these areas.
Call centre operators must also be able to access the knowledge repositories confident that the information provided is both accurate and current. With a customer on the line, there is no time for double-checking against other information sources.
If staff do not trust the KM systems, they will rapidly find other sources, such as hand-written notes, or photocopied 'cheat sheets'.
There are a number of practical steps you can take to ensure information accuracy:
Put in place a permanent team to create and update content.
Establish communication channels with the sources of new information (policy groups, business units, etc).
Ensure that updating the call centre knowledgebase is part of the 'sign off' requirements for business development.
Provide a simple mechanism for frontline staff to report errors and omissions.
Staff training
Ensure your staff are fully trained in the use of KM systems and processes. Make sure they are aware of the full range of information that is available to them.
Experience has shown that the use of a KM system is maximised by incorporating it into the initial training provided to new staff. In this way, it becomes the 'default' way of resolving problems, and finding answers.
Use web technology to build an integrated online KM solution
Develop KM systems
To support the knowledge management processes outlined above, you must put in place a range of KM systems.
Every call centre will have varying needs, depending on size, activities, and level of knowledge. This section should therefore be seen as a starting point for your own research and planning.
Build a call centre intranet
Every call centre should be supported by a comprehensive online resource. This could consist of a corner of the corporate intranet, or a completely separate intranet developed specifically for the call centre.
There is much information to put on this intranet, including:
Latest product or business updates.
Sales support information, including current company brochures, FAQs and pricing details.
Corporate directions, and messages from management.
Develop a knowledge repository to capture your business information
Current bugs and workarounds for frontline IT systems.
Planned call centre changes, such as software upgrades or other infrastructure projects.
Training materials.
Policies and procedures.
Help desk resources.
Rosters and staffing details.
Recreational activities and other community information.
Wherever possible, staff should be encouraged to use the intranet as their primary source of information.
This will only occur if you ensure that the information provided via the intranet is both comprehensive and accurate. Users will not give an inadequate intranet a second chance.
Knowledge repository
Several of the items in the previous list warrant the development of a substantial knowledge repository, including: policies and procedures, sales support information and help desk resources.
A knowledge repository is an online information resource that is:
comprehensive
accurate and up-to-date
well-structured
easy and efficient to use
extensively hypertext linked
supported by tools such as searching, indexes and browsing aids
created and maintained using a content management system, or equivalent.
Converting a Word-format manual into HTML does not count as a knowledge repository.
The knowledge repositories in a call centre are the primary (or sole) source of information provided to your customers. As such, they warrant a substantial amount of effort to ensure that they are both useful, and used.
Spend time to make searching fast, simple and effective
While the effort involved is large, the payoff is larger still. These 'knowledgebases' will help to reduce call handling times, and increase the consistency of information provided to customers.
In one project, call centre staff were positively enthusiastic about the prospect of being provided such a resource. They were keenly aware of the information vacuum that they were operating in, and the effect it had upon their daily activities.
Much could be said about the principles behind designing, creating and deploying a knowledge repository. This is beyond the scope of this paper, however, and will be addressed in future articles.
Develop online solutions
Use web-based technologies wherever possible. These can be integrated into a single, seamless, and consistent interface for users. This leads to reduced staff training time, and greater efficiency.
Services delivered via the web are the ultimate in 'thin client' technology: all your staff need is a web-browser. Deploying new software, or upgrading existing software is also greatly simplified when using a server-based solution.
Effective searching and browsing
Call centre staff typically have only a minute (or maybe two) to find the information requested by their customer. Under this pressure, it is critical that staff have effective and efficient ways of locating answers.
A well-designed search engine is a necessary first step towards meeting this goal. Spend time designing and configuring the search engine: it must be simple to use, but still return a useful set of results.
(See the case study discussing the development of a search engine for use in a call centre, titled Deploying an Effective Search Engine.)
A search engine does not deliver the complete solution. It is also important to provide staff with structured and meaningful browsing and navigation methods. This ranges from ensuring the correct items are on the main menu, to creating related links between pages.
All of this must be supported with comprehensive meta-data, such as title, description and keywords. These combine to increase the effectiveness of both searching and browsing.
Analyse staff usage
Monitor what information your staff are accessing in your knowledge repositories. This can be done in several ways:
Usage statistics: use a standard web statistics package to track the most popular web pages, and the trends in overall usage.
Search engine usage: log all uses of the search engine, and generate summary reports showing the most common searches, along with failed search terms.
This information is invaluable in measuring the ongoing success of KM systems. In particular, they help to identify what the most valuable information is in the repositories, and what information is missing.
With this information in hand, you can expand areas of interest, and fill critical knowledge gaps.
Are the new KM systems being used by frontline staff?
Feedback
Implement a simple system than staff can use to provide feedback on the KM systems. This offers them a single point of contact to report missing or incorrect information, or to ask questions.
Allocate sufficient resources to track the feedback messages, and to respond to the sender where appropriate. Any updates to the knowledgebase that result from this feedback must be done in a timely fashion.
Once staff realise that their input is being acted upon, you will find them the most valuable source of up-to-the-minute information in the entire organisation.
Develop custom KM solutions
Be prepared to develop a number of little 'applets' to manage the day-to-day activities of your call centre.
These can be integrated into your online systems, to provide a seamless solution for users.
The advantage of these applets is that they capture the knowledge of the call centre into small customised interfaces, that are quick and easy to use.
Typical applications are database lookups, calculators and estimation tools.
An example: the RTA call centre frequently provides 'stamp duty' pricing information. Previously, this was looked up from a dozen pages of pre-calculated tables. This cumbersome solution was replaced with a 'stamp duty calculator', which provides a simple point-and-click interface.
Your frontline staff are an invaluable source of feedback
Integrate CRM and KM systems
Customer Relationship Management (CRM) systems are all about knowing your customers, and their needs.
This ties in closely with the operation of your KM systems:
Demographic information about your customers will allow you to ensure the right information is in your knowledge repository.
Tracking customer queries is an excellent way of identifying frequently asked questions (FAQs).
These FAQs should be easily available from within the CRM, to facilitate rapid responses.
Information in KM systems should be broken down according to customer groupings in the CRM software.
Escalation from the CRM system should be closely tied in with KM processes.
Usage statistics gathered from the knowledge repository provide an indication of the 'hot topics' for customers. This is a valuable source of information for CRM activities.
Integrate help desk and KM systems
Most help desks and second level support teams are equipped with 'call logging' systems, which track the status of the reported problems and issues.
In conjunction with this, a repository of common problems and resolutions should be developed. (This may already be provided as part of the call logging software.)
This reduces the amount of knowledge the help desk staff have to 'keep in their heads' (tacit knowledge). It also helps to ensure that consistent responses are provided to frontline staff.
This repository is also an excellent source of frontline information. Distil the most common problems, write these up as procedures or workarounds, and provide them to frontline staff.
Such information will reduce the number of 'simple' calls to the help desk, which eases the workload, and allows help desk staff to concentrate on the more difficult cases.
Integrate IVR and KM systems
Most phone queues are now fronted with an Interactive Voice Response (IVR) system. These may simply direct incoming callers to an appropriate phone queue, or provide sophisticated phone transaction systems.
Integrate the IVR with your centre's KM systems:
Ensure that information provided via the IVR is consistent with the details in your information repository.
Gather detailed breakdowns on the usage of the IVR. This will tell you the areas your customers are interested in.
Document the exact script of the IVR for call centre staff. This will assist them to manage a clean handover when they answer calls.
IVR systems are normally only the first step in the customers' interaction with a call centre, and they must be managed as such. There must be consistency across all methods of information delivery.
Ensure KM systems are integrated with other call centre solutions and software
Customer-facing resources
Many call centres now respond to online and e-mail queries, in addition to phone calls. With this broadened responsibility, call centres must manage the additional workload.
The call centre knowledge repository can be used in a number of practical ways:
Publish a selection of customer questions (FAQs) to the website.
Ensure online sales and product information is accurate and comprehensive. This will reduce the number of calls in these areas.
Develop 'standard responses' to a range of common e-mail or website queries. Products even exist that will analyse incoming e-mails, and automatically select appropriate responses.
It is important that the information provided to customers is drawn out of the same repository used by call centre staff. (This is known as 'single sourcing'.)
In this way, duplication is reduced, and errors avoided. Maintenance efforts are similarly reduced.
Deliver call centre knowledge directly to customers via your website
Conclusion
Call centres are all about getting customers the information they need, as quickly as possible. To meet this goal, the knowledge resources of a call centre must be managed in a coordinated and integrated way.
Knowledge management has a range of practical tools and approaches for meeting these challenges. Explore ways in which these can be applied within your organisation.
Take all necessary steps to ensure that your staff have access to accurate, up-to-date, easy to use, and comprehensive information. Doing so will generate rewards for both the call centre, and your customers.