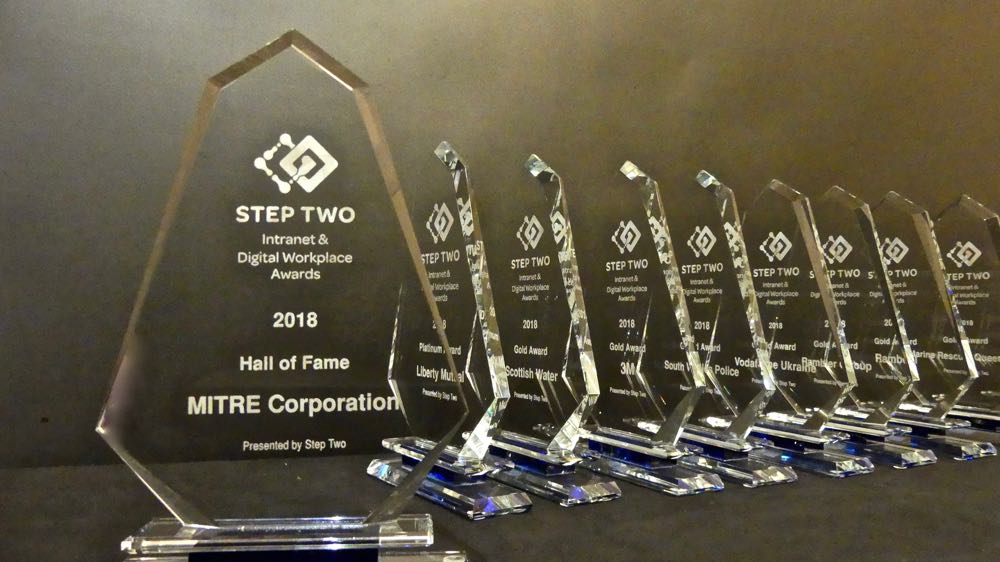 Introducing our first Hall of Fame winner for the Intranet & Digital Workplace Awards
Filed under: Announcements, Intranet and digital workplace awards
Over the last 12 years, we've had over a hundred worthy winners of the Intranet & Digital Workplace Awards. These include the stand-out Platinum winners who have really made their mark, delivering tangible and measurable benefits.
Delivering a great digital workplace is not, however, a one-off project. Instead, there must be a steady stream of improvements to ensure that it continues to meet evolving business needs, as well as constantly pushing the bounds of possibility.
Behind these ever-improving digital workplaces are remarkable teams, who have mastered (or at least tamed) internal politics and sustained a strong group of capable team members. They have also kept going, year after year, winning multiple trophies along the way.
Celebrating these high-performing teams, we're giving out our very first Hall of Fame trophy to the team at MITRE.
Over the years, they have won five trophies or medals, ranging from unique approaches to collaboration to staff directory enhancements and data-driven reporting.
Having met the team in person on multiple occasions, we can also say that they are lovely folks with a genuine passion for making a difference. So from all the judges of the Awards, we say: bravo, and well deserved!
PS. if you'd like to see what they've delivered in 2018, get a copy of the Intranet & Digital Workplace Showcase report, or obtain the bundle of all 12 years to see everything that they've delivered.
What MITRE has delivered over the years
In 2007 MITRE received a silver award (then called "commended") for Onomi, an enterprise social bookmarking pilot, implemented  well before enterprise social networking platforms became commonplace.
In 2010 MITRE received a gold award for Handshake, an innovative social and community platform which connected employees in MITRE with external partners to create subject-specific groups and communities. Handshake is still in operation today!
In 2015 MITRE won a silver award for excellent work on delivering responsive organisational landing pages on the intranet. These pages featured useful information for leaders and staff from a variety of sources, all aligned to various organisational processes.
In 2017 MITRE won another gold award, this time for a new enterprise-wide reporting, analytics and visualisation service. This  established support and best practices for data visualisation using Tableau software right across the organisation.
And in 2018 MITRE won yet another silver award, this time for the impressive MITRE@Work mobile app which features numerous useful features, including a room finder.  Despite MITRE's highly sensitive requirements around information security, the app is available on employee's own devices, The judges were impressed with the approach that focused on what could be included rather than what couldn't be.
Our congratulations to the entire MITRE team for their consistently strong and innovative work!