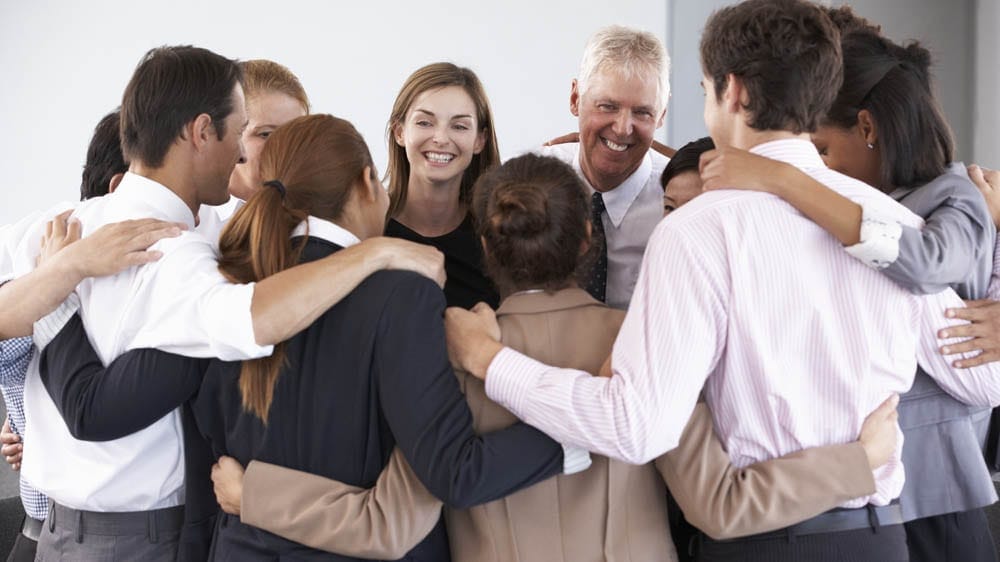 How intranets help bring organisations together

BEST PRACTICE ARTICLE
Filed under: Collaboration and social, Intranets, Latest Features
When TAFE Queensland, a brand new Australian educational institution, was created through a merger process, it identified a "rare opportunity to reinvent itself." A brand new intranet (called Spot) was at the centre of a strategy to create a customer-focused, efficient and united organisation.
The team behind the intranet was determined to help employees more easily identify with the new organisation, and share knowledge, eliminate siloes and share ideas.
A striking and bold intranet design helped emphasise TAFE Queenland's new identity. To encourage connections and a sense of community, social tools were introduced and are brought to the fore on the intranet homepage.The "Vibe" feature is a feed with internal peer-to-peer communication while "Buzz" features external social media feeds.
TAFE Queensland's new organisational values are also reflected in the "In the Spotlight" feature which highlights employee achievements.
New operational and process-related information is  delivered through an easily-searchable library of policies, processes and forms. There is also a dashboard with organisational KPIs which everybody can view. Surveys suggest that that silos are being reduced at the new organisation.
Learning points:
strong intranet design can help emphasise a new corporate identity
social tools and people-focused content encourages connections and supports values
process-related information is also important for bringing organisations together
The power of the intranet and related digital channels
The TAFE Queensland intranet demonstrates the powerful role that intranets can play in helping bring organisations together. In merger and acquisitions, or where the workforce is very diverse, a good intranet helps employees to identify with their organisation and promotes a more united culture.
To support organisational change, internal communicators have a wide range of tools and channels at their fingertips. To be effective, teams should adopt strategies which play to the strengths of individual digital channels, and not rely solely on more traditional corporate communications. At TAFE Queensland the team leveraged the power of design, used social tools and deployed a range of different content types.
Successful tactics which teams can adopt include:
emphasising corporate branding strongly and consistently across digital channels, particularly if there is a new organisational identity
establishing clear leadership communications using social channels for bigger impact
creating content which highlights organisational values, culture and strategy, particularly when demonstrated by employee actions and stories
using other digital tools and channels such as peer recognition, e-learning and onboarding tools to illustrate values
driving more collaboration and connections through social networking and communities
Here are some more examples of how intranets have helped bring organisations together.
Establishing a new organisational identity at the Alberta Energy Regulator
The Alberta Energy Regulator (AER) based in Alberta, Canada, was formed in 2013 through the consolidation of three different regulatory bodies inovled in oil and gas development. It employees 1,200 employees.
A new intranet was created to encourage a strong, unified working culture based on AER's values. It needed to help employees connect with each other and understand the fundamental purpose of the new body.
The intranet has a beautiful and engaging design, a look and feel which was very different from what had gone before. An unusual feature on the homepage is the "kudos" feed, a place where employees can praise and thank each other.
The kudos feature is designed to drive a "culture of appreciation" and highlight AER's "people-first" approach. A regular spotlight feature on the homepage showcases different employees and has a similar aim.
Although some stakeholders were unsure the kudos stream would work, the feature has been a resounding success, helped by active use by senior management early on.
The intranet also relays key organisational information including updates from the CEO, recordings of town halls, details of key corporate projects and an "Organizational Design" page, the latter being the most searched for page on the intranet.
Learning points:
peer to peer recognition can help promote a positive culture
a different and new design can emphasise a new approach and a new identity
include key information about the new organisation
Supporting diversity at Assetlink
Assetlink is an Australian integrated facilities services provider with 2,500 employees. There is a very diverse workforce with over 75 nationalities, many of whom do not have English as a first language. Assetlink has a strong commitment to customer service and employee engagement.
The company has been very active in using its iLink intranet to support diversity and promote a common working culture ("the Assetlink way").
As well as news and operational content, iLink has a "My Learning" page which allows individuals to access learning solutions from the Assetlink Academy, covering both professional and personal topics, including the ability to learn languages.  There is also a YouTube channel accessed through the intranet called AssetLink TV.
The firm's values are highlighted in a section of the intranet. Employee stories which reflect the values and Assetlink culture are shared in an area called "Signature Stories". There is also a peer recognition system called "Nomination Excellence".
As most workers are not based in the office, mobile access to iLink is also critical. There is also the ability to translate the entire site using a "Select Language" feature.
The intranet has successfully supported diversity and engagement, and the company has won several  awards for its work in this area. In its last employee survey, Assetlink has a healthy 91 per cent rating of employee engagement and a satisfaction rating of 87 per cent in the effectiveness of its communication channels.
Learning points:
values are successfully highlighted through employee stories and peer recognition
providing opportunities for learning for all can help support a cohesive culture
mobile access and translation also help bring organisations together
Intranets support change
Intranets and digital workplaces support change in ways more than just corporate communications. Taking a holistic view incorporating design, content and features helps ensure digital channels have the desired impact. Your intranet can really help employees feel more connected to the organisation they work for and with each other.