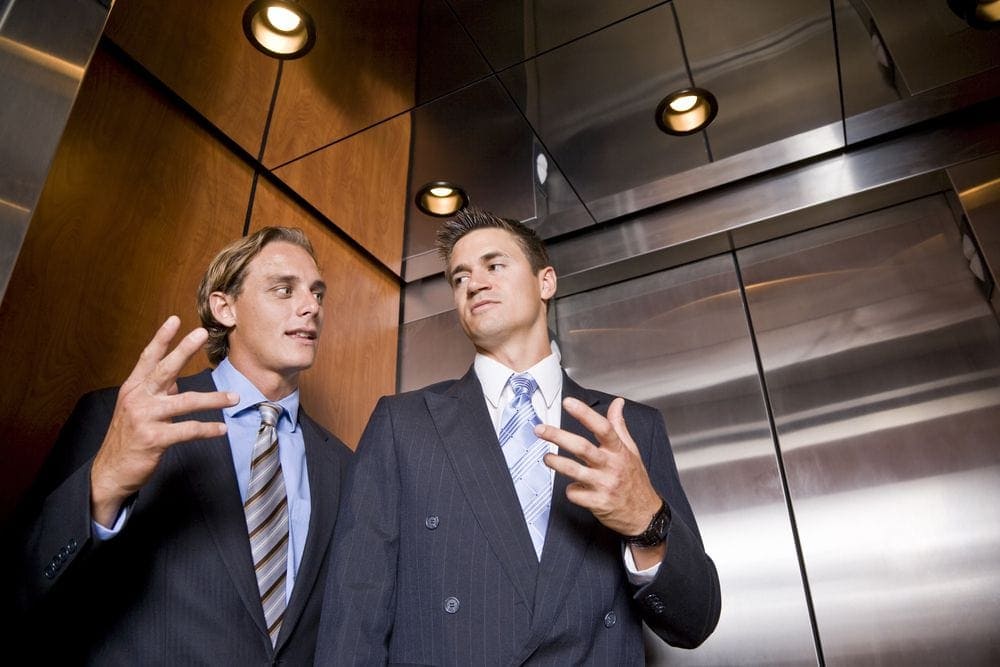 An elevator pitch for you and your intranet

BEST PRACTICE ARTICLE
Filed under: Articles, Intranets
It's an old web tale: if you work at Apple's headquarters, One Infinite Loop in Cupertino, California, you may find yourself in the lift one day with Steve Jobs, Apple's billionaire CEO. It's reputedly one of Jobs's tendencies to say to any unlucky lift passenger, 'What do you do for me?' If he's not happy with the answer, it's out the door you go. As the story goes, this is called 'getting Steved'.
What is it that you do?
While most people don't work at Apple, and supposedly tyrannical CEOs like Steve Jobs aren't the norm, 'What do you do?' is a question any intranet manager should be able to answer, and answer with more than, 'I'm the intranet manager'.
What does your work entail? What benefit does the intranet (which you work on developing) bring to your organisation? How do you measure the intranet's effectiveness, and thus its value to the organisation?
If you can't articulate these points, or the best you can think of right now is, 'The intranet helps communication and knowledge flow in the organisation' or something similarly hazy, it's time to sit down and get thinking about an 'elevator pitch' for you and your intranet. This means the creation of a short, to-the-point explanation about your work, which can be useful in a variety of ways and situations, not just elevators.
Why create a pitch?
Aside from being useful in just clarifying what an intranet manager does and what the intranet is for, intranet managers often struggle for visibility and recognition in their business. It's a battle to get endorsement by senior executives, and the intranet can be met with short shrift by business units or teams that see themselves as 'the real revenue generators' or 'key service providers' in the organisation.
A good pitch is vital when intranet teams need budget for new developments or resources, and it can even be a valuable exercise at a non-executive level, too — fellow staff may simply not understand the site, its complexities and capabilities, or even its purpose, and it can be useful if they do.
If it's doing its job, the intranet is a critical business tool, and people would notice if it suddenly disappeared. An elevator pitch can get this across, quickly and efficiently.
Creating your pitch
Getting started is simple, just answer the key questions already mentioned:
What does your work or role entail?
What is the intranet for?
What does the intranet do?
How does the intranet benefit the business?
What results or successes have you had recently?
What are you working on now?
Aim to answer these questions with descriptive, succinct sentences. Here's an example derived from a recent session on this topic at the Intranet Leadership Forum in Sydney:
'My role and that of my team is to deliver an online solution so that every employee can access information and applications to do their job efficiently and effectively. We do this by providing online news, policies, procedures, forms, access to systems and much more. We make everything easy to find and use, and always ensure we have the organisation's most up-to-date information available on the site. We're providing some great improvements for the business, too. For example, a major online forms project has reduced room booking emails and phone calls by 80 per cent.

We've got a lot more in the works at the moment, including a single sign-on feature so you only have to log in to the business systems once. You'll soon be able to forget those seven different passwords! Let me know if there's anything we might be able to help you or your team with.'
Of course, as time goes on, answers will change and any pitch will need to be updated, but always be ready to state your case, and avoid being the one who 'gets Steved'.