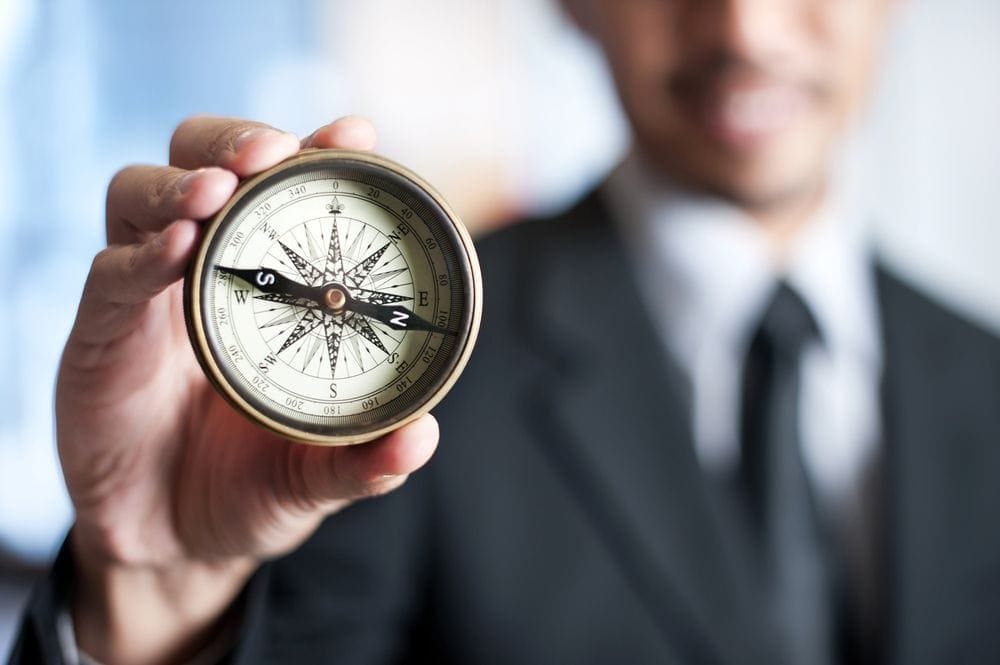 Align intranet strategy with business objectives

BEST PRACTICE ARTICLE
Filed under: Articles, Intranets
Against the backdrop of changing business practices, it's valuable to broaden the focus of what intranets can (and should) do. This involves seeking out opportunities for the intranet to better meet business needs.
For some time, there has been an assumed scope for intranets. This consists of corporate content (HR, finance, IT, etc), plus local business documents. 'About us' sits alongside mission and vision details. Forms are collected together as PDFs with links to web-based business systems. Corporate news dominates the intranet homepage.
Sound familiar? There's nothing inherently wrong with any of these items, and they form the foundation of intranets for a reason. But while they're needed, it's hard to directly align them to business objectives, beyond 'provide a one-stop shop for information and tools' (the weakest of all intranet goals).
While this thinking may be driven by new technologies, such as collaboration and social tools, these capabilities are typically a means to an end. What are the fundamental benefits that these new tools will deliver? And how will they help the organisation?
As intranets grow in strength and scope, overarching intranet strategy should increasingly be aligned with business objectives. This helps to cut through competing priorities for the intranet team, and makes it straightforward to demonstrate business benefits.
This excerpt from our recently-released book Essential intranets: inspiring sites that deliver business value will explore the many ways in which intranets can align with business objectives.
Intranet must go beyond 'provide a one-stop shop'
Provide the fundamentals and deliver business value
Few organisations would even consider operating without an intranet. There's a reason for this: intranets provide the basic foundation for managing and sharing information, as well as offering a central home for tools, forms and other organisation-wide capabilities.
As a core platform for organisations, intranets must provide the fundamentals that are needed by all staff.
Intranets must:
provide an enterprise front door
provide trusted information
deliver internal communication
foster staff engagement
foster collaboration
promote the organisation's culture
Intranets can do more than this, going beyond sites that are merely useful, to become essential to the operation of the organisation.
These intranets deliver clear business value, and they can:
enhance knowledge management
streamline business processes
improve customer service
mitigate business risks
provide 'anywhere' productivity
Together, these eleven items represent the many ways that intranets can support staff, and deliver benefits for organisations. They are not the only possible areas to focus on, but they do cover the vast majority of intranet activities.
Each of these business objectives will be (briefly) explored in the coming sections.
An exploration of intranet possibilities
The possibilities for intranets are both diverse and exciting, and they touch upon every aspect of how organisations operate.
In the book Essential intranets, a chapter is devoted to each of the business objectives listed previously. Full colour screenshots are featured on every second page.
This article will touch upon each objective in just a few paragraphs, with the goal of providing a clear sense of where intranets can focus.
Great intranets cut through the complexity of organisations
1. Intranets must provide an enterprise front door
The complexity of organisations has steadily grown over the last decade, and there are no shortages of systems and tools within modern organisations. As older systems have 'web enabled', they are joined by many new applications. Staff now have to routinely deal with dozens of different systems each day.
There are a growing number of information sources used by staff, including collaboration and social tools, databases and document stores.
In most cases, the problem is getting worse, not better. Each system has its own business owner, and even when supported by a competent and centralised IT department, silos are hard to avoid.
Great intranets cut through this complexity, by providing an enterprise front door. This provide an entry point into everything that organisations have to offer staff, including sources of information, collaboration spaces and enterprise systems.
2. Intranets must provide trusted information
The volume of information stored by organisations has grown sharply, and is increasing in pace as the number of information systems grow. Organisations are also under greater pressure to operate efficiently and nimbly, by making the best use of information that has already been created.
The problem is not one of storage; disk space has never been cheaper. Instead the challenge is to provide managers and staff with the information they need, when they need it, and how they need it.
The intranet must therefore be the source of trusted information for all staff. This covers many aspects, including:
making content simple for staff
adding value to existing information, but surfacing it in useful ways
managing documents as well as pages
surfacing insights from data
engaging staff in managing intranet content
As Figure 1 shows, even the focus on the basics of delivering information in a simple way provides concrete benefits for staff.
Staff must be kept informed in a timely way
3. Intranets must deliver internal communication
It's no small challenge to keep staff informed. Paper newsletters and internal newspapers have had their day. Email is universally used, but the flood of messages now means many staff treat corporate updates as 'internal spam'.
Against this backdrop, the need to communicate within organisations has never been greater. As organisations grow in size and complexity, it becomes increasingly hard to connect staff to the corporate strategy, and to keep different areas of the organisation working in a coordinated way.
There are many different internal communications needs, including:
communicating top-level strategy
sharing success stories and 'wins'
announcing new products and services
communicating regulatory and compliance updates
providing visibility of wider industry news and changes
delivering frontline and operational messages
For many years, communication has stood alongside content as one of the primary purposes of intranets, with news featuring heavily on the homepage of most intranets.
Beyond this, communication is now about peer-to-peer and bottom-up, alongside traditional top-down messages. The growth of collaboration and social tools is also blurring the line between official messages and social media updates.
Engaged staff are more motivated and productive
4. Intranets must foster staff engagement
Engaged staff are more motivated and productive. They have a clearer understanding of the organisation's strategy and focus, and understand their role in the bigger picture. When staff are engaged, they are also active contributors to organisational planning and discussions.
It is therefore no surprise that staff engagement is a primary focus of corporate affairs, internal communications, HR and intranet teams, across all sectors.
Many intranet projects are launched with the sole aim of addressing staff engagement issues, or strengthening existing levels of engagement.
Beyond addressing short-term pain, organisations are increasingly seeing the long-term benefits of fostering staff engagement, from both productivity and cultural perspectives. The shifts in working behaviours to more collaborative practices is also driving a focus on staff engagement.
While addressing staff engagement is primarily the responsibility of senior managers, intranets can help in many ways, including:
giving staff a voice, and an opportunity to provide input
providing recognition for staff activities and successes
helping senior management connect with staff
strengthening social bonds in the workplace
engaging staff in strategic initiatives
5. Intranets must foster collaboration
The way we work is changing. External factors, such as tough economic times, means that organisations must be more effective, efficient and nimble.
Major shifts in technology are also having an effect. Collaboration and social tools, having proved themselves on the wider web, are now becoming ubiquitous within organisations.
This collaboration can be informal and small-scale, within limited groups of staff, or supporting a single business unit. At the other end of the scale, some organisations are moving towards becoming 'social businesses', where collaboration becomes a key part of the organisational 'DNA'.
Regardless of the intensity of use, collaboration and social tools deliver a range of important business benefits:
reducing organisational silos
improving staff effectiveness when working in groups
assisting the delivery of projects
supporting information sharing within teams or business units
increasing innovation
reducing duplication of work
improving knowledge management
Figure 2 provides a typical, but nonetheless powerful example of the benefits that collaboration and social tools can offer.
Central tools or templates can be offered as a service
6. Intranets must promote the organisation's culture
It's the mark of a strong culture that staff are able to be effective and resilient, even in the face of major organisational changes, such as explosive growth, marketplace changes, or even downsizing.
Organisations with mature and effective cultures operate as 'well-oiled machines', where staff know what they should be doing, and how they should be working with each other.
Most visibly, organisational culture is manifested as a set of clear objectives, shared values and standard processes. These need to be understood widely, from the C-Suite down to frontline and factory floor staff.
In the modern working environment, however, intranets can be used as a strategic tool to support senior leader's goals of fostering and strengthening the organisation's culture and value.
This includes:
providing an enjoyable, engaging and productive working environment
communicating organisational strategy, priorities and changes
helping to bring the organisation together
fostering a collaborative culture
The global team typically 'owns' only a fraction of the whole
7. Intranets can enhance knowledge management
Organisations are made of people. While formal policies and processes are important, much of the success of organisations rests on the knowledge in people's heads, and how they make use of it.
Knowledge management (KM) as a discipline has existed for several decades, with the goal of improving the use and impact of knowledge. A broad field, knowledge management offers many different approaches and techniques, addressing four main aspects:
people
process
content
technology
While intranets are primarily a technology platform, they can assist (both directly and indirectly) with all four aspects of KM.
This includes:
capturing and communicating key knowledge
connecting staff who have a common interest or need
surfacing staff skills and expertise
supporting ongoing collaboration and social interaction
8. Intranets can streamline business processes
The day-to-day work of organisations is built around tasks and processes. These may be small activities, such as filling in a form, or making a request. They can also be large, business-spanning systems that provide the engines for core business.
In all cases, organisations have struggled to establish efficient ways of conducting and completing these processes. At an individual level, staff often find it hard to locate the right form, or to confidently know how to fill them in.
At a larger scale, the 'web-enabling' of most legacy systems has simplified access to some degree, but has led to a sea of separate islands, often with their own usernames and passwords. Integration, where it exists, is often fragmented and piecemeal.
Intranets present many opportunities to streamline business processes, ranging from quick and simple solutions to strategic initiatives. These fall into four main categories:
Improving the design and usability of systems, in terms of finding the right tools, and then using them in a productive way.
Automating simple tasks, using out-of-the-box functionality to simplify the myriad of smaller processes that exist across organisations.
Meeting local business needs, by providing individual business units and teams alternatives to Excel and Access.
Delivering strategic solutions, that use the intranet to directly deliver core business processes.
Figure 3 provides a compelling example of how an intranet can support core business activities, in this case in a building company.
Streamlined processes deliver productivity benefits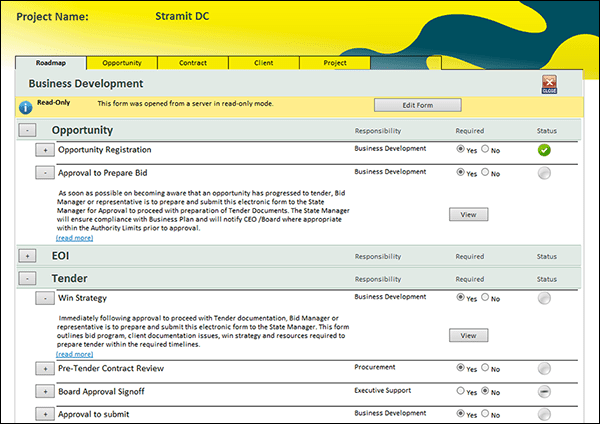 9. Intranets can improve customer service
Customer service is make-or-break for many organisations. This includes consumer and retail organisations, business-to-business providers and government agencies.
In most cases, the staff providing customer service are located at the periphery of organisations. These staff include:
customer service operators in call centres
retail staff in stores and branches
sales staff travelling from customer to customer
service staff working at front counters and other service points
cabin crew in planes
technical support and other support staff
Organisations are judged according to the quality of customer service provided. Were customer service staff knowledgeable? Was the right information provided? Was the problem solved? Was the service prompt and helpful?
Intranets can help by providing the knowledge that underpins great customer service. This includes delivering timely and useful information to customer-facing staff, giving greater visibility throughout the organisation of customer needs, and providing effective tools for customer-facing staff.
As shown in Figure 4, intranets can also help to connect the organisation as a whole with the needs and issues of customers This is a key input into customer-centric practices.
Business risks range from small and frequent, to catastrophic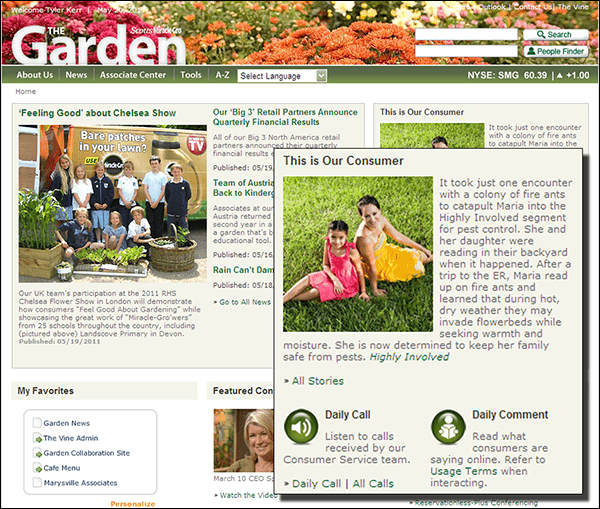 10. Intranets can mitigate business risks
Organisations wrestle with a wide range of business risks. Some of these represent frequent but minor irritations, while others prevent the delivery of core services, or threaten to undermine the organisation as a whole.
Day-to-day business risks often centre on the creation and use of information, such as:
whether decision-making is informed by the best possible information
the degree to which staff know corporate policies, and follow them
the strength of information management practices, ensuring that information is accurate, trustworthy, available and findable
the level of compliance with mandated standards, such as recordkeeping legislation or ISO-9000 compliance
Business risks also more tangibly relate to the delivery of core services and products, such as:
quality of advice given to customers and clients
mistakes or errors in manufacturing or operations
reputational risks arising from incorrect information
breaches of environmental or safety standards
Business risks also result from the extraordinary impact of disasters, both natural and man-made. These includes power outages, floods, fires, hurricanes and volcanic eruptions.
Intranets are the visible face of information management practices that address and mitigate business risks. They provide a central point of access to trusted information and tools, and connect staff in ways that reduce mistakes and improve coordination.
Intranets also provide a virtual workspace that allows organisations to rapidly respond to disasters, and to keep staff working even when offices are cut off from the rest of the world.
Staff must be productive wherever they are
11. Intranets can provide 'anywhere' productivity
It has long been the case in many organisations that the most important staff don't work in an office. These 'mobile' or 'field' staff encompass many different roles, including:
engineers and technicians working in the field
sales staff visiting customers
consultants working with clients
workers in factories and plants
local government staff delivering a wide range of services
staff working in stores and retail environments
These staff all do very different jobs, and have their unique needs in terms of information and tools. What they have in common, however, is that they don't have the things that all office workers take for granted: a desk, a PC, and an opportunity to converse face-to-face with other office staff.
More than just using mobile devices in a work context, this is about providing 'anywhere' productivity for all staff. It encompasses a range of approaches, some simple and some more demanding.
This is the aspect of intranets that is experiencing the greatest shifts at the moment, and is still at the leading edge of innovation (at the time of writing this book at least).
It's an exciting time for intranets
Intranets are a process, not a one-off project. No one activity, regardless of how large and well-resourced it is, will deliver the 'perfect' intranet.
Delivering a better intranet fuels a greater maturity of intranet knowledge across the organisation as a whole. If the right improvements are chosen, they also foster ambitions to deliver even greater improvements.
By targeting intranet activities to address clear business objectives, intranets can quickly become essential tools for all staff.
This is an exciting vision for organisations of the future. It sees business-centric intranets sitting as one element of a seamless digital workplace that allows staff to be productive wherever and whenever they are.
Read more
This article shares excerpts from the book Essential intranets: inspiring sites that deliver business value. In 290 pages it explores the full scope of modern intranets, providing over a hundred intranet screenshots in the process.
To obtain a copy, visit:
store.steptwo.com.au