Digital workplaces and activity based working: maintaining connections in modern office environments
Filed under: Collaboration and social, Digital workplace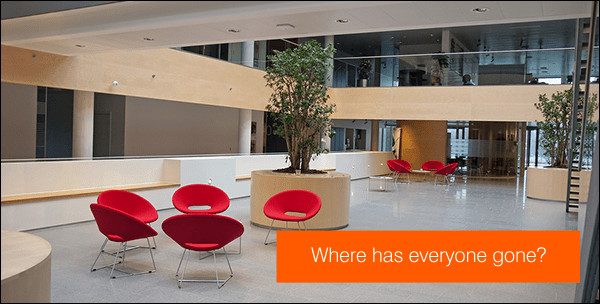 Many of the organisations we're working with are in the process of moving into new office environments. These are often brand new office complexes, which have been shaped according to current architectural thinking.
This includes a shift to activity based working, which is often given an internal name along the lines of "WorkSmart", "Next generation working", "Work like a network", etc.
Architects and building managers have designed flexible working spaces, with a wide mix of informal meeting spaces, group work areas, quiet spaces and traditional meeting rooms. This is further reinforced by open-plan work spaces, generous atriums, internal staircases, and long sight-lines.
While these new physical spaces are an important forward step, they also present real challenges. The biggest of which is: "where is everyone?".
With groups no longer sitting together, it becomes much harder to maintain a sense of connectedness, and to keep in touch with the daily ebb-and-flow of work. This strips out a layer of communication and coordination that we take for granted when teams are all in the same physical space.
We've been talking for a while about providing online support for activity-based working, and the list of action items remains as valid today as when we wrote the post.
Beyond the practicalities of implementing activity-based working, it's vital to also address the people-to-people aspects of the working environment.
This leads us to say:
When shifting to flexible working spaces, the digital workplace must step in to sustain the social fabric of day-to-day work.
A thousand small interactions
When working together in a single (fixed) location, teams and business units take for granted the myriad of little interactions that sustain work:
turning around to ask someone a question
seeing whether people are in the office (and therefore working), rather than being on holidays (or sick)
gathering together a few folks for a quick chat
sensing the level of activity within the team (quiet, busy, frantic!)
coordinating activities by shouting stuff out
seeing whether people are stressed, bored, tired, happy, sad
dropping by someone's desk for an idle chat
decorating the physical space with personal or team stuff
sticking stuff on walls, showing deliverables, project plans, ideas, status updates
All this goes away when team members might be scattered across the building, working from home, sitting in a cafe, or located in another country.
This social fabric, while easily taken for granted, is crucial for team and personal productivity. It also underpins a vital sense of engagement with the job, team and organisation.
Planning for success
Organisations must therefore plan to strengthen their digital workplace, alongside the logistics of moving to a new building.
This means:
Understanding how staff work now, and how this will change.
Ensuring the social and collaboration tools are in place
Designing solutions to be both usable and delightful.
Using social tools to foster the social fabric of individuals and teams.
Purposefully pursuing activities to ensure a successful shift to online interactions.
Allocating resources to foster online interactions (such as creating a full-time 'community manager' role)
Incorporating the digital workplace into flexible working strategies, alongside physical changes.
When the digital workplace is considered from the outset, the change to a new physical environment can provide the perfect opportunity to reimagine how staff will work. This will bring new benefits and opportunities for both staff and businesses.
Putting it into practice
Our focus at Step Two is on using digital tools to help staff and businesses to be productive.
Our social and collaboration services will help you move quickly to take advantage of what's now possible. We will also help you to ensure the shift to activity based working — and the move to new buildings — is an entirely positive experience for all involved.
Get in touch to organise a coffee chat.