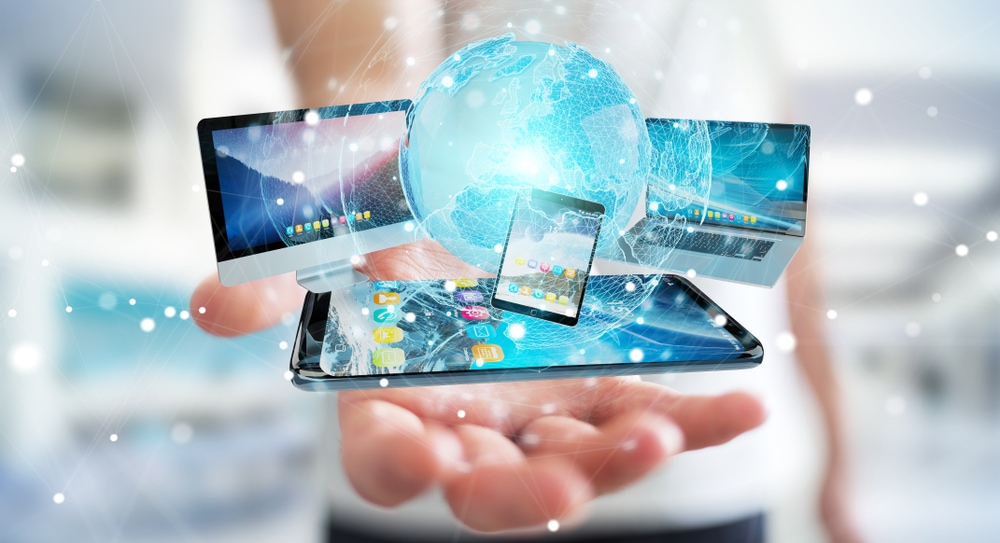 What's the digital maturity of your internal communications?

BEST PRACTICE ARTICLE
Filed under: Collaboration and social, Intranets
There's no doubt that internal communication proved its worth during the pandemic, many times over. With increased engagement from senior leaders, comms teams responded to the ever-changing circumstances surrounding Covid-19, keeping staff informed and in touch, whatever it took.
It's been extraordinary to see employee engagement scores actually increase during the pandemic, despite the overwhelming level of disruption. Now that the new normal is settling in, however, the 'can do' attitude is now no longer enough. Employees who understood that everyone was just muddling through during the pandemic now expect clear lines of communication that they can understand and rely on.
The reality is that the internal digital landscape within organisations has become hugely more complex in recent years. New platforms have been rolled out for collaboration and social, and multiple tools often run side by side. This makes it harder, not easier to deliver internal communications.
Internal communications teams also need to revisit their internal communication strategies, and start to reshape the way they (and leaders) communicate, to better match the digital age.
In our consulting work, Step Two has developed a digital maturity model for internal communication, that can help teams understand their current state, and to determine what changes to make. This article outlines the model, and provides practical advice on how to proceed.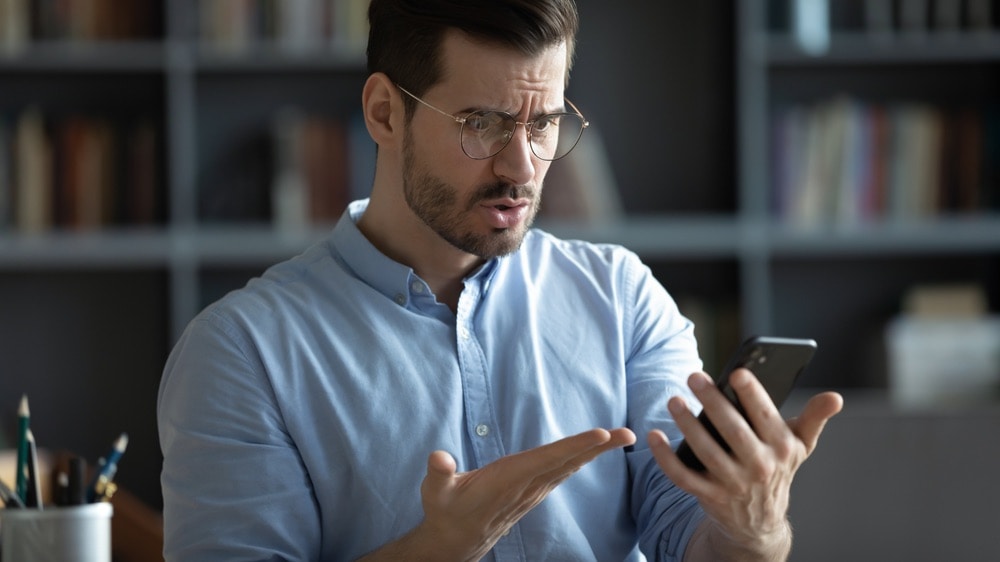 Multiplying internal communication channels
The days of having just two digital channels for internal communications–email and the intranet–have long gone. Driven by IT roadmaps and business expectations, there has been a proliferation of new tools and platforms in many organisations.
These new channels now include:
Email, which has grown in usage rather than shrunk, and may be supported by new email campaign tools.
Intranets, which are still seen as the primary channel for corporate messages, but may be left behind in terms of technological capabilities.
Social tools, such as Yammer or Workplace by Facebook.
Collaboration tools, such as Microsoft Teams, Workplace, Slack and countless others.
Employee apps, which are being rolled out as mobile-only solutions for frontline workers.
Video, which has shot up in usage during the pandemic crisis.
Shadow IT, consisting of the continued use of non-corporate tools, such as WhatsApp and Telegram.
Not all of these tools will be in play in every organisation, but many organisations will have more than one tool for a given purpose (such as Microsoft Teams for corporate staff, and sales staff using Workplace).
The net effect is a substantial increase in the number of potential internal communication channels, with all the complexity that goes with that. Old internal comms approaches, including 'scattergun' delivery of messages simultaneously across multiple channels, just won't work.
What's needed is a clear way forward, and this can be guided by the digital maturity model that we've developed for internal comms teams.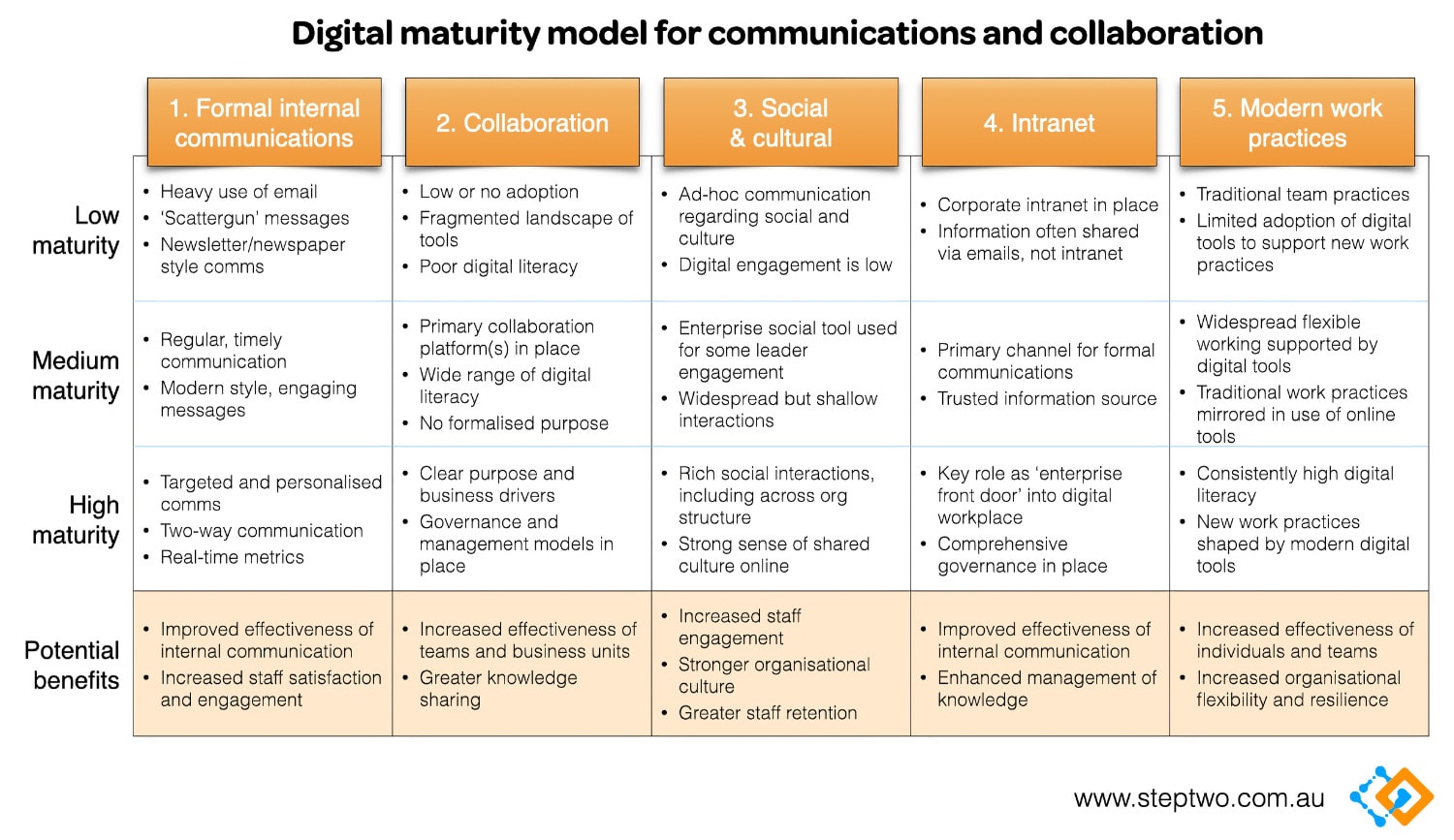 Digital maturity model for internal communications
This shows a simplified version of our digital maturity model that we use with our clients. It divides internal communications across five different streams:
Formal internal communication, the traditional work of comms teams, sharing leader updates, business changes and new policies.
Collaboration, encompassing all the ways that employees work together in groups to achieve outcomes.
Social and cultural, helping to engage employees with the organisation, and with each other.
Intranet, the mainstay of internal communications and content publishing.
Modern work practices, reflecting the changing ways that digital tools can help to get real work done.
The first thing to note is that this maturity model immediately goes beyond traditional communication techniques, to encompass the wider digital workplace. This is deliberate, as communication practices need to reflect the tools and practices that are in place, and then make the most of them.
This wider model also helps internal communication teams to assess what role they want to play in the digital workplace, beyond basic corporate messaging.
The potential benefits listed at the bottom of the table show what the outcomes can be if maturity is increased across the five streams.
Using the maturity model
The starting point is to assess the current state within your organisation when it comes to each of the five streams. This should be approached holistically, to gather the information needed not just to identify the starting point, but to inform decisions about the desired future direction.
To understand the current state, use a mix of techniques:
Internal communications survey sent to all staff, to compare to pre-Covid results and to provide a benchmark for moving forward.
Employee research, engaging with staff one-on-one and in groups, to build a deeper picture of how staff are working, and where frustrations lie.
Expert assessment, drawing on the expertise of organisations such as Step Two to give a broader perspective on the current state.
Once the research has been completed and synthesised, you can then map your current maturity across the five streams. Expect there to be marked differences, driven by the ongoing evolution of the organisation, and disruptive changes such as the pandemic.
The question then becomes: what's the target state that you're aiming to achieve for each of the five streams?
Bring together stakeholders to discuss and explore:
Business drivers and priorities, which should shape the overall approach to communication and collaboration.
Internal comms strategy, to provide an overall framework for improving internal messaging.
Best practices and leading examples from other organisations, to ensure that the target state is sufficiently ambitious.
With the current and target state mapped for each of the streams, it's time for action! This may involve conducting targeted projects, shaping leader behaviour, or building the digital literacy of employees. Note that all the streams don't need to be driven by internal comms teams, and it's common for responsibilities for modern work practices to be handed to IT, for example.
Practical recommendations
Having a clear maturity model helps to put shape around internal communication decisions, but it doesn't eliminate the complexity of organisations. Based on our work with internal communications teams of all sizes, we provide these practical recommendations:
Choose a handful of platforms to use for internal communications, selected for their reach and functionality.
Aim for clarity rather than strategy, focusing on providing practical approaches that can be understood by all, without trying to tackle the full complexity right away.
Modernise communication practices, shifting from after-the-fact newsletters to just-in-time messages, and shifting to more informal writing styles that best suit the online medium.
Make practical decisions about how communication will occur, such as drawing a line between 'content' and 'comms', and between 'need to know' and 'nice to know'.
Lead the changes that need to happen, ensuring that internal comms sits at the heart of decision-making, even as technologies and platforms are still in flux.
With the rapid pace of technology change within organisations at present, there won't be a simple, set approach that can be taken. It is possible, however, to have a fast and positive impact on how internal communications are done, and how they use modern communication and collaboration platforms.
This is the opportunity for internal communication teams to drive modern comms practices for the new normal, further demonstrating the benefits provided by comms teams.
(As always, this advice is drawn from our experiences working with teams across many organisations. Reach out if we can be of help to you, to assess your current state or to map out a target state that's guided by emerging best practices.)