Step Two Forum online membership
The Step Two Forum is a unique community for intranet, digital workplace and digital employee experience practitioners.
Online membership supports the needs of digital workplace teams with a mixture of online sessions, interest groups and access to unique resources through our member only community platform.
The Step Two Forum includes the most engaged and active teams in Australasia and across the globe, and connects members to a global network of experienced practitioners. Online membership gives you access to:

Online events
An engaging mix of live tours, community catch-ups and specialist presentations expose you to best practice and support your professional development

Interest groups
Online interest groups, giving you a deep dive into specialist topic areas via an online collaboration and learning platform

Ongoing support
A dedicated Community Manager to answer ongoing questions, connect you with your peers and link you to relevant resources
Specialist interest groups
The central element of online membership are our specialist interest groups that are structured around targeted topic areas.  They provide an opportunity for members to take a deep-dive into areas that directly support their day-to-day work. More than just online chat spaces, we harness the collective knowledge of the international Forum community to share ideas and experiences, find answers to your questions, and connect via specific skillsets.
The interest groups are hosted via our dedicated online platform and have a mix of online discussions, presentations and workshops. Our existing interest groups include:

SharePoint Online
Keep up to date with SPO best practice, tips, tricks, and work-arounds. From migration to design, explore how to get the best out of SPO native functionality, options for customisation and integrations, and the impact of latest releases and updates.

Intranets

Maintain your core intranet skills across communications, culture, collaboration, structure, search, and more. A must for intranet managers, those who are new to intranets, or those who are embarking on a new intranet project.

Employee experience

Learn how to make ongoing improvements to your organisation's employee experience, from needs analysis, employee-centred design, and impact measurement.  A must for those who are passionate about delivering a great employee experience.
Engaging mix of online events and workshops
In addition to the interest groups we also run a mix of regular events, including live tours, community catch-ups and presentations by specialist practitioners. All the activities are delivered online so you can attend from the comfort of your own desk. These live, interactive sessions are facilitated to deliver powerful insights. Members are able to ask questions, participate in discussion and continue the conversation via our dedicated community platform. Sessions are held monthly and are available after the event via the community's video library.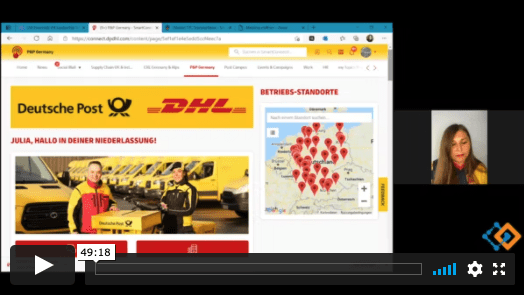 Insider-only tours
Receive exclusive tours of employee-facing tools and systems from around the world, including behind-the-scenes work, employee impact, and what has and hasn't worked along the journey.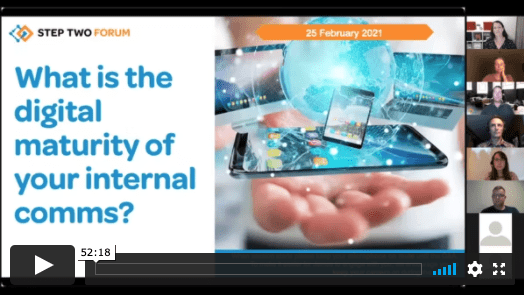 Specialist presentations
Hear from industry experts and peers doing great things. Get new ideas, real life examples and the knowledge you need to make a bigger impact in your role.
Discover, learn and experience what real organisations are doing everyday to support their employees. Build your own skills and capabilities to deliver great solutions.

Community catch-ups
A chance to catch-up and meet members from across the globe, connect and see a showcase from a member's organisation or learn about a topic of choice.

On-demand video library
The video library includes recordings of all previous live tours from organisations big and small, local and global, as well as launch videos and training presentations. Watch and learn online at your convenience.

Annual Awards reports 
Since 2006, the Intranet and Digital Workplace Awards have been inspiring teams with leading-edge ideas and real-world solutions. Full members have access to 10+ years of reports, valued at over $500.
Step Two webinars
Step Two public webinars cover topics of interest to intranet, digital workplace and digital employee experience teams. Free tickets to these webinars are part of your full membership.

Online Community platform
Meet and interact with members from around the world. Exclusively for Step Two Forum members, this is your one-stop-shop for interest groups, chats, live Q&A, events and resources.

Community Manager
Rebecca Rodgers is the 'super-connector' at Step Two, and it's her job to know who's doing what in the digital workplace space. As Community Manager, she brings teams together to share insights and experience.
All figures are quoted exclusive of GST
Online: Single
One nominated individual per annual membership
Attendance at all online events, plus full participation in the online community
Knowledge can be shared internally with whole team
Nominated individual is transferable in the event of a role change
Online: Team 3
Three nominated individuals per annual membership
Attendance at all online events, plus full participation in the online community for all individuals
One primary contact within the team
Allows extended team (eg. comms, IT, HR) to participate
Online: Team 5
Five nominated individuals per annual membership
Attendance at all online events, plus full participation in the online community for all individuals
One primary contact within the team
Allows larger organisations to involve all team members 
About your Community Manager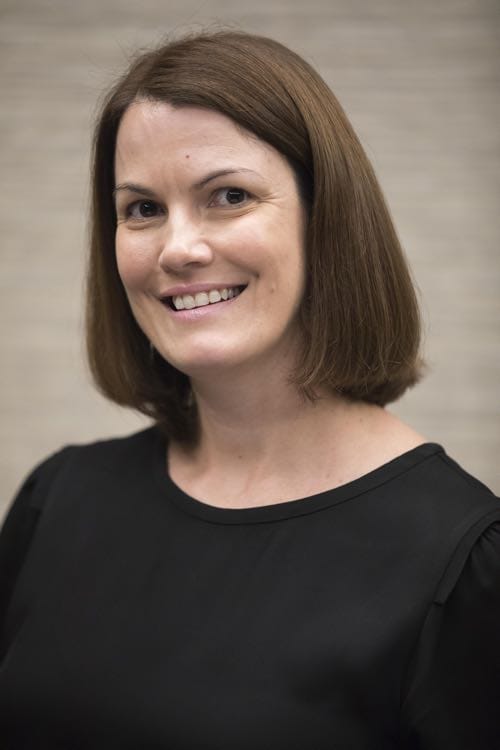 Rebecca Rodgers is an experienced and successful digital workplace and intranet consultant, with extensive experience in corporate and government organisations globally.  She manages the Step Two Forum, is a principal consultant and senior member of Step Two's leadership team.
Rebecca is able to quickly understand business issues and draw on a wealth of experience to tailor approaches that are both strategic and practical. She has a singular focus on helping teams and practitioners succeed, and with boundless energy, she's known for rolling up her sleeves to get the outcomes that are needed.
She has a passion for UX and human-centred design to create exceptional digital workplaces, intranets and digital employee experiences. She brings an infectious enthusiasm to any setting, with an enviable reputation around the globe as a result of her consulting engagements, presentations and workshops.
As the manager of the Step Two Forum, Rebecca is responsible for supporting practitioners across Australia and around the world, as well as helping build the connections between teams that will last a career.
How does annual membership work?
Membership runs for twelve months, from the first of the month after your payment has been received (eg. from 1st September to 31st August). You'll receive a renewal invoice for the next year about one month before your renewal date.
Is membership for individuals or organisations?
Membership is obtained by organisations, rather than individual practitioners. The level of membership determines how many people from the organisation can join. For example, single membership entitles one staff member to join. Team-3 or Team-5 membership enables multiple staff members to join. If a staff member leaves or changes roles, membership can be transferred as needed.
What can I share with my team?
As intranets and digital workplaces are by definition hidden from public view, it is important to protect the confidentiality and privacy of members and their sites. The ethos of the Forum is to 'take away the learnings but respect the confidentiality of the people and/or organisations sharing'. You are therefore welcome to share resources within your direct team or organisation, but not beyond. Screenshots remain the property of the organisation sharing.
How is my privacy protected?
As convenors of the Forum, Step Two will protect the privacy of members, and will never pass on details to any third party. Members must never share details with a third party without the express permission of the member.
Who can join online membership?
Online membership is targeted to those who can't attend our in-person workshops (held at city centre locations in Brisbane, Melbourne, Auckland and Sydney). If you are at one of these locations full membership will be a better option.
Why is membership not open to consultants or vendors?
We are a vendor-neutral organisation and the community is based on business needs, not specific technology solutions.
Who can I contact if I have a question about the Step Two Forum?
Contact the Step Two team at [email protected] and we will answer your questions.
How can I pay for my Step Two Forum membership?
We will send you an invoice confirming your membership details. Payments can be made by bank transfer or via credit card. Contact us if you have any questions.