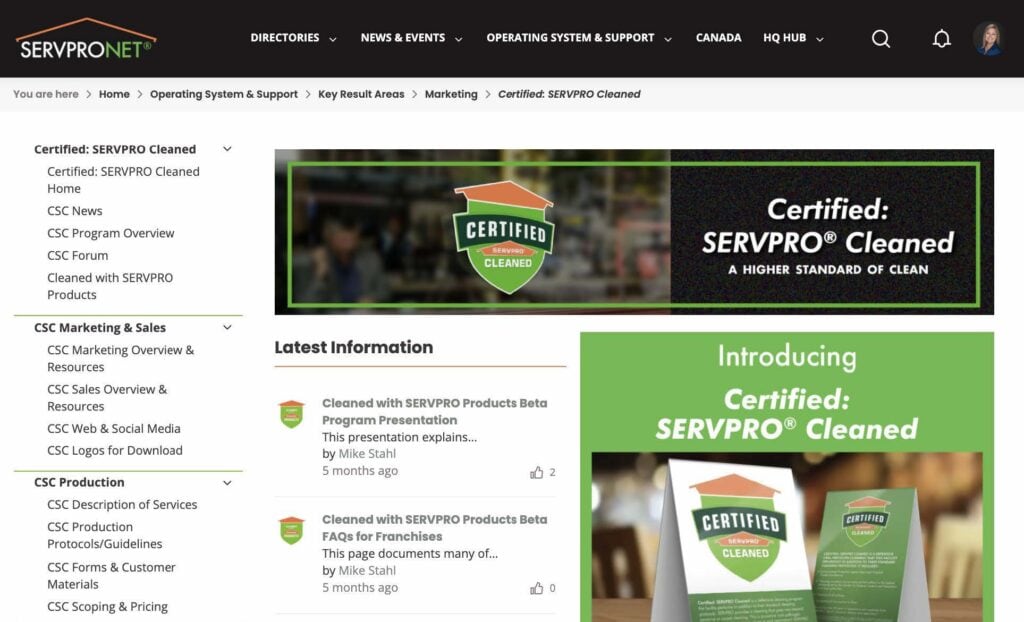 * Screenshot remains the copyright of the entrant, and may not be reproduced without written permission.
SERVPRO Industries: Navigating the pandemic through the intranet
Cleaning services provider SERVPRO has used the intranet to support essential business operations across 1,900 franchise locations during the COVID-19 pandemic. During 2020 the intranet was used to successfully launch a new cleaning service line resulting in US$300m of revenue. The intranet has also successfully engaged franchisees to ramp up operations in response to an extreme weather event.
The team also used the intranet to deliver a virtual week-long convention for franchisees with live streaming, interactive chat, recorded events and commenting. This received very high levels of interaction and was attended by 98 percent of franchise locations. It has changed the way SERVPRO organises future events.
Why this won a Gold award
This is a great intranet success story and shows the value an intranet can bring when it is used creatively.
Reaching a franchisee audience is not always easy, so the levels of adoption and outcomes achieved are a great result.
The business impact of using the intranet to launch the new CSC service line has created huge amounts of revenue and enabled a smoother path to market under difficult circumstances.
We love the spirit of the team, which continues to push the intranet to its limit.
The virtual convention has been very well executed and resulted in exceptional levels of adoption and a huge cost saving.
We like the way the team has learned as it goes, for example testing out live streams prior to the main convention, and adopting successful practices from early COVID-19 communications.
More or less eliminating all-staff emails is another excellent outcome.
Full case study
Get a copy of the full case study as part of the 2021 Intranet & Digital Workplace Showcase report. This is packed with real-world screenshots and insights that will inspire your leadership team, and help you deliver a successful project.