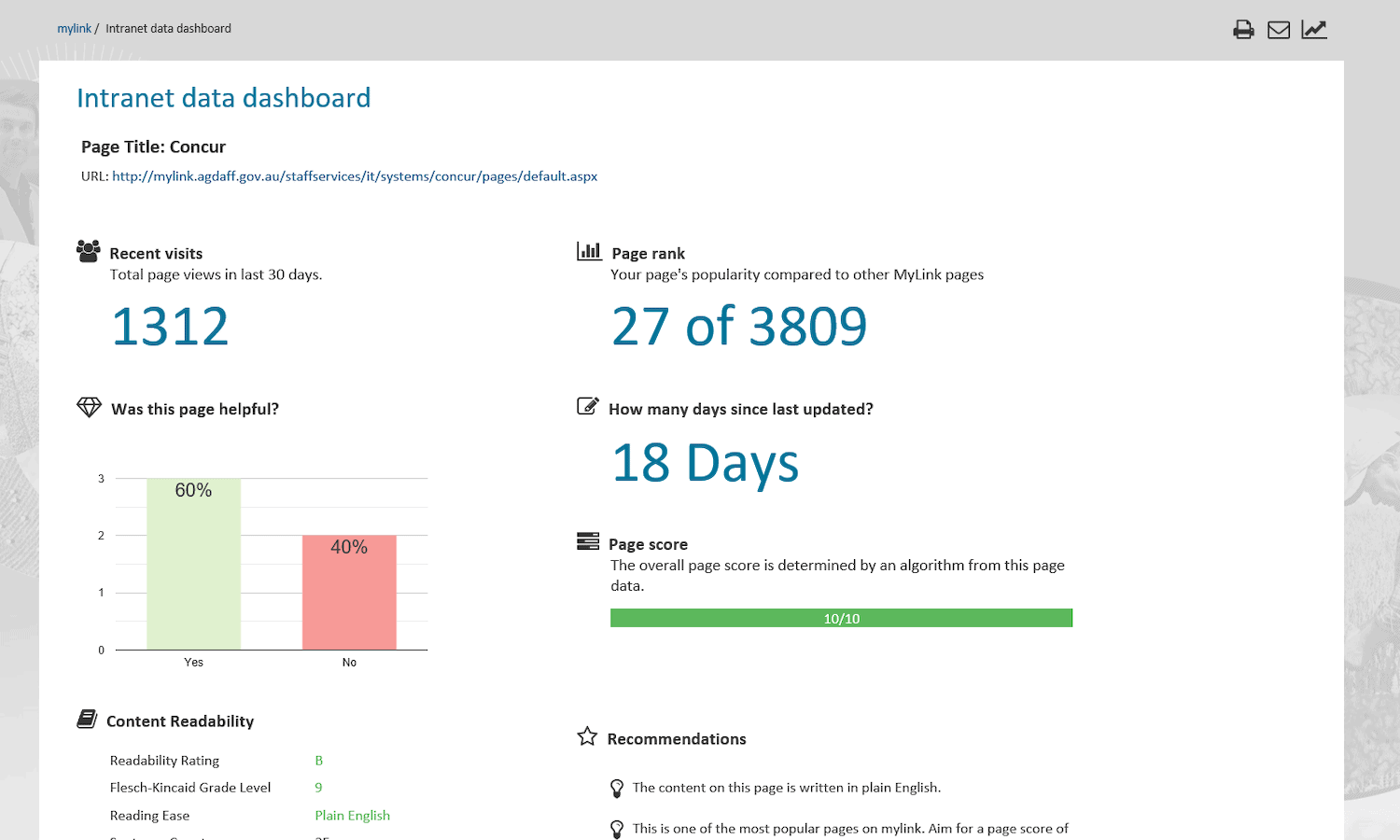 * Screenshot remains the copyright of the entrant, and may not be reproduced without written permission.
Dept of Agriculture, Water & the Environment: Improving content with a dashboard
In order to improve the quality and relevance of intranet content, the Australian Department of Agriculture,Water & the Environment has built an intranet data dashboard for content authors. The dashboard automatically presents data about each individual page covering elements such as views, comments, last updated and readability. Gamification is used with a points system and page ranking. A library of recommendations also suggests improvements to authors.
So far the dashboard has proved popular with content authors and has already seen a rise in content quality as well as positive feedback from users. The project was delivered at very low cost as a skunkworks project. It was also launched at the same time as a busy organisational merger, but has still proved successful.
Why this won a Gold award
This is an innovative use of a dashboard and metrics which are unusual in the context of an intranet.
The elements of the dashboard have been well selected and the use of recommendations is a nice touch.
The gentle gamification is just enough to engage authors and help drive adoption.
We love how this was delivered under the radar, leveraging an opportunity to use a spare development resource.
This has received very positive feedback from content authors, despite them all being very busy on the merger and creation of a new government department.
Despite its modest scope, the dashboard is already making a difference to content after a relatively short time.
We like how the dashboard page is also visible for users, helping to drive transparency and accountability for content.
Full case study
Get a copy of the full case study as part of the 2020 Intranet & Digital Workplace Showcase report. This is packed with real-world screenshots and insights that will inspire your leadership team, and help you deliver a successful project.