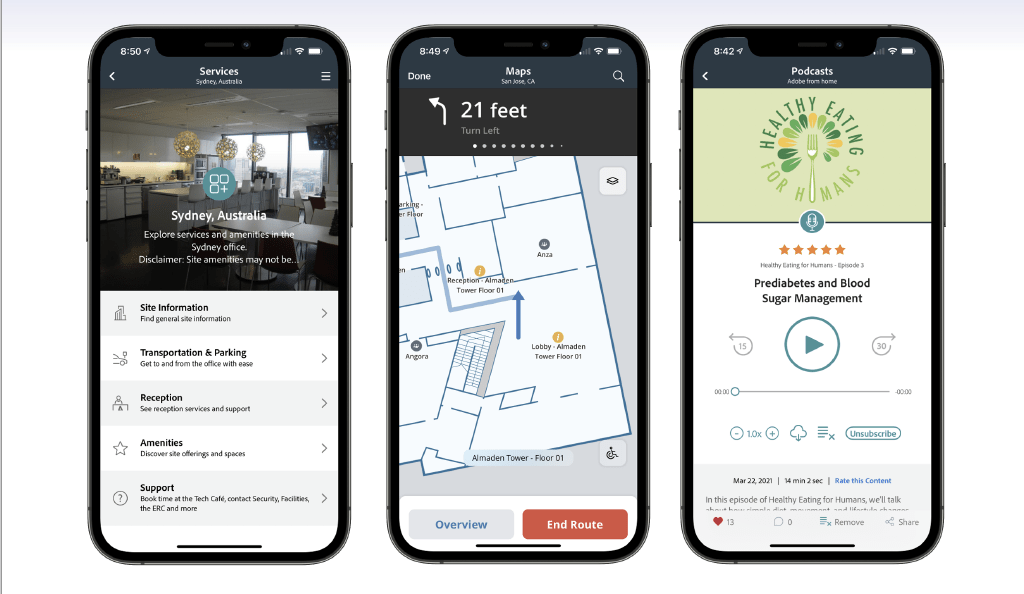 * Screenshot remains the copyright of the entrant, and may not be reproduced without written permission.
Adobe: Creating a campus app to return to the office
Adobe has created a mobile "campus" app that acts as a guide to Adobe's key locations across the world, as well as for working from home. Originally developed for the San Jose office, the solution was made global by the team when COVID-19 created a need to support home working and the return to the office.
Embodying strong design, the app facilitates desk and room booking, wayfinding, tech support booking and potential future booking capabilities. It also includes forms to support safe returns to offices. There are details about each location's services and amenities, as well as content that focuses on health and wellbeing, including tips, podcasts and more.
Although early days, initial adoption has been very positive.
Why this won a Silver award
We admire how the team pivoted the solution to be much wider in scope due to the impact of COVID-19.
Including "home" as one of the locations covered is a nice touch.
The design and aesthetics are strong and it looks and feels like a consumer app, reflecting the culture of design at Adobe.
The features support the safe return to the office by reducing physical interactions in the office, establishing a focus for communication and also providing check-in forms.
The focus on health and wellbeing content is very well executed, with some imaginative use of podcasts and content that is well presented on a mobile app.
Asking interns to give input was an excellent idea that also helped to engage them in a difficult time.
Full case study
Get a copy of the full case study as part of the 2021 Intranet & Digital Workplace Showcase report. This is packed with real-world screenshots and insights that will inspire your leadership team, and help you deliver a successful project.