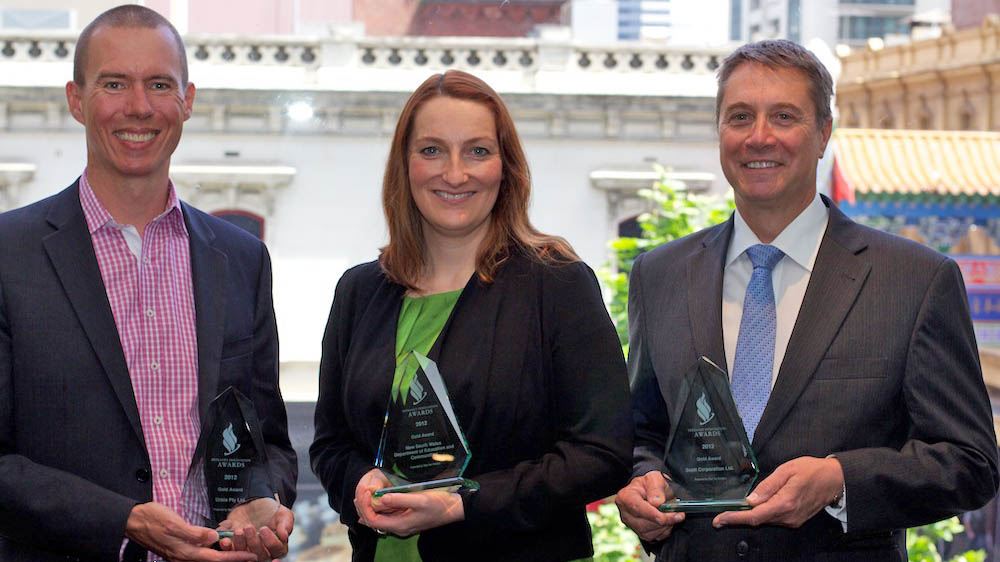 The Intranet and Digital Workplace Awards are global awards that recognise outstanding contributions to the fields of intranets and digital workplaces. The awards uncover remarkable solutions that deliver business value, and then share them with the wider community. We also shine a light on the talented teams behind this work, and the agencies that have supported them.
Now in their 16th year, we have handed over 165 trophies and medals awarded over this time, to winners from 20 countries. Winners range from small non-profits and government agencies, to global firms and household names.
These Awards give teams the global recognition they deserve — as well as a lovely glass trophy to sit beside their desk.
Join the honor roll of winners by entering the Awards this year!
...
On this page
Enter your work
Work out what to submit. Look for specific ideas or projects that have delivered benefits, as well as great sites as a whole. (Use the Awards explorer to get inspiration!)
Access the online entry form, and related entry description form (in Word format) and fill in what you've done. Describe your project or initiative, and pick which category (or categories) you'd like to submit for.
Describe the benefits produced by your project, in terms of business outcomes, or improvements to the way staff work. (See how to demonstrate benefits for more on this.)
Collect screenshots and other examples, showing what was delivered. Also consider providing before-and-after screenshots.
Remember you need to submit both the online form and the word form (which is attached to both the online form).
Submit your entry! We try to make it  quick and easy to enter the awards, and you can enter multiple times if you've done a lot of great work.
The awards process
Organisations around the globe submit entries. Each year, we receive 50+ entries, from Europe, Asia, Africa, America (North and South) and Australasia.
Entries are sifted down to a short-list, and organisations short-listed are notified.
Our international panel of judges scores the entries, against the scoring scheme described below.
Gold winners are chosen for each of the six categories. (There may be more than one winner in each category, depending on the strength of the entries.)  Silver winners are also allocated.
An overall platinum winner may be chosen, representing the most extraordinary entry of the year.
The winners are announced, and the glass trophies or medals are sent! Where possible, we even try to hand over trophies in person, at international events around the globe.
Award categories
There are six categories for the Awards, and organisations can submit for one or more of these categories:
Intranet essentials
Social, collaboration and communication
Business solutions, mobile and frontline
Microsoft 365 solutions and adoption
Digital employee experience and digital workplace
Mastering disruptive change
See below for more information on each of the categories, plus examples of previous winners.
1. Intranet essentials
New intranets or intranet rework, core elements such as search or people directory.
Previous winners include:
2. Social, collaboration and communication
Initiatives which showcase social networking, collaboration and internal communications.
Previous winners include:
3. Business solutions, mobile and frontline
Solutions or apps, either mobile or web-based, designed for a particular use or to  solve a problem, as well as initiatives that use mobile or are designed for frontline staff needs.
4. Microsoft 365 solutions and adoption
Solutions and initiatives based on Microsoft 365 that have achieved excellent business results
5. Digital employee experience & digital workplace
Covering a wide range of initiatives that improve the working experience for staff including bots, AI and beyond. 
Previous winners include:
6. Mastering disruptive change
Beyond merely surviving the Covid-19 disruption, some teams have gone above-and-beyond to deliver truly transformative change for employees, helping navigate the challenges of the "new normal".
We've shared some examples of possible ideas within each category above, to get your creative juices flowing. These are, however, just a few of the possible types of entries that could win an award. Don't hesitate to get in touch if you'd like some input on what to submit.
Submission details
When preparing and entering your submissions, please carefully read and abide by the following guidelines:
Submissions must be made via the online entry form (see the Enter your work section above for the links).
All submissions must be received by the closing date of 30 April 2022 (any timezone).
The date for the results of the 2022 Awards to be announced is still to be confirmed but results are expected in July.

You will receive an automated confirmation of your submission. If you don't receive this, please

contact us

.

There is no cost to enter the Intranet and Digital Workplace Awards.

Contact details will be kept confidential and will not be shared with any third party.
You are welcome to provide more than one submission. Each submission will be judged on its merits, and each must be accompanied by an individual entry form.
If needed, we may contact finalists for clarification or additional information on their entry. This will only done when absolutely required, so as to minimise the impact on the submitting organisations.
Where needed, we will edit submissions for clarity, or to fit available space.
Don't hesitate to contact us if you have any questions about entering the Awards.
Tips for submissions
When judging entries for the Intranet and Digital Workplace Awards, we're looking for submissions that clearly demonstrate the benefits they have delivered. The more you can describe how the project has helped the organisation, the greater the chance you will have of winning.
In order get the best possible understanding of the awards, we recommend you:
Read through the list of questions that you'll find on the entry form, to allow you to prepare in advance.
Use the Awards explorer to to review past winners and to get ideas on what's likely to succeed.
Write more rather than less when filling in the descriptive sections of the entry form, and be sure to point out the specific improvements your organisation has delivered. However we don't need you to submit a novel – make sure the submission is a sensible length!
Provide concrete examples of where benefits have been gained. This could be by providing numbers, examples, stories or quotes (anything that shows the impact of the idea). Many potentially great submissions are let down by the lack of the evidence of impact.
Focus more on how the change has helped the organisation, rather than on what was done (or the technical details).
Consider providing a 'before' and 'after' screenshot if this helps illustrate the progress and impact you have made.
Remember that submissions can be for specific improvements to the intranet or digital workplace, or for sites as a whole.
Sometimes we're as interested in supporting elements of your initiative such as an excellent approach to change management as we are in the solution that was delivered.
Make sure you are submitting for your own intranet, digital workplace or app, not on behalf of someone else.
We're very  happy for agencies and vendors to encourage and help their clients submit entries, but the submission must either by validated by your client or,  ideally, come directly from the client organisation to be considered for entry.
We are looking for implementations and projects to evaluate. We are not evaluating a product or service offering from a vendor or consultancy, even though that may be part of a roll-out.
Don't be shy! Even modest initiatives have a good chance of winning if they are well executed, or if they provide big benefits for the workforce.
Scoring
| Criteria | Weighting | Description |
| --- | --- | --- |
| Insights | 33% | What insights does the submission provide for other teams? Submissions should demonstrate new ideas or innovative approaches which will inspire and inform other intranet and digital workplace teams. While ideas do not need to be unique, they should show an uncommon or original approach. |
| Execution | 33% | How well was the project executed? Submissions must demonstrate a high standard of execution, in terms of research, design, delivery, change management and adoption. |
| Impact | 34% | How has the entry assisted the workforce and measurably benefited the organisation? Submissions must show how they have changed how the workforce operates, in terms of tasks and processes. Submissions must also demonstrate the direct organisational value or benefits that were delivered as a result of the new functionality or content. This may be measured quantitatively, or qualitatively. |
Please note that it is up to those submitting for an award to demonstrate how they meet these scoring criteria, via their written submissions and supporting screenshots.
The judging panel will rely solely on this information when assessing the winning entries. You are therefore encouraged to provide a good amount of detail when filling in the entry form.
The judging panel has the option of choosing one of the submissions to receive a Platinum Award. This will recognise the most extraordinary entry of the year.
How to demonstrate impact benefits
As outlined above, over a third of the scoring is based on the impact of your work, such as what it does for the organisation, or how it changes the way the workforce operates.
Here are some suggestions to help you demonstrate the benefits of your project:
Approach
Description
Dollars made or saved
This is the strongest possible benefit to be delivered by a solution, and the one that really gets senior management excited. These benefits may flow directly from the project, or be claimed more indirectly. For example: US insurance company Liberty Mutual used a digital assistant to automate IT helpdesk processes relating to mobile devices, resulting in $USD 222,000 annualised cost savings.
Solving a business problem
Describing the business problem solved by the solution is a very effective way of demonstrating benefits. Specific examples of issues or problems help to provide context, and give depth to the awards entry. For example: Australian powerlines company TransGrid created a mobile app for staff out in the field to check the status of dangerous mobile plant machinery and whether staff were qualified to operate them, both saving time but also ensuring safety standards and compliance with safety regulations. The need to improve safety standards, reduce inefficiency and empower frontline staff were all highlighted in the submission.
Strategic benefits
How has the intranet or digital workplace helped the organisation to achieve it's strategic goals? This may relate to business outcomes, staff engagement or cultural objectives. For example: Danish engineering company Ramboll developed a truly global digital workplace as part of a strategic "one company" initiative. The  single digital environment has helped  strengthen a one company culture, and also driven collaboration across global locations.
Stakeholder and staff quotes
What staff and stakeholders think about the solution is important. Direct quotes convey the benefits of the project in concrete terms, showing how working practices have changed for the better. For example:  IBM redesigned its market research and report portal called Bluemine and included a number of direct quotes from staff in their submission:  ""Nothing prepared me for the excitement and pride I felt when I accessed the new Bluemine this morning. WOW! This is a dramatic change from
what it used to be, and a much-needed transformation.""
Before-and-after
It can be compelling to show the old intranet or digital workplace with all its problems, and to compare it with the new solution. This is particularly relevant for entries in the "intranet essentials" category.
Usability benefits
Results of usability testing (or other task-based testing) can be compelling. If only 40% of staff could successfully complete tasks before the project, and 80% after, that's a great result. (Usability tests are most powerful when they show before-and-after figures.)
Time savings
The purpose of intranets and digital workplaces is to help workers do their jobs. Time savings are therefore an important benefit from many intranet projects. The most powerful results show how real-world tasks can be done more quickly (such as key business processes). It's also useful to show how time taken to complete intranet tasks (such as finding things) is reduced.  For example:  Russian technology and media company Rambler Group used the intranet to drive task automation and improve findability to save approximately 20,000 hours per year.
Adoption and usage
Has your new solution been a big hit? Is it used by a lot of staff? When an intranet-based solution gets rapid and widespread adoption, the judges for the awards want to know! For example:  When Cox Communications launched a new intranet it resulted in a 160% increase in adoption over the previous iteration.  Vodafone Ukraine's social intranet has 88% of users considered active each month.
Don't be overwhelmed by these options! Not every entry needs to show it's "changed the world", and even modest benefits are worth showing off. If you're not sure how to show the benefit of your project, get in touch and we'll provide some tips and feedback.
Submission acknowledgements
Submitting organisations give full permission for Step Two to use the content and screenshots in the annual report, as well other publications and presentations.
As the results of the awards will be communicated widely, please ensure that no confidential information is included on screenshots.
When used or published by Step Two, all submitted ideas and screenshots will be fully credited to their respective organisation.
All material and screenshots submitted will only ever be used in positive ways that reflect well on the submitting organisations.
...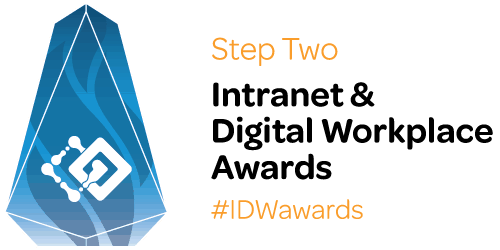 The 2022 Awards are open for entries!
Entries are now open for this year's Intranet & Digital Workplace Awards and submissions close on 30 April 2022 (any timezone). Don't hesitate to get in touch if you want advice on what to enter.
Good luck!
Don't miss out entering the Awards!
Join the Awards notification list, and we'll send you a message when it opens for submissions and before it closes:
Why winning an award rocks!
As the quotes on this page show, there are many benefits to winning an Intranet and Digital Workplace Award. Winners receive global recognition and visibility, as well as:
receiving a trophy that can be proudly displayed by the team
being showcased in the annual report that's
receiving a full copy of the annual report
being showcased in articles, and online presentations
receiving invitations to speak at conferences
Intranet, app, social network or digital workplace?
The Awards are interested in the widest possible range of solutions that target workforce (rather than customer) needs.
Therefore whether your submission relates to an intranet, a social intranet, an HR portal, a standalone portal, an internal-facing microsite, an enterprise social network, a collaboration platform, a mobile app, an apps platform, a digital workplace or even a site which blends internal and external audiences, then that's fine with us!
What we're interested in are ideas that other workforce-oriented teams can learn from. If in doubt about whether your submission is valid please contact us to discuss.