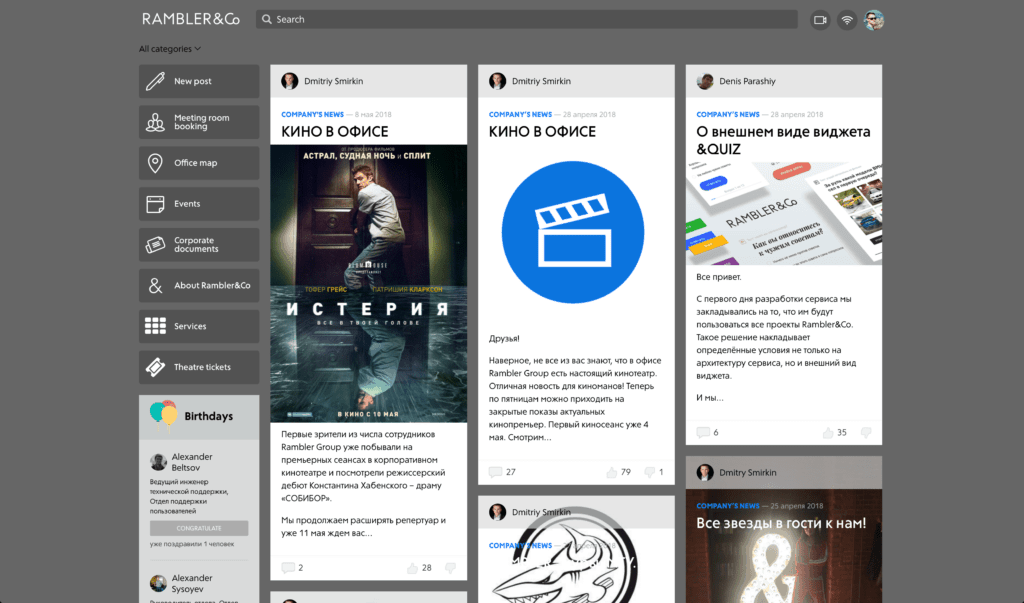 * Screenshot remains the copyright of the entrant, and may not be reproduced without written permission.
Rambler Group: Automating business tasks via the intranet
The Rambler Group has built its own custom intranet using in-house development resources. The Rambler/We intranet delivers a company-wide communications platform as well as a place to automate both simple and complex business tasks. Process improvement and automation covers project management, key HR processes and operational tasks such as approvals.
When combined with improvements to findability, the new intranet has resulted in cost savings of approximately $350k USD per year.
Why this won a Gold award
It's great to see an intranet providing real process improvement through automation and being at the heart of how people carry out their work.
There is strong design work with attractive interfaces throughout the intranet which deliver a consumer-like experience.
The depth of the HR-related functionality is particularly strong and relatively unusual – we're not sure we've seen off-boarding processes before on an intranet.
The levels of cost savings are well articulated and significant.
There are some good integrations with key systems including Rambler's ERP system and Jira.
Full case study
Get a copy of the full case study as part of the 2018 Intranet & Digital Workplace Showcase report. This is packed with real-world screenshots and insights that will inspire your leadership team, and help you deliver a successful project.