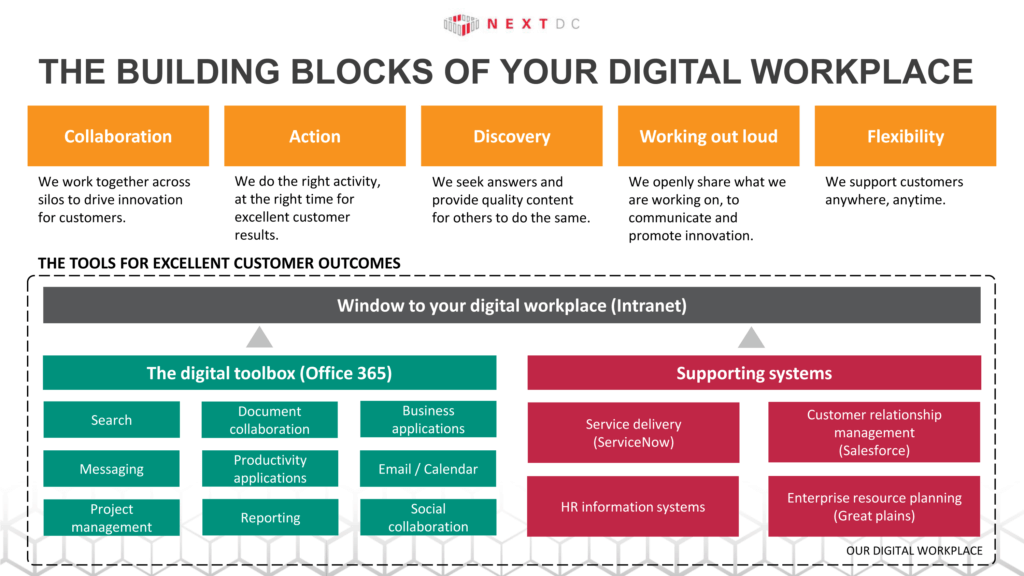 * Screenshot remains the copyright of the entrant, and may not be reproduced without written permission.
NEXTDC: Training staff on using the digital workplace
Australian technology firm NEXTDC has defined a framework built around five digital workplace 'building blocks' to support staff using a new intranet and set of digital workplace tools. These blocks are then mapped to different use case areas, appropriate tools and relevant company values.
The framework has provided a structure for a highly-focused change management initiative based around training sessions and self-service resources. This has helped drive knowledge of the digital workplace among employees and supported a growth in adoption.
Why this won a Silver award
This is a really comprehensive overview of the digital workplace which is structured in a way which makes sense for staff.
The mapping of building blocks against tools to values is very well thought out.
The change management campaign and communications strategy, which connects online learning with other communications, is very well executed and unusual in its detail for a small company.
The feedback from users has been very positive with relatively high levels of attendance for the online training across the entire company.
Full case study
Get a copy of the full case study as part of the 2018 Intranet & Digital Workplace Showcase report. This is packed with real-world screenshots and insights that will inspire your leadership team, and help you deliver a successful project.