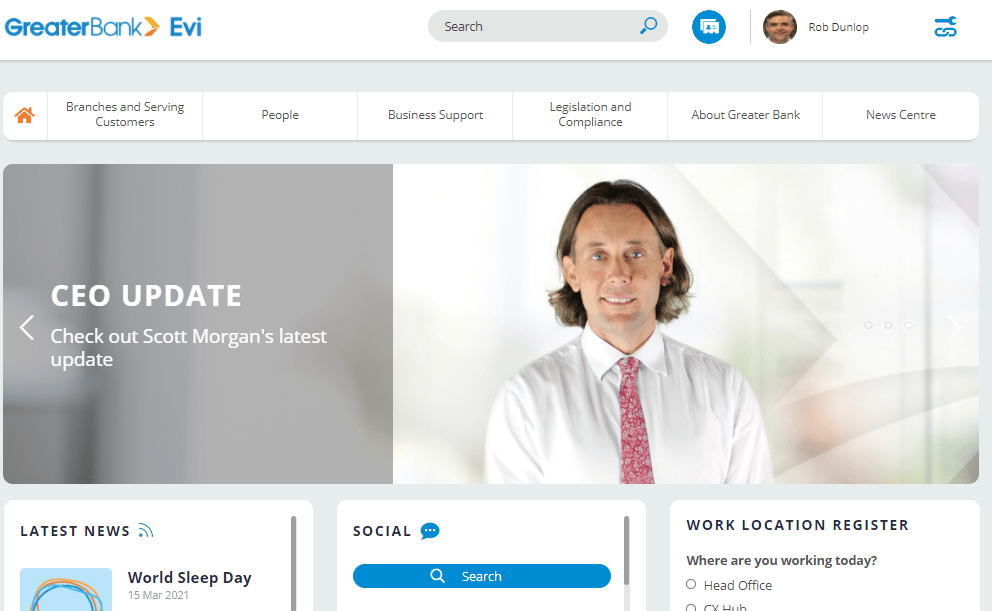 * Screenshot remains the copyright of the entrant, and may not be reproduced without written permission.
Greater Bank: Launching a great intranet with useful and engaging content
Greater Bank has created a new intranet to engage employees and support them in their daily work. Replacing an outdated intranet that was not fit for purpose, the new intranet (Evi) delivers a modern experience and valuable content.
Highlights include an underlying strong content governance model which incorporates the use of employee feedback and management reporting, an emphasis on providing operational content for customer-facing staff in branches, a prominent social feed and improved findability.
The intranet also has a distinct brand based around the Evi character. The intranet has already had a strong impact with high adoption and levels of engagement with both operational and people-focused content. Improved findability is also supporting customer service.
Why this won a Silver award
The underlying governance model on the intranet is very well done, for example with reporting to senior management on content quality.
We applaud the commitment to using employee feedback to improve the intranet and the focus on the needs of frontline staff in branches.
The work done on the intranet brand is very well executed, with the Evi character giving the intranet a distinct personality.
There's a good focus on two-way communication with strong alignment with the Greater Bank culture.
There is a nice use of visuals, and we like the emphasis on using real staff photos to establish familiarity.
The launch communications are fun and engaging.
This project required real perseverance from the team to get it over the line when faced with various setbacks.Full case study
Full case study
Get a copy of the full case study as part of the 2021 Intranet & Digital Workplace Showcase report. This is packed with real-world screenshots and insights that will inspire your leadership team, and help you deliver a successful project.