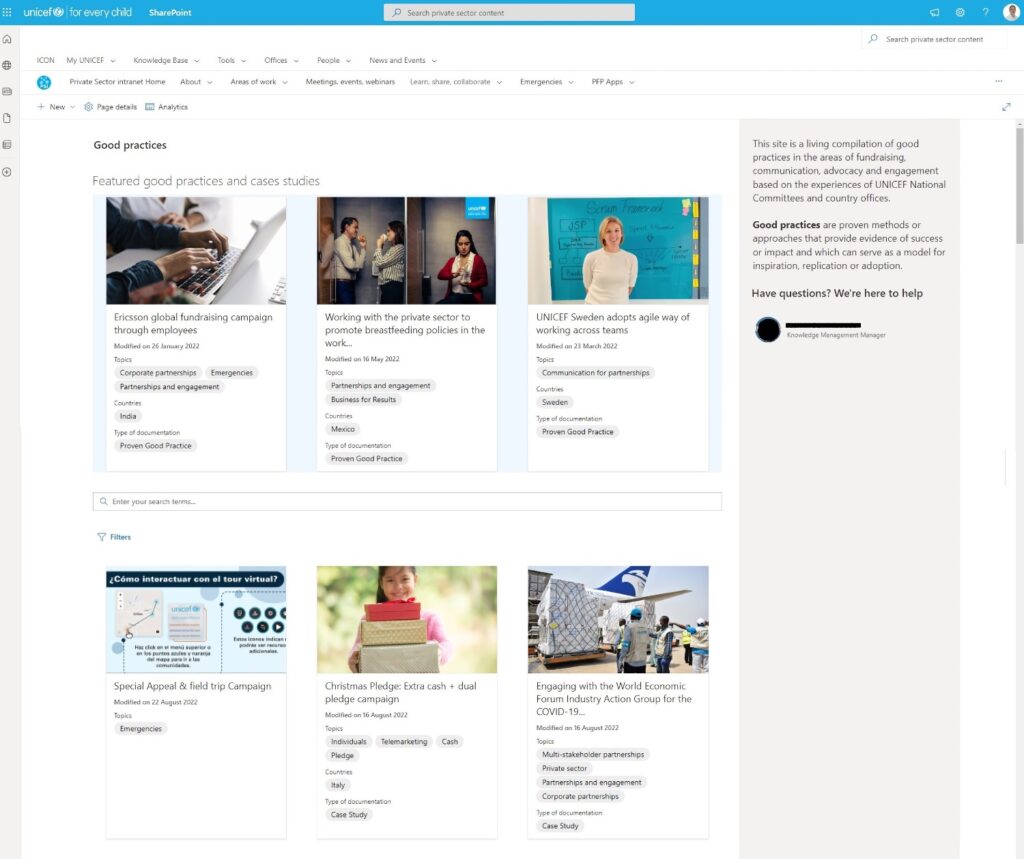 * Screenshot remains the copyright of the entrant, and may not be reproduced without written permission.
UNICEF PFP: Increasing findability with topic pages and microsites
UNICEF PFP has created a new intranet structure and architecture to enable staff to better find the content they need. This has been implemented using SharePoint Online modern, reducing levels of customisation on the previous SharePoint classic intranet. The new intranet involves an improved user-centric information architecture, and a new structure based on a series of microsites dedicated to different content types.
Through a common tagging system, microsite content also automatically appears simultaneously on up to 50 aggregated topic pages. Some content from parallel knowledge and learning platforms has also been tagged to appear on the topic pages.
Careful analysis of existing customisations has been done and only customised elements that impact the user experience have been recreated in the new intranet. Although still early days, the intranet is already seeing a jump in usage.
Why this won a Gold award
This is an excellent and clever example of using tagging to create aggregated topic pages that bring real value to users.
Throughout this project there is a strong commitment to user testing to ensure the end solution delivers.
We love that the tagging scheme has been extended to parallel platforms to bring relevant topic-based content into the intranet.
There is some very solid thinking behind the site structure, and making it work in a pragmatic way.
The analysis that has helped to reduce the level of customisation by 75% without compromising the user experience is a great result.
The approaches to content governance have been well executed, particularly the automated reviews; we love the use of an 'un-smiley' to indicate content that has not been reviewed!
We applaud the 50% reduction in content from the old intranet.
Full case study
Get a copy of the full case study as part of the 2022 Intranet & Digital Workplace Showcase report. This is packed with real-world screenshots and insights that will inspire your leadership team, and help you deliver a successful project.