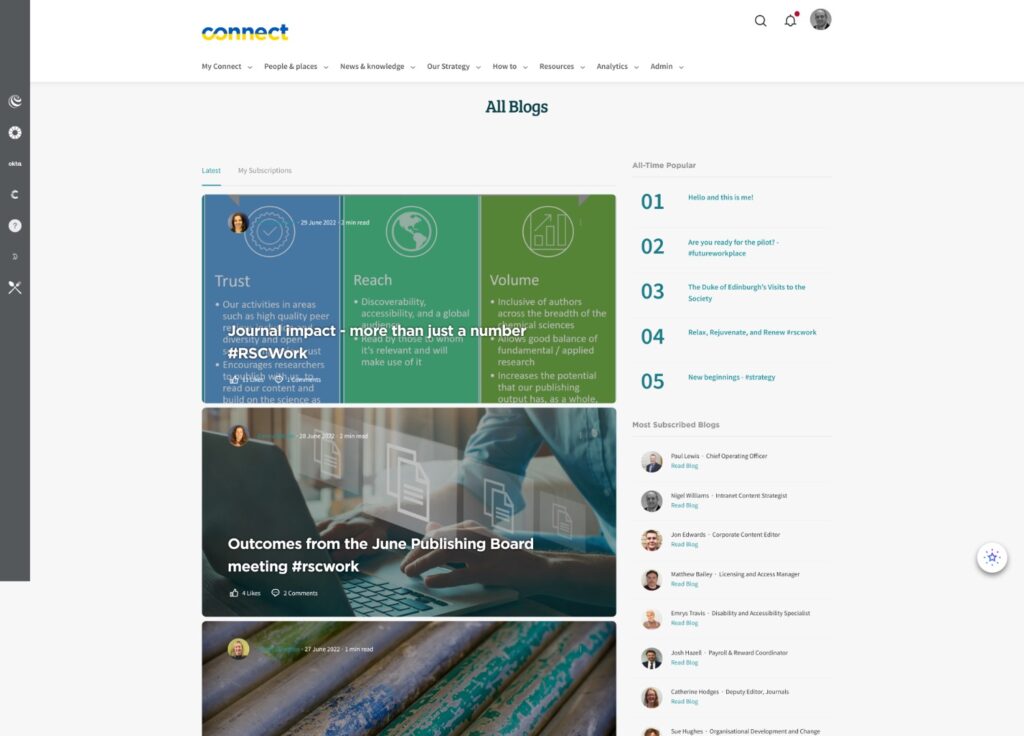 * Screenshot remains the copyright of the entrant, and may not be reproduced without written permission.
The Royal Society of Chemistry: Using data to boost communications
The Royal Society of Chemistry has launched a global intranet to reduce silos and nurture a more unified culture. With a focus on communications, the team launched the intranet with an imaginative campaign.
Clearly defined content roles, as well as training, support and change management interventions, have helped to drive content quality and a high level of employee blogging. The team is also using highly detailed analytics to help refine communications and improve reach and impact.
Some numbers are being used to drive predictive analytics for the performance of content items. This approach is being formalised into a highly innovative dashboard to help content owners and editors optimise their content. So far indications are that the intranet has played a significant role in reducing silos across the organisation.
Why this won a Gold award
The work carried out on predictive analytics is very innovative and turning this into a dashboard is an exciting next step.
The incredibly high level of involvement of employees in the intranet launch campaign, which got them to try multiple intranet features, is impressive.
There are some strong stakeholder management and change management practices shown throughout the project.
We love that content roles are embedded in people's job descriptions.
It's exciting to see an intranet project playing an active role in changing organisational culture, even altering how people associate the word 'we' with the organisation.
There's a great ethos behind this project ? indeed every intranet team should encourage users to be high maintenance!
We admire the high numbers of people blogging and the active interest in the project from end-users.
Full case study
Get a copy of the full case study as part of the 2022 Intranet & Digital Workplace Showcase report. This is packed with real-world screenshots and insights that will inspire your leadership team, and help you deliver a successful project.