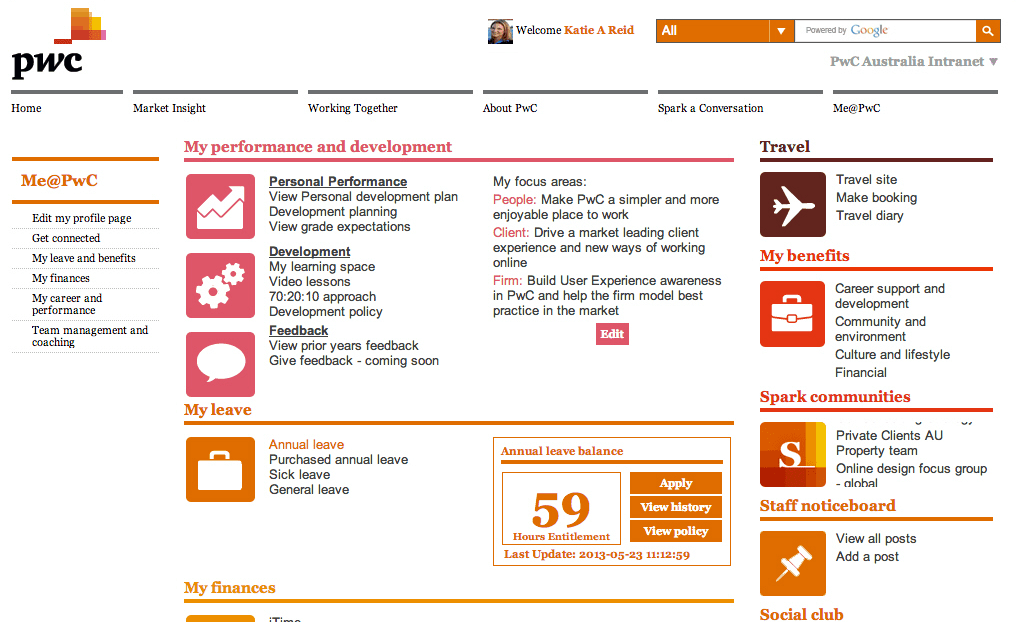 * Screenshot remains the copyright of the entrant, and may not be reproduced without written permission.
PwC Australia: Delivering a professional services intranet
PwC Australia has created a new intranet called PwC Online based on SharePoint. It has been developed around a vision of a single online environment for both internal and external use, with access provided for clients.
Highly focused on the user experience, the intranet provides personalised content, collaboration and transactional services, wrapped up in a strong design suited to the way individuals work. The project has been delivered with extensive input from users, ensuring the new intranet is relevant and also focused on clients.
Why this won
It is highly unusual for an intranet to be scoped and designed at the same time as an external- facing environment, ensuring that the intranet remains focused on client service.
The strong design looks nothing like SharePoint 2010, but delivers an experience very similar to PwC's external website.
There are lots of imaginative features including a choice of homepage depending on how the user wants to work.
Collaboration sites are seamlessly integrated with traditional content-led intranet features
This is a very well-executed project, with an extensive use of personas, emphasis on user- research and the setting up of a User Experience lab.
Full case study
Obtain the 15-page case study, packed with real-world screenshots and insights that will inspire your leadership team, and help you deliver a successful project.