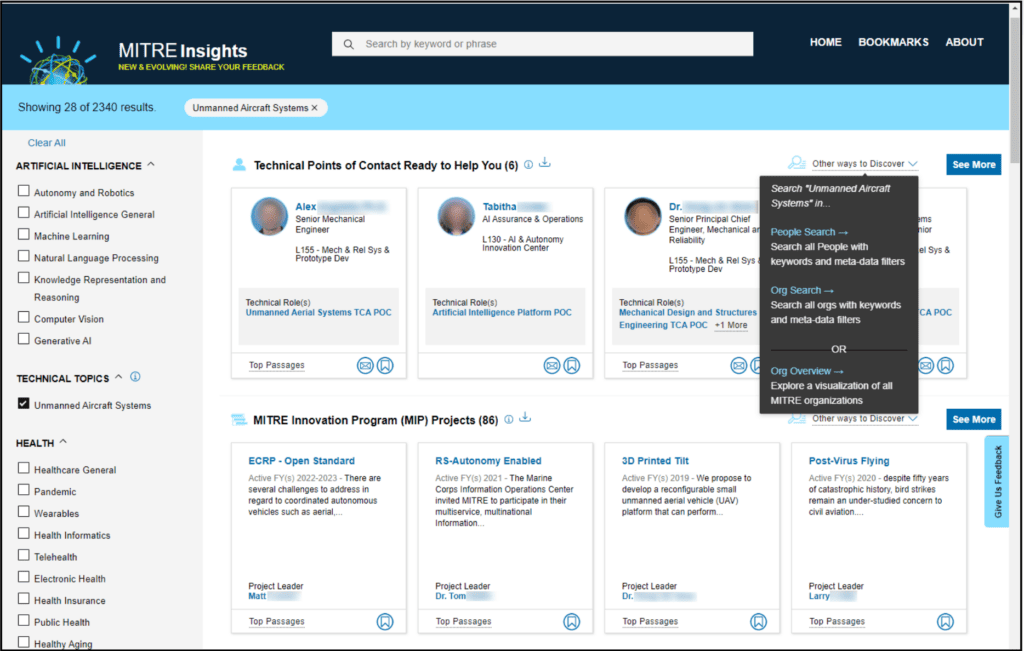 * Screenshot remains the copyright of the entrant, and may not be reproduced without written permission.
MITRE Corporation: Creating an advanced search experience
US research organisation MITRE has introduced a custom search experience called MITRE Insights, based on IBM Watson's search capabilities. It aims to return knowledge items on a range of topics across multiple internal repositories, aggregating them into one search experience. Some external sources have also been included. Users can access a range of topic-based domain searches from the search homepage and also find contextual information about each item returned.
The team has tried to take an iterative and flexible approach to the project, using 'pretotyping' and letting user feedback influence the direction of the build. Although it is still relatively early days, levels of both adoption and user satisfaction have been very encouraging so far.
Why this won a Silver award
Producing an effective search for highly technical knowledge items across multiple repositories was always going to be an ambitious undertaking, but MITRE has pulled it off.
We like the flexible approaches to the build deployed throughout, leveraging feedback from users to iterate the solution.
We love the ethos that MITRE Insights has to be suitable for tomorrow not just today, with the team taking time to understand changing working methods and referencing key processes such as business development.
Integrating external sources such as available US grants is a nice touch.
The team have added value to the solution by returning information on experts or points of contact, as well as enabling a preview of the appearance of search terms in context.
The early results are encouraging, as over a third of technical staff were using MITRE insights within the first six weeks, with user feedback equally positive.
Full case study
Get a copy of the full case study as part of the 2023 Intranet & Digital Workplace Showcase report. This is packed with real-world screenshots and insights that will inspire your leadership team, and help you deliver a successful project.