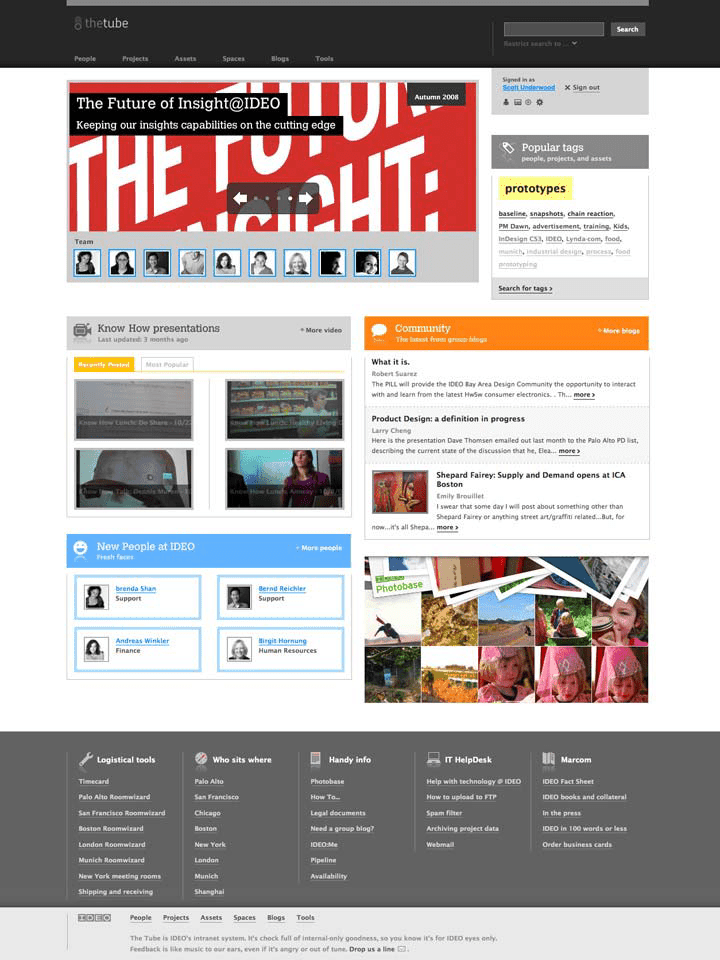 * Screenshot remains the copyright of the entrant, and may not be reproduced without written permission.
IDEO: The Tube – People and project pages
The Tube is IDEO's intranet, a stylised, innovative online space designed purely around IDEO employees.
Every employee has a personal page that's linked dynamically to their location, projects, project team members, skills, personal blogs and more. It's a perfect intranet, directory, skill finder, blogging platform and social network, all wrapped up into one, seamless user experience.
Why this won
One of the most advanced intranet examples the judges have seen, based on a highly functional, advanced 'directory' application.
Integrates multiple systems and software languages to provide a seamless user experience.
'Point to people': The Tube has not just been designed with user's needs in mind, it's been designed around its users, full stop. Take away the people and there would be no Tube.
Unique, 'human-centred', innovative and stylish design, befitting an organisation founded on such values.
Full case study
Obtain the 11-page case study, packed with real-world screenshots and insights that will inspire your leadership team, and help you deliver a successful project.