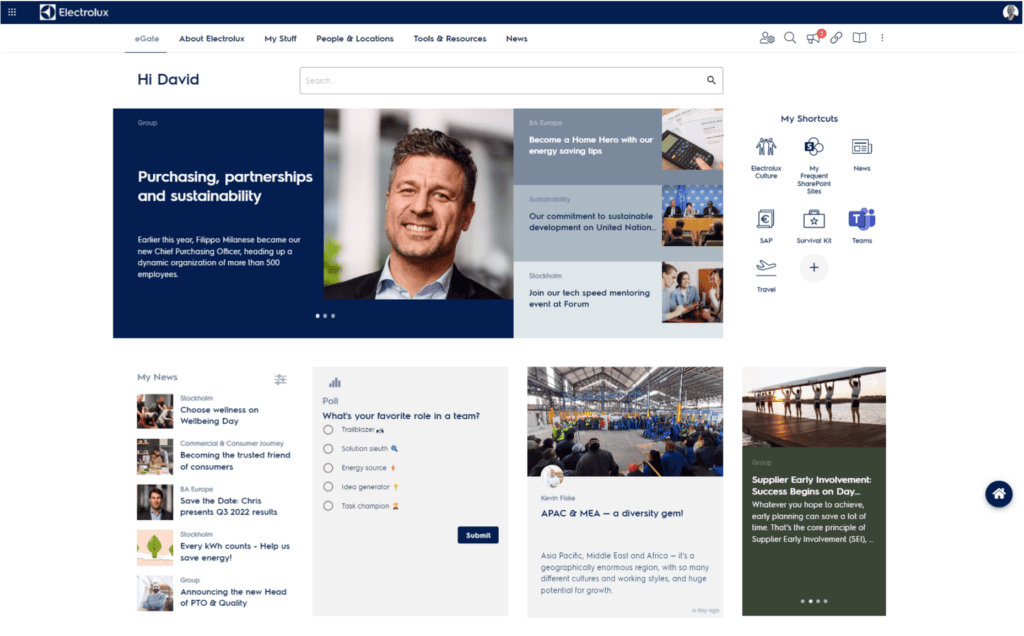 * Screenshot remains the copyright of the entrant, and may not be reproduced without written permission.
Electrolux Group: Redesigning a user-centric global intranet
Global appliance manufacturer Electroloux has replatformed and redesigned its eGate intranet. It is now based on SharePoint and the Omnia platform. The rollout has involved extensive input from users and stakeholders, mainly through an expansive 'Early Influencers' group. There has also been extensive work to support content editors. Content has been rewritten to make it more user-centred, while page templates have been designed that reference the old design for familiarity.
Notable features include extensive personalisation with news on the start page, a personalised dashboard branded as 'My Stuff' an improved information architecture, support for multilingual content, the 'Crossings' posts which detail people movements, and a new jargon-busting dictionary.
The intranet has had a significant impact, transforming internal communications, improving adoption and usage, and receiving positive ratings and feedback from users in a post-launch survey.
Why this won a Gold award
This is a very well-executed intranet project with great examples of content design in the screenshots.
We love the use of the Early Influencers group, who have contributed to the intranet and are still going strong, ten months after launch.
There's a strong commitment to a user-centric approach in the design, content and information architecture.
There are some innovative content areas which are providing real world value, including the jargon-buster and the My Stuff dashboard.
Electrolux is a large and complex organisation, and the extensive use of personalisation in eGate is very well done.
We like the Crossings feature that highlights people movements.
There is good support for multiple languages, and a good use of auto-translation.
There is evidence to show the intranet is having a significant impact.
Full case study
Get a copy of the full case study as part of the 2023 Intranet & Digital Workplace Showcase report. This is packed with real-world screenshots and insights that will inspire your leadership team, and help you deliver a successful project.