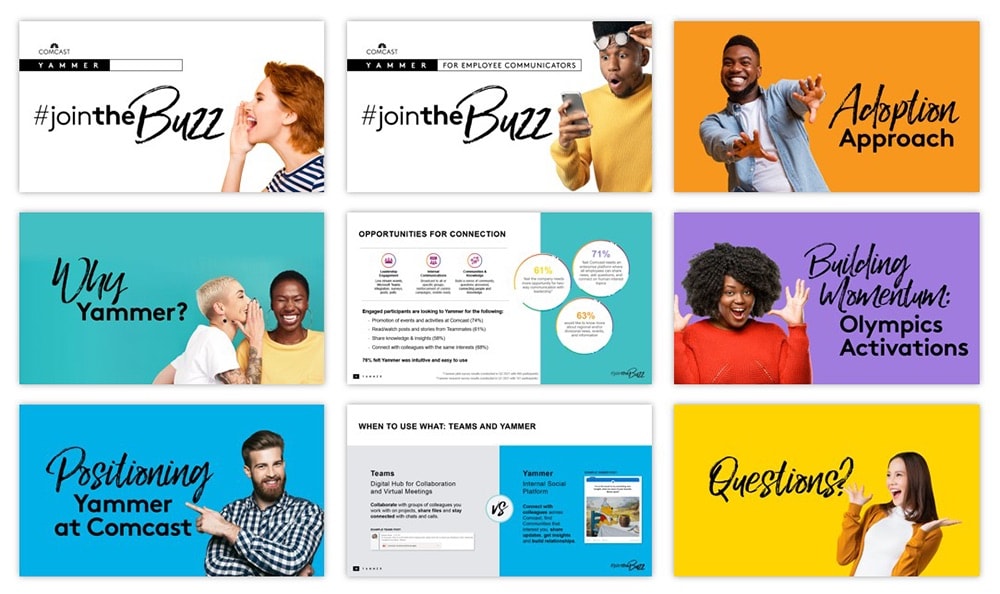 * Screenshot remains the copyright of the entrant, and may not be reproduced without written permission.
Comcast: Supercharging Yammer adoption and engagement
Comcast has launched Yammer to 90,000 employees and achieved high levels of usage (78%) in less than a year, including strong engagement from frontline employees. Following a series of initial pilots combined with a lively campaign, adoption has mainly been driven through organic growth rather than using a formal communications plan. Using Yammer for conversations about the Olympic Games has helped with this growth.
The team has also introduced a number of training and support approaches and assets which have helped community managers. A customised compliance tool allows the team to maintain control, while operating a light governance model.
As a result a high number of communities of interest, Employee Resource Groups (ERGs) and support groups are actively used for engagement and internal communications.
Why this won a Silver award
The jump in active Yammer usage to 78% is impressive, particularly in a large and conservative organisation like Comcast.
We love the range of imaginative uses of Yammer which is helping to support internal communications and engagement.
Some of the decisions around the rollout have proved to be highly effective, including activating all licenses from day one and using the Olympic Games as a springboard for growth.
The compliance tool is well executed and helps the team to navigate risk concerns while managing the platform.
Yammer is helping to support diversity and inclusion at Comcast through ERGs and related communications.
The Yammer launch materials and campaign are well-designed and eye-catching.
Full case study
Get a copy of the full case study as part of the 2022 Intranet & Digital Workplace Showcase report. This is packed with real-world screenshots and insights that will inspire your leadership team, and help you deliver a successful project.